Outsourcing Challenges Create Domestic Opportunities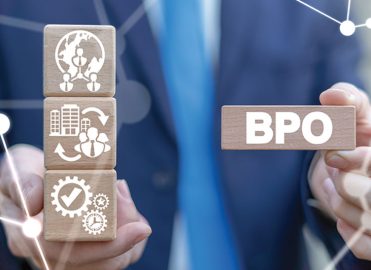 Certification and diversification will keep U.S. medical coders in demand.
Many large U.S. health systems have found it advantageous to outsource their medical coding and billing processes. This concept strikes a nerve with many U.S. workers who think the business model will put them out of a job. This isn't the case according to industry leaders, however — quite the opposite.
In the last session at AAPC's HEALTHCON International, held virtually May 14-15, industry leaders from four business process outsourcing (BPO) companies joined AAPC International Vice President Gregg Hatch for a panel discussion. Hatch asked the panelists how their companies fared during the pandemic, what challenges exist for this sector, and how medical coders and billers can prepare for the future of healthcare.
Hatch started the conversation by asking the panelists how the COVID-19 pandemic affected their organizations.
The COVID Effect on BPO
"COVID has caused significant disruption around the world. How has it impacted your company and outsourced coding in general?" Hatch asked the panelists.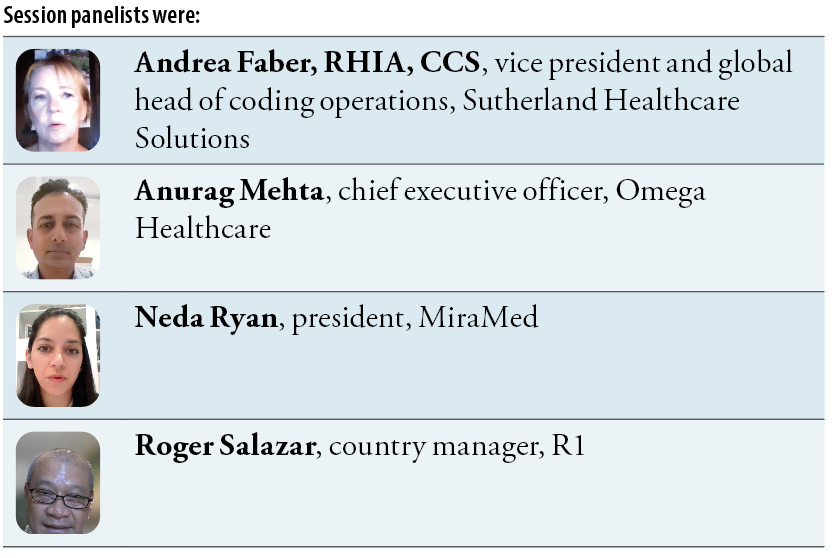 The biggest hurdle, panelists agreed, was transitioning employees to work from home. Infrastructure was the first issue, followed by HIPAA security, and then social dynamics. For the most part, though, these companies were able to continue operations with very little interruption.
According to Faber, "There were a few bumps in the road — getting connectivity, getting people set up and used to working from home." But eventually employees adjusted and started seeing the advantages to working remotely. "I think that it has brought about some good changes, and we plan to keep that work-at-home in place about 70 percent or more," she said.
That number surprised Mehta. "As far as allowing people to keep working at home, I think for us it will be north of 50 percent on the coder front but less in other areas," he said.
Ryan agreed that some functions are better done in the office. At MiraMed, she said, "Voice processes are going to be in the office but most of our coders are staying home; they have expressed that desire and I think there's been a global shift to be more employee friendly and we have really been able to take advantage of that on behalf of our staff, and clients are being understanding."
But there are negative aspects to remote work, too, such as disassociation and miscommunication. "There have been issues such as people who work from home don't feel like part of the company, so engaging them is important," Mehta said.
And then there are the security and privacy issues. Ryan said, "From a security standpoint, from a checks and balances standpoint, it is requiring a lot more from our leadership to make sure that staff are meeting their quality and production metrics and requirements."
BPO Challenges Post Pandemic
Hatch asked next, "As we adjust to this new reality, what are one or two other challenges that your organization is dealing with?"
Everyone agreed that getting and keeping employees is a concern, as is meeting clients' demands. "The quality is probably the biggest challenge because now we're starting to see audits happening; [clients] are looking to see what the impact of the last couple of years has been," Faber said.
More work and less time, "that's always a challenge," Mehta said, especially when your coders work in a different time zone than your clients. On top of that, not everyone has broadband connectivity in India. "It's not like the U.S.; you have pretty good internet connection most of the time," Mehta said.
Unreliable and slow connectivity, HIPAA security concerns, and transient workers are challenges international BPO organizations admit they must overcome to secure future growth. "If there's one thing that could derail this industry," Mehta said, "it would be a significant data breach from a major hospital system."
The Future of Outsourcing
"Do you agree that the industry will continue to grow and expand, and what do you think the drivers will be over the next several years?" Hatch asked the panelists.
Despite the challenges, there has been growth in the healthcare BPO sector, according to Salazar. "In just the healthcare subsegment of the business process outsourcing industry, we're looking at the growth somewhere more than 10 percent," he said.
Mehta has also seen growth in international outsourcing at his company. "We saw 30 percent organic growth last year," he said. And he expects to see similar growth this year, and for a very concerning reason: "It's hard to find people in the U.S. and, in fact, we are looking," Mehta said. "We have hundreds of open positions for coders in the U.S."
Ryan agreed that domestic employment challenges are driving much of the growth in the international BPO industry. And she expects continued growth as baby boomers retire and create a shortage of experienced workers in the United States.
The increasing complexity of coding guidelines and government regulations also makes outsourcing attractive to health systems. "It's just so much easier to outsource the work and let healthcare providers focus their energies on their core," Mehta said. Mergers and acquisitions among U.S. health systems will likely drive future growth for these companies; and with that growth comes employment opportunities for medical coders and billers both domestically and internationally.
Domestic Outsourcing Opportunities Exist
Hatch asked next, "What are your thoughts on things that could be done in either your organization or organizations like AAPC to improve the way we're training individuals getting into the industry?"
All four leaders stressed the need for training and certification. "More and more clients are demanding certification," Mehta said.
In the Philippines, Salazar said, AAPC Approved Instructors (formerly Certified Professional Coder-Instructor or CPC-I) are in high demand. "I think we need to build that pool of CPC-Is in the Philippines and in the other countries, as well," he said. There is also a need for Certified Inpatient Coders (CIC™). "I can count on one hand the number of certified inpatient coders in the Philippines," Salazar said.
Faber agreed with Salazar about the need for more well-rounded training. Team leaders are needed who are prepared to deal with situations caused by extreme and uncontrollable circumstances. "We need more of the middle management to have those skills. … even people who are coders managing these processes need to have different skills in order to manage those things," she said.
In addition to certification, communication skills and familiarity with the latest technology are highly sought-after attributes.
AI and The Future of Coding
"In what ways are you seeing AI being used, and where do you see it going in the future?" Hatch asked the panelists.
The consensus among the BPO leaders is that artificial intelligence (AI), such as computer-assisted coding (CAC) and electronic health records (EHRs), serves to supplement job processes, not replace physical employees. In fact, Ryan said, "I think we're also going to see AI directly on the provider side at the point of care or documentation, where it's going to help improve documentation, which will then hopefully reduce the need for queries or just have better quality data that the coders are using to prepare the charts … and improve that entire process."
Faber also sees AI expanding the role of coders. "There are a lot of places that a coder can set in the revenue cycle," she said. "You can go into a lot of the things that surround it. A lot of the things we're doing today involve clinical documentation improvement. The coder is already there. Why not get the feedback from the coder at the time of coding?" This is an exciting concept that would expand the role of coders who are ready to embrace it.
As with outsourcing, however, many fear what they don't understand. "I remember the day when we had paper records and we changed to electronic," Faber said. "Everyone was fearful that something was going to change with jobs, and in fact it increased jobs. My best advice is to educate yourself. Embrace the technology. Don't be afraid of change because there are opportunities hidden within all of these things that are coming and it's pretty exciting."
Position Yourself for Success
Hatch asked next, "What advice would you give to professionals currently working in these areas for how they can best position themselves to take advantage of these opportunities and some of the changes that you've described?" and "What advice would you give to someone who is not in the industry but thinking about getting into RCM or coding?"
Faber recommends education and staying on top of the rules; embrace the changes and invest in yourself so you understand and grow with the industry. "Those things will come back and pay dividends at the end of the day," she said.
Ryan concurred. "Look at how … you can really use it to push yourself forward and improve upon your own skills," she said.
Diversification is also key to getting ahead in this business. Revenue cycle management (RCM) is no longer just coding charts and billing claims; there are appeals, audits, complex clinical reviews, quality data capture, clinical documentation improvement, risk coding, etc. Another area Mehta thinks will be big is registry work that goes beyond national registries to include areas such as the Oncology Care Model, pharma, data abstraction, etc. "There's a limited number [of people who can do this work] in the U.S. and there's a giant need," he said.
So, there you have it. The healthcare industry is an enormous, complex business producing enough work to go around. As the U.S. health system reinvents itself and other countries follow its lead, the world is your oyster. The only limitations are those you put on yourself.
Bonus: Watch part of this session from HEALTHCON International in the electronic version of Healthcare Business Monthly, available online when signed in to your My AAPC account.
Latest posts by Renee Dustman
(see all)