Medicare Physician Pay Cut Looms Again
By admin aapc
In Billing
October 15, 2010
Comments Off

on Medicare Physician Pay Cut Looms Again
With less than two months before the current Medicare pay patch expires, all ears are on Congress as physicians and physician advocates anxiously await to hear encouraging news from Capitol Hill. Are physicians looking at a massive cut to Medicare payments before year end, or will Congress intervene once again?
Congress is fairly quiet right now and will probably remain so until after the November 2 midterm elections, although there was a bit of scurrying before the Oct. 8 adjournment.

On June 25, President Barack Obama signed the Preservation of Access to Care for Medicare Beneficiaries and Pension Relief Act of 2010 to forestall a 21 percent pay cut and provide physicians with a 2.2 percent positive update to Medicare payments. Unfortunately, that increase has an expiration date. Physicians are now looking at a 23 percent cut in their Medicare payments beginning Dec. 1 and another 6.5 percent pay cut Jan. 1, 2011.
The U.S. Senate is considering proposals for another temporary pay patch, according to the American Medical Association (AMA). One of the proposals being considered would extend the current 2.2 percent payment update for the remainder of 2010 and give physicians an additional 1 percent increase in 2011. However, barring further Congressional intervention, the sustainable growth rate (SGR) formula would go into effect in 2012 and payments would be cut by an estimated 33 percent.
Other legislation would do away with the SGR formula entirely. Sen. Blanche Lincoln (D-Ark.) introduced a bill Oct. 4 that would repeal the current Medicare physician SGR payment system and provide physicians with annual updates.
The Medicare Rural Physician Recruitment and Retention Act of 2010 would base pay rates on what is considered by many a more accurate measurement of increased care costs, known as the Medicare Economic Index (MEI), rather than on the nation's gross domestic product. The AMA and other physician groups have been advocating the MEI payment system for years.
Other provisions of the bill would adjust Medicare rates on a geographical basis to benefit rural states and increase the number of medical residency training slots supported by Medicare by 15 percent.
As Congress is adjourned until Nov. 15 and a holiday recess follows soon after, it is unlikely this bill will be considered before next year. With such a small window of opportunity, it's more likely physicians can expect a repeat performance of last June.
Latest posts by admin aapc
(see all)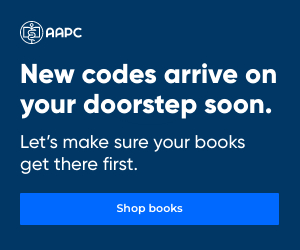 No Responses to "Medicare Physician Pay Cut Looms Again"