Coding Implications of Emerging Health Technologies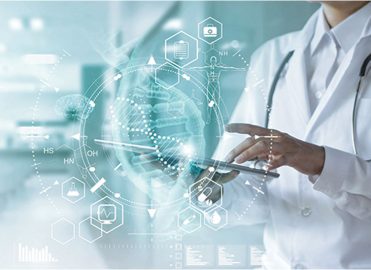 AMA sees a critical role for medical coders in the futuristic world of healthcare.
The field of health technologies is broad, exciting, and constantly evolving but rarely do industry stakeholders consider its impact on medical coders, according to Leslie Prellwitz, director of CPT® content and management at the American Medical Association (AMA). At AAPC's HEALTHCON International, May 15, Prellwitz made a point to correct that discrepancy in her presentation Emerging Health Technologies and the Impact on Medical Coding.
What Health Technologies Impact Coders?
There are six main categories that are likely to impact you from a coding perspective, Prellwitz said. You may be impacted directly through the reporting of services and procedures that your providers are performing or indirectly through interactions with other care providers and components of the health system (payers, insurers, and others) that use the information in different ways.
According to Prellwitz, the six main categories of emerging health technologies are:
1. Digital health
2. Augmented intelligence (AI)
3. Health information exchanges (HIEs)
4. Remote care services (telemedicine and virtual care)
5. Precision medicine (genetics)
6. Expanding global standardization of medical terminologies
The last two don't have a direct impact on coding as much as they have a global impact on other areas in the healthcare system, Prellwitz said.
When considering the adoption of any new technology, Prellwitz said, physicians typically ask:
1. Does it work?
2. Will I get paid?
3. Will I be liable?
4. Will it work in my practice?
But from a coder's perspective, those questions become:
1. How does it work?
2. How do I describe and report the service?
3. How does it change the provider's workflow?
"All of these factors feed into coding," Prellwitz said. She then reviewed the six emerging health technologies and their coding implications.
Digital Health
Definitions of digital health technologies can vary but generally encompass a broad scope of tools that:
1. Engage patients for clinical purposes;
2. Collect, organize, interpret, and use clinical data; and
3. Manage outcomes and other measures of care quality.
Examples of digital health technologies include mobile health (mHealth) apps, telemedicine/telehealth, remote monitoring, wearables, and computing platforms, connectivity, software, and sensors.
An AMA Digital Health Study conducted in 2016, 2019, and most recently in 2022 shows:
An increasing number (from 85 percent in 2016 to 93 percent in 2022) of physicians see a definite advantage in digital tools;
Adoption of digital tools has grown significantly among all physicians regardless of gender, specialty, or age (The average number of tools in use by a physician grew from 2.2 in 2016 to 3.8 in 2022.);
Adoption of remote care tools such as tele-visits and remote monitoring has had the most upward movement (Tele-visits increased from 14 percent in 2016 to a whopping 80 percent in 2022, and the number of physicians using remote monitoring devices grew from 12 percent in 2016 to 30 percent in 2022.); and
Two in five physicians plan to adopt augmented intelligence in the next year, with digital therapeutics having the highest percentage of planned incorporation in the future, according to the 2022 study.
It will be interesting to see which digital health technologies physicians are using most in the AMA's next study, when the COVID-19 public health emergency (PHE) is, hopefully, no longer a factor.
Implications of Digital Health Technologies
Implications of digital health technologies that coders will need to clarify:
What service is being provided?
Who is providing the service?
Physician vs. external company
Is it a separate and distinct service?
What is the new workflow?
Prellwitz highlighted the effect telemedicine has had on the health industry, including medical coders. "Telemedicine got a real push with the pandemic," she said. "There was no time to plan or learn." The PHE had a ripple effect on coding for COVID-19 vaccines, testing, etc. — not to mention all the policy changes for telehealth coverage and claims reporting.
The number of telehealth claims went from 466,000 in October 2019 to 12.7 million in April 2020, according to Prellwitz. And the number of services providers could perform using synchronous telemedicine went from 70 to 262.
More specifically, telehealth visits for behavioral and mental health diagnoses were five to 10 times more prevalent than all other categories in 2020, Prellwitz said.
Coding implications of this trend include:
Increased emphasis on reporting behavioral health
Potential increased use from physicians and other qualified healthcare professionals (QHPs) who may not have reported these services previously
Coders will need to know:
Was the service provided in the physician's office, remotely with interactive audio and video, or audio only?
Is the service provided in conjunction with other services?
"As people are starting to come back and connect with their physicians," Prellwitz said, "you may find that your physicians previously didn't have these types of process and procedure codes for psychotherapy and counseling. You'll find a wide range of coding options, particularly in CPT®, that speak to those, and some of those have fairly complex requirements." She recommends that coders look at the service that's provided, ascertain how it fits on that continuum of care, and understand the guidelines for reporting those services.
Increased RPM
There is also a trend in the increased use of remote care services, or remote physiologic monitoring (RPM), since the beginning of the PHE, including:
Specialized remote monitoring devices for specific conditions;
Expansion of monitoring beyond chronic disease management; and
Interconnection of in-home diagnostics and telemedicine.
RPM includes blood pressure monitors, continuous glucose monitors, anticoagulation testing devices, electrocardiogram (EKG) devices, heart rate monitors, maternity care monitoring, pulse oximeters, and smart scales. These types of digital health are being driven by many factors such as "hospital at home," Prellwitz said, and continued growth is predicted after COVID-19. Remote monitoring has grown from 29.1 million users in 2020 to 39.3 million users in 2021, and it's projected we'll see 70.6 million users by 2025.
Coding implications for RPM include:
The components of RPM (physiologic: weight, blood pressure, pulse) and remote therapeutic monitoring (RTM) (signs, symptoms, functions of a therapeutic response)
New codes – RPM established in 2019, RTM in 2022
Coders should review the extensive CPT® guidelines relating to the length of monitoring (minimum of 16 days), designation as a medical device, the required time for treatment services every 30 days, and face-to-face requirements. RPM and RTM are designed to be used together, and knowing how these digital health services fit into the workflow is important.
Tip: For RPM coding guidance, read "RPM Keeps Vitals Under Control."
Augmented Intelligence (AI)
Whereas artificial intelligence enhances the quality of care, augmented intelligence is a tool used to assist (not supplant) the user's performance and improve the patient experience. This is a widely evolving field, Prellwitz said.
From 2018 to 2021, augmented intelligence was most frequently used in radiology and oncology, with COVID-19 coming in third. Other specialties that are increasingly using this technology are cardiology, gastroenterology, general practice, genetics, neurology, ophthalmology, and pathology.
Coding implications for augmented intelligence include:
Improved accuracy and analysis of unstructured data
A new participant aiding the physician in the provision of services for a patient
Key focus areas for coding involve answering the following:
How does it work?
What does it do?
Where does it fall on the AI spectrum?
How does the workflow change?
"This is probably one of the most active areas where we're seeing increases, aside from genomics," Prellwitz said. The AMA developed the 2022 CPT® Appendix S: AI Taxonomy for Medical Services and Procedures to provide guidance for classifying various AI applications on the spectrum. It's primarily used by those requesting a code change, but it can also be used by coders to assess AI classifications (for example, whether the device is assistive, augmentative, or autonomous).
Genetics
The AMA defines precision medicine as "a tailored approach to healthcare that accounts for the individual variability in the genes, environment, and lifestyle of each person." The goal of precision medicine, the AMA continues, is to "allow physicians and researchers to predict more accurately which treatment and prevention strategies for a particular disease will work in which groups of people."
Precision medicine takes many forms from blood typing, personalized diets, and regenerative medicine to the more complicated pharmacogenomics, genomics and cancer treatment, and genome sequencing. These types of precision medicine expand treatment capabilities as well as findings and data. This may have some implications from a coding and workflow perspective.
Coding implications for precision medicine include:
Increased treatment pattern variation

Focus on the specific care provided and not the diagnosis
Heightened awareness of common conditions is achievable

Potential increased emphasis on genetic counseling

Genetic counselors perform much of the genetic counseling today (96040)
Additional physician work in reviewing/interpreting a broad range of results
In the CPT® laboratory subsections, there are extensive guidelines and instructions for coding precision medicine such as:
Molecular pathology
Multianalyte assays with algorithmic analyses
Genomic sequencing procedures and other molecular multianalyte assays
Proprietary lab analyses (PLAs)
According to Prellwitz, the AMA is seeing an increasing number of PLAs pertaining to genomics.
Health Information Exchanges (HIEs)
Less specific to coding, HIEs allow healthcare providers and patients to access and share medical information electronically in support of care coordination. There are three forms of HIEs:
1. Directed exchange – send and receive secure information electronically between providers to support coordinated care
2. Query-based exchange – find and/or request info on a patient from other providers, often used for unplanned care
3. Consumer mediated exchange – patients aggregate and control the use of their health information among providers
Coding implications for HIEs are:
Simpler means for identifying/correcting billing information and increased accuracy
Identifying/correcting wrong or missing health information
More comprehensive patient data
This last one is achieved as you gather more pieces of data on a particular patient from a broader range of providers.
Global Standardization of Medical Terminologies
"Although most healthcare is delivered locally, our world in general is more mobile — there's care being shared across more care settings and they don't necessarily follow a boundary," Prellwitz said. "There is a value to increasing standardization. … It's difficult to provide coordinated care if two providers aren't speaking the same language."
Global standardization of medical terms allows:
Effective communication
Interoperability among systems
Definition/simplification of semantics
Better coordinated care
Improved use of medical information in secondary work (e.g., case studies, research, public health)
Coding implications of global standardization include:
Improved exchanges: less translation required when reviewing medical record data from external sources
Potentially fewer claim denials due to inconsistent information submitted
"Anything that helps smooth out that information is going to be very important," Prellwitz said.
Bringing Trends Together
All of these health technologies will be instrumental in improving the overall healthcare experience for everyone involved. Prellwitz gave an example of how the patient journey changes as they go from in-person care only to in-person or virtual care (usually based on convenience) to integrated in-person and virtual care (based on clinical need and appropriateness).
With in-person care, a patient may be seen for their hypertension every three to six months or when otherwise needed. Care coordination is low. Compare this to the hybrid model, in which the patient is seen in person every three to six months and when otherwise needed or virtually when clinically appropriate. In this scenario, care coordination is moderate. Now, consider the virtual care model, in which the patient is seen in person less frequently, but monitored regularly for blood pressure and has appropriately timed virtual coaching sessions to maintain blood pressure controls through active medication management and lifestyle changes. Care coordination is high, as is the potential impact on overall value.
The coding implications of these models are:
In the in-person-only care model, coding is known.
In the in-person and virtual care model, there may be possible use of modifiers, separate and distinct billing of onsite and virtual, and remote data capture.
In the virtual care model, you have all the unknowns as in the in-person and virtual care model, plus telemedicine, care coordination, and data interoperability.
"It's a fast, evolving field, but there's definitely a role for coders in continuing to be able to tell the story of the advancement of medicine," Prellwitz concluded.
Bonus Video: Watch a portion of this HEALTHCON International session when AMA Director of CPT® Content and Management Leslie Prellwitz talks about the effect digital health has on medical coding in the electronic version of Healthcare Business Monthly, available in your My AAPC account.
---
Resources:
AMA, Digital Health Care 2022 Study.
www.ama-assn.org/about/research/ama-digital-health-care-2022-study-findings
AMA, CPT® Appendix S: AI taxonomy for medical services & procedures.
www.ama-assn.org/practice-management/cpt/cpt-appendix-s-ai-taxonomy-medical-services-procedures
Latest posts by Renee Dustman
(see all)