Don't Lead Providers Down the Wrong Path
Teaching providers how to improve their documentation should be informative, not influential.
Educating providers is a necessary part of the job for every coder, auditor, and clinical documentation improvement (CDI) specialist. It's crucial, however, that we teach providers how to improve their documentation without leading them toward a specific code or diagnosis for the purpose of increasing reimbursement.
To understand how we can communicate better documentation techniques to our providers without leading them, we must understand what "leading" means. The Association of Clinical Documentation Specialists explains leading as, "When the provider is guided towards a particular conclusion/diagnosis by CDI or coding that results in an increase in reimbursement."
While our goal is to capture all the deserved revenue we can for each patient visit, it's important that we do so in a manner that does not change a provider's original diagnosis or plan of care for a particular date of service. For CDI to happen, it helps to know what providers expect and want from coders, auditors, and CDI specialists.
Perfect Your Communication
To find out what providers expect from their coding staff when documentation issues arise, I surveyed a group of providers with whom I work closely. The questions I asked were:
Do you want/like communication from your coders/auditors?
What type of communication do you prefer?
Do you find this communication helpful?
What do you feel makes communication most useful?
Here are a few of the responses I felt were most helpful in understanding what providers expect from coders, auditors, and CDI specialists.
"I want communication that is necessary to complete adequate charting or appropriate feedback on charting and coding."
"I have found the communication to be helpful as there are details that I miss and our coder has flagged."
"I do like to have some communication with my coder. We have touched base several times on issues with diagnosis codes, which was very helpful. Just from this experience, we emailed but then talked on the phone when further clarification was needed. In the past I would meet with my coder monthly, but it was not really necessary to meet with them that often. Maybe quarterly just to check in and in between if there is an issue."
"I prefer to have communication from coders and auditors only if there is a problem with the way I am documenting or dropping codes, or if there are updates in guidelines. I prefer email or instant messaging for communication."
"Their communication helps me maximize my revenue and ensures that I am in compliance with regulations and guidelines. Most physicians are nothing if not detail oriented. I want to do the best I can for the hospital and my patients, and my bottom line is important to me."
"Definitely in-person communication. It needs to be a dialogue, not necessarily just a one-way street. Email or other not-in-person communication tends to be misconstrued or harder to understand. I find that it takes less time to have a conversation than it does to communicate electronically."
"I prefer to be shown specific examples, both good and bad. Show me what I am doing right and show me what I'm doing wrong; then, give me concrete suggestions on how to improve. Most of us can handle constructive criticism. Show me the guidelines but keep that part brief if possible. We get bombarded with information."
These answers make it clear that most providers welcome communication that will help them better follow official guidelines and improve their documentation. But talking to a provider about the things they need to correct can be intimidating. Building a relationship of trust with the providers you work with will help facilitate change when needed.
Build a Solid Relationship
Once you understand how best to communicate with your providers, it's crucial that you build a relationship of trust. Here are three tips to help you approach providers in a constructive manner.
1. Make a personal connection: Providers are just like you and me. They are human and have interests and hobbies outside of work. If you are in a provider's office and you notice pictures or objects that you can use to break the ice, this can be a good way to develop some common ground. For example, I once met with a provider who had a signed football jersey in his office. When he came in, I commented on it, and we talked football for a few minutes. This helped to ease the tension before talking about his documentation. Be mindful, though, that a provider's time is in high demand. Do not spend too much time on idle small talk. Spend a few minutes and then move on to your meeting agenda.
2. Have answers ready: Before talking with a provider, gather knowledge on the subject you are going to address. They are going to have questions, and you should be able to answer those questions as they pertain to official guidelines. If the provider asks a question that you do not know the answer to, do not guess. Nothing will damage the trust between you and a provider more quickly than if you give them incorrect information that you must correct later. It's acceptable to tell the provider that you are not sure of the answer to their question and will research it and get back to them as soon as possible.
3. Outline the benefits: Show providers how they can benefit from the advice you are providing. For example, if you have a provider that performs many CT scans but never documents whether they are personally looking at the scans or simply reviewing the reports, ask the provider if they are looking at the report or the scans. If they answer that they are looking at the scans, you have the opportunity to educate them on how to document this so they can get credit for it under medical decision making.
Do your best to form a connection with your providers and strive to show your value to the practice's compliance and bottom line.
Inform Without Leading
How do you get providers to document better without crossing the line into inappropriate influence? Use the following guidance to stay on solid educational ground.
Ask the provider general questions about what they do during a visit that relate to the educational point you want to discuss. This will help you avoid telling a provider to document something they are not doing.
Be general in your examples when educating providers. You may provide specific examples from providers' previous charts that illustrate both good and weak documentation, but never ask a provider to go back and change something they have documented.
Never ask a provider to change a document for the sole purpose of obtaining higher revenue. An example of an inappropriate statement is, "If you document XYZ, you'll get higher levels."
Never influence a provider to change their diagnoses on a chart that has been signed and finalized. Instead, inform providers about inconsistencies in their documentation or what may be missing from a document that prevents it from being coded. There is a time and place for queries and addendums.
Look at provider education as an opportunity to teach and then move forward. Stick to the facts and reference credible documents and guidelines. Showing providers where your information comes from can increase your credibility and help providers see how they can improve on their own. If warranted, supply providers with copies of the national coverage determination (NCD) or local coverage determination (LCD) for their own reading and future reference. Pointing providers toward public information they can absorb on their own avoids undue influence and leading on the part of the coding staff.
Simplify Guidelines for Providers
When the 2021 evaluation and management (E/M) guidelines were released, it was my job to educate our providers on the changes. It meant telling providers how the changes would affect the way they documented and explaining how code selection would be based on either their medical decision making (MDM) or time. To help providers in selecting their E/M levels, I modified the American Medical Association's audit tool and provided them with the following simplified reference that describes medical necessity, MDM, and time.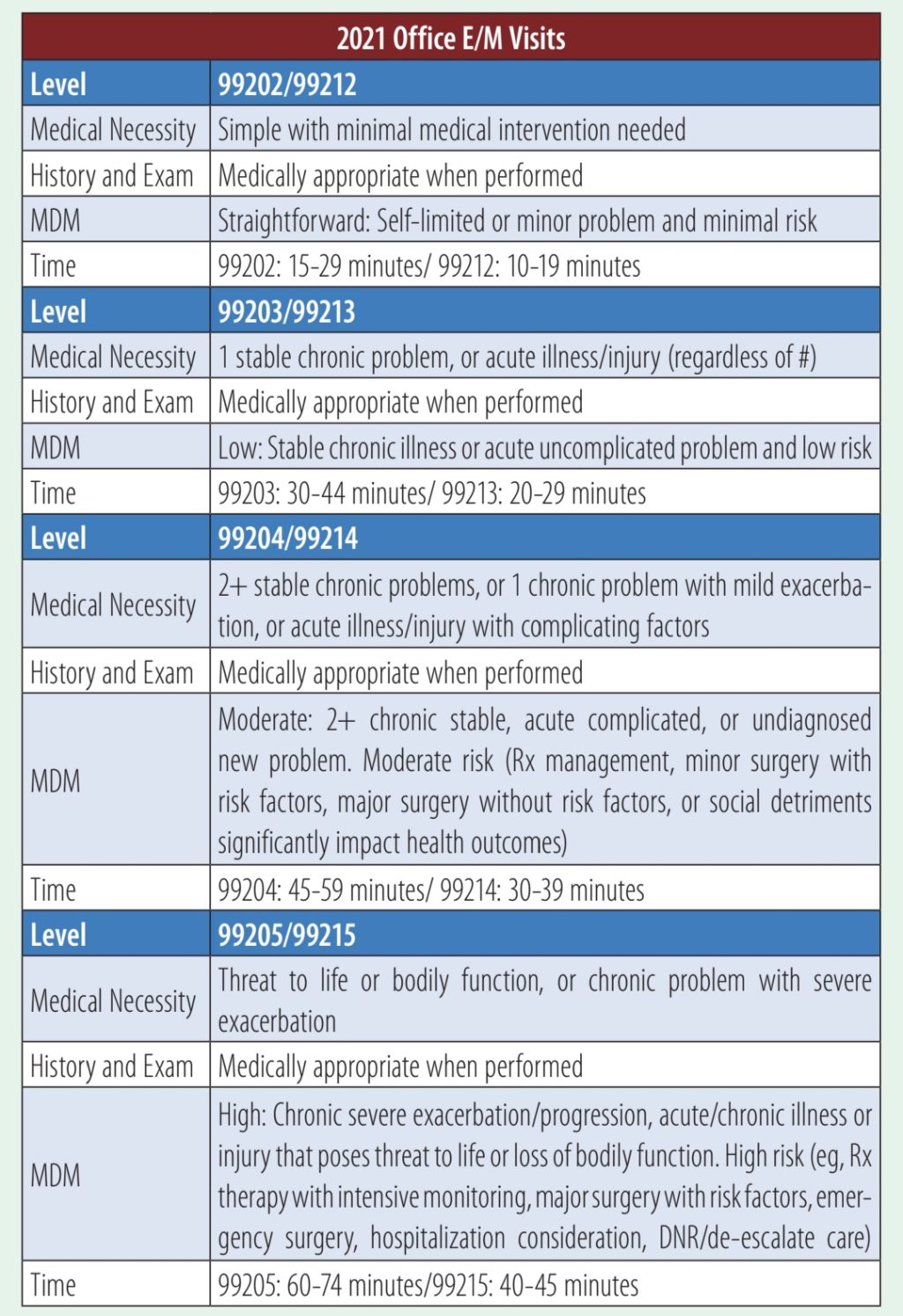 My providers love this. It gives them the information they need at a quick glance to understand what level of service to charge for a particular visit. With more new E/M guidelines coming in 2023, think about how you can make the coming changes easier for your providers.
Address Problems
I have been asked on many occasions, "What happens when I have provided the education and the provider refuses to make the corrections?" I know from personal experience that this is a difficult situation.
When I was training providers on the 2021 evaluation and management (E/M) guidelines for office visits, one of my providers launched into a rant about how he was not a coder and did not need to worry about such things. He said he had a coder that would correct his codes if they needed to be corrected and my education was a waste of his time. I was in shock. I had never been so poorly received in my days as a compliance specialist. I sat and listened to him and then thanked him for his time and left his office.
I informed my boss what had happened, and we agreed to let things simmer down before trying again later. After about nine months with the new guidelines in place, I conducted an audit of the provider's charts. I found several opportunities for documentation improvement. A meeting was scheduled, and this time my boss attended with me. To our surprise, we were met again with the same attitude. He would not let either one of us get a word in. Once he was done speaking, we provided him with the paper audit results, thanked him for his time, and left.
At this point, my boss and I decided that it was time to stop trying with this provider. Was he missing out on revenue? Yes, but he was clearly not going to make any changes. We informed the medical director and left it at that. A few months later, I was reviewing another audit with his coder and it suddenly dawned on me that he trusted his coder. He made that clear to us not once, but twice. It was like a light bulb went off in my head. I spoke to the coder about how difficult it was for us in compliance to get through to this provider. I told her about our findings and asked if she would mind taking one piece at a time and slowly start communicating the changes that needed to be made in the provider's documentation to make it better. It worked! I found a person the provider trusted and was able to get my message through that way.
This was an extreme case, but it illustrates that there can be pushback from some providers. When dealing with a difficult provider, coders have a few options. You can try to see if the provider will listen to the director, or you can ask if the compliance department can address the issue. If you are lucky enough to have another physician in the same practice that excels where the other physician is lacking, you can ask if they would be willing to be part of the educational meeting or help you address the issue. Keep trying until you find what works best for your situation.
Together is Better
It's important to remember that most providers want to do the right thing, receive credit for all the hard work that they do, and pass audits with flying colors. It's up to us as coders, auditors, and CDI specialists to educate providers in a non-leading way, so that their documentation best reflects the work they have done, and they receive the reimbursement for which they are entitled. By working together, we can show providers we are there to help them and achieve the goal of complete, compliant documentation that results in correct coding and billing.
---
Resources:
www.todayshospitalist.com/beware-of-leading-queries
www.ama-assn.org/system/files/2019-06/cpt-office-prolonged-svs-code-changes.pdf
Latest posts by Rebecca Powell
(see all)