Diversity, Equity, and Inclusion in Healthcare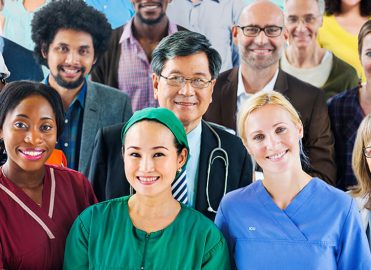 Understand the impact that DEI has on healthcare organizations and patient outcomes.
There has been a recent focus on diversity, equity, and inclusion (DEI) throughout a variety of industries; and understanding their impact on healthcare organizations is important in improving health outcomes and quality of life for patients. Medical coders have a unique behind-the-scenes view of patient care. They may not have personal interactions with patients, but they are indirectly involved in the patient environment. You can help to ensure your healthcare organization offers a welcoming, diverse office environment that extends to the patient level through DEI.
L Renee Bradley, Ed.D, MBA, CPC, CPC-P, professor of medical coding and special assistant to the president for DEI at Rhodes State College in Lima, Ohio, presented "Diversity, Equity, and Inclusion Awareness in the Medical Field" at AAPC's HEALTHCON Regional 2022 in Denver, Aug. 3-5. Bradley emphasized that she wanted the audience to "listen, learn, and take back" what she was teaching in her presentation because DEI awareness has shifted to the forefront in this country. Here are the takeaways from Bradley's presentation. Share them with your healthcare organization to ensure a culture of diversity, equity, and inclusion.
Understand Diversity, Equity, and Inclusion
Diversity is a word you've heard since the '70s, but more recently two other words have helped to broaden its scope: equity and inclusion. Diversity has not gone away, it's just been enhanced, according to Bradley. She defines these key terms as follows:
Diversity – The presence of differences in people that may include race, gender, religion, sexual orientation, ethnicity, nationality, socioeconomic status, language, (dis)abilities, age, or political perspective.
Bradley recommends looking at your healthcare organization and noting what diverse populations exist. Focus on which ones are underrepresented among practitioners in your work environment and those who are marginalized in society.
Equity – Promoting justice, impartiality, and fairness within procedures, processes, and distribution of resources by institutions or systems.
It is important to understand the difference between equality and equity. Bradley says that equality was a catch word in the '70s, '80s, and '90s, and it means giving everyone the same thing to help them achieve their goals. That concept doesn't work for everyone, however, as you can see in Figure A, which shows that not everyone can achieve their goal (seeing over the fence) using the same thing (a box to stand on).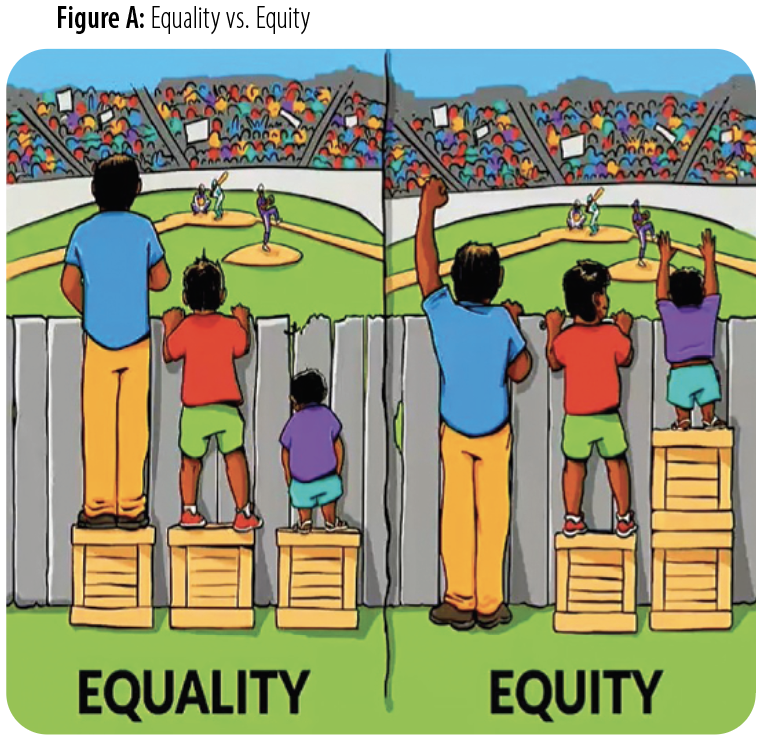 How do you remedy the shortcomings of equality via equity? The tallest person in Figure A doesn't need a box to achieve the goal of seeing over the fence to watch the game, so their box is taken away and given to the smallest person in purple who needs two boxes to achieve the goal of seeing over the fence. The mid-sized person can see over the fence with just the one box they were given. Everyone now achieves the goal of seeing the game.
Equity, Bradley says, is being able to say, "I'm giving everyone something they can actually utilize in their particular space, time, and situation." Explore what unique aspects fulfill what the individuals in your work environment need daily to achieve their desired outcomes. "Tackling equity issues requires an understanding of the root causes of outcome disparities (especially in healthcare) within our society," said Bradley.
Inclusion – An outcome to ensure those who are diverse are welcomed and/or feel welcomed. Inclusion outcomes are met when you, your organizations, and your programs are truly inviting to all.
Figure B illustrates equality, equity, liberation, and inclusion. In the third picture (liberation) the fence has come down and the three individuals no longer need boxes because the fence is not obstructing anyone's view. All feel as if they are part of the game. The fourth picture (inclusion) is the game changer; the three individuals are given a team uniform and are no longer spectators. They can participate fully. In a healthcare organization, this inclusion would allow all three individuals to participate in decision-making processes and development opportunities, according to Bradley.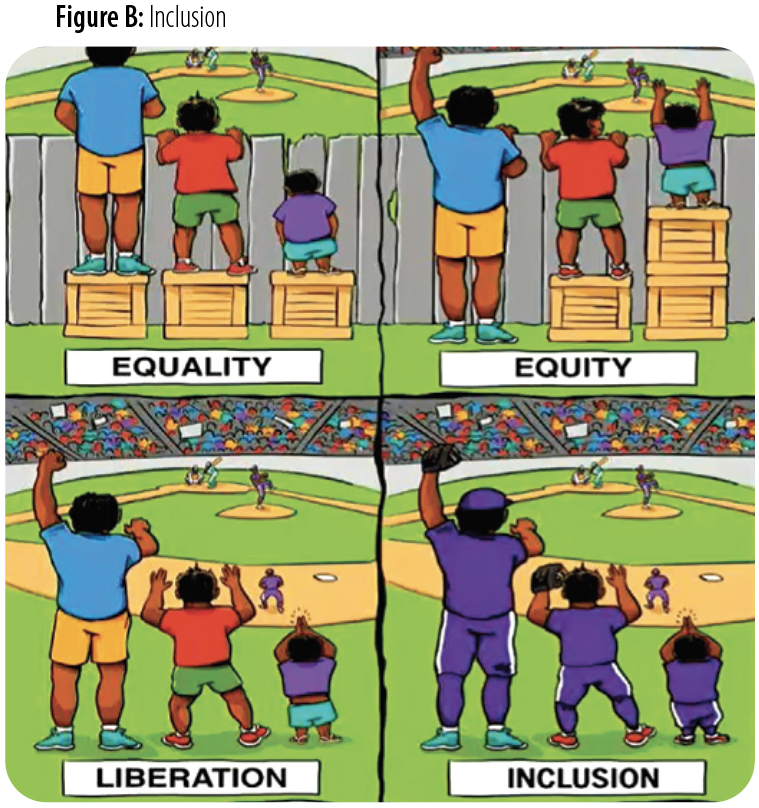 Be a DEI Champion in the Coding Industry
Bradley encourages everyone to become a DEI champion. She says DEI champions are individuals within a team, organizational culture, or medical field who are:
Committed to DEI,
Leaders in moving the DEI needle forward,
Thoughtful listeners who exhibit empathy, and
Engaged in professional development and training to help enhance DEI in their workplace.
Bradley became a DEI champion in the medical coding industry when she joined AAPC. She said, "There is something that stirs within you that says, 'You know what? I want the same for everyone.'" Bradley realized once she got active in AAPC that there weren't many coders in her area who were certified. To change this, Bradley said, "Let's start a chapter. Let's make that happen, so we're providing the education. We're providing motivation … to get individuals engaged." Now all certified coders have the means to earn low-cost and free continuing education units (CEUs).
Bradley warns: Don't go back to your employer and say, "Guess what? I'm a DEI champion. I've declared myself as such and you need to add this. You talk to HR and make it happen." Instead, be a champion for yourself first, so the champions are within your team.
The people who watched Bradley's presentation are already DEI champions, she said, because they showed up and are aware of DEI by choosing her session. It shows that they are dedicated to professional development and training to enhance their knowledge of DEI environments and take it back to the workplace. Other educational opportunities that you can seek to become a DEI champion include joining diversity councils, attending diversity retreats, connecting with community resources and organizations about diversity awareness and celebrations, and supporting and recognizing important dates and events throughout the year.
According to Bradley, the responsibilities of DEI champions are REAL:
Reveal relevant opportunities: Identify specific actions with curiosity and appreciative inquiry. Focus on a few areas that you are already engaged in and areas that you need to be stronger in for the future.
Elevate equity: Prioritize fair and contextually appropriate access to resources and opportunities. Switch from talking about equality to bringing awareness to equity.
Activate diversity: Acknowledge, celebrate, and catalyze different characteristics, values, beliefs, experiences, backgrounds, and behaviors.
Lead inclusively: Intentionally create and sustain an environment that supports direction, alignment, and commitment from everyone in your organization.
DEI champions are intentional and purposeful. They intentionally form committees, make time for professional development, and purposefully acknowledge diversity.
Implement DEI Initiatives
According to Bradley, "Organizations that implement DEI initiatives have a workforce of individuals whose decision-making, creativity, and innovation skills are enhanced, as there is a more central focus on the overall benefits of the organization as a whole — not just individual parts."
Bradley encourages implementing DEI initiatives throughout multiple areas of the healthcare field to help improve the patient and family experience in outpatient and inpatient settings. When you start looking at your own healthcare system and implementing initiatives to develop DEI statements, you'll discover "there's already a base there that either got developed before you came or was developed years ago," Bradley said. Some may have been developed decades ago. That's too long, according to Bradley. Diversity is something that is in constant flux; it's not static. Your diversity statements should be reviewed, developed, and updated on a yearly basis.
While reviewing your DEI statements, focus on policies and procedures, hiring practices, professional development and training, and implementing DEI initiatives for patients and communities served by your healthcare organization. Make sure your DEI statement says what your healthcare organization wants to represent from a diverse aspect. Consider tying it to your mission statement, so they are cohesive.
After you review your DEI statement, Bradley recommends following these revision guidelines. The DEI statement should:
Demonstrate your organization's commitment to building an inclusive, varied workplace, welcoming people of all backgrounds
Complement your organization's mission and vision statements
Be engrained throughout all areas of your organization
Guide your hiring, employee benefits, customer service, and workplace culture
Use positive language that is solution-focused (e.g., exclusive, celebrate, grow, freedom, commitment, experience, equality, equity)
Cite specifics and point out tangible ways to bring awareness and DEI initiatives into your workplace (e.g., programs, policies, training, partnerships)
Take action and use data to support your progress
Push beyond normal expectations: Review the progress and DEI statement for alignment with your organization's mission and vision, including targets.
Make It Personal
Bradley stressed in her presentation the importance of making DEI personal. Creating your own diversity statement can help you become more focused on change in your workplace and demonstrate your commitment to DEI with prospective employers. Four steps that Bradley recommends you take to develop your personal DEI statement are:
1. Think about your past DEI experiences and select one that influenced you most.
2. Explain how the experience contributed to your current personal and professional growth.
3. Identify aspirations for continued DEI growth, such as certification, professional development, and being a member of a DEI organization.
4. Discuss how you want to and will inspire others to embrace DEI.
Bradley says it's the "fire in your belly" that will prompt you to bring awareness to DEI and make it personal. She shared a story from college that started the fire in her belly and influenced her to become a DEI advocate. Bradley's college professor treated her, as well as the other students, like a number. She realized that she could do a better job and make people feel welcome. The experience led Bradley "to wanting a career change and a specific career just to be able to treat people equally." When she became a teacher, she remembered not to make people feel like a number. Bradley pushed herself to recognize her students as individuals, so they felt welcomed and like they mattered.
Bradley provided an example of a personal DEI statement for medical coders:
I am committed to promoting diversity, equity, and inclusion in the medical coding field, first by my certification(s), which show(s) my commitment to a field that welcomes and embraces diversity, and by serving on teams and/or committees that are dedicated to enhancing diversity within my community (field or work environment).
I've participated in Title IX, Safe Zone, and other training and/or professional development with DEI focus.
<Provide examples of DEI focus points>
"Your DEI statement should show what you have done and also encourage others, and show someone what you would like to do," said Bradley. She encouraged attendees to share stories that helped them get to the point where DEI was personal and to write their own DEI statements and share them with the others at the session.
The session ended with attendees asking questions, sharing stories, and reciting personal DEI statements. The DEI stories were heartfelt and inspiring — real eye-openers that showed we all can do better to include others and promote DEI. The participants were brave for standing up and sharing the diversity "Ah ha!" moments that have impacted their careers and lives.
It was a dynamic and interactive session, and everyone left with a sense of purpose for the future.
Bonus: Listen to Dr. L Renee Bradley explain in detail the nuances of inclusion and how diversity, equity, and inclusion can be incorporated into your healthcare organization through awareness, which starts by asking these three questions:
Diversity asks: Who is in the room?
Equity asks: Who is trying to get in the room but can't?
Inclusion asks: Has everyone's ideas been heard?
You can find the 5-minute clip of Bradley's HEALTHCON Regional 2022 presentation "Diversity, Equity, and Inclusion Awareness in the Medical Field" in the electronic version of Healthcare Business Monthly, available in your My AAPC app.
Latest posts by Michelle Dick
(see all)