A Guide to Strategic Planning in Healthcare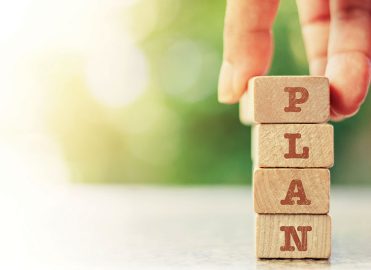 Learn why strategic planning is essential for coding managers and compliance directors and how to create a plan for your organization.
Strategic planning is an important part of any business and is becoming ever more critical in our evolving healthcare environment. Strategic planning involves setting goals, determining actions to achieve those goals, and mobilizing resources to efficiently execute the plan.
Having strategic skills to solve the complex challenges we are faced with in our industry is required at all levels, from coder to auditor, manager to director, and so on. But for many of us, strategic skills are not intrinsic. We must learn to be strategic-minded. This means we need to be proactive and think long-term but also have a plan that allows us to pivot quickly when we are faced with challenges caused by short-term turmoil.
While a project plan is the short-term plan for a specific project, a strategic plan is tied to an organization's long-term initiatives, includes multiple projects, and may encompass what you want to accomplish in the next two to three years. A strategic plan is an action plan or road map you can use to develop your compliance plan, achieve your coding and auditing goals, and protect your bottom line. Creating this plan will help you map out your long-term goals and identify specific metrics, revenue targets, and focus areas in need of improvement. Here are the steps to develop your strategic plan.
Step 1: Determine Where You Stand
The first step in creating your strategic compliance plan is to determine where your compliance program stands today. To do this effectively you need to stimulate critical, analytical, problem-solving, and planning thinking. To jump-start your thinking, ask yourself the following questions:
What is my organization's vision?
What is my organization's mission?
What are my team's strengths?
What are my organization's strengths?
Where do the weaknesses lie in my audit results, processes, people, and organization?
What opportunities are there to improve?
What are my goals?
What could prevent me for executing my plan?
By answering these questions, you will get to the very core of your compliance program for yourself and your team of medical coders and auditors. Your answers will also serve as the inception of your strategic plan outline.
Step 2: Determine Where You Want to Go
The next step is to determine where you want your compliance program to go. In other words, where do you want your compliance program and your team of coders and auditors to be in one year, two years, and beyond? Part of determining where you want to go is identifying your goals and objectives. Think about what needs to change so you can meet your goals. Goals outline the way in which you are going to make changes, whereas objectives are what you measure along the way.
For example, let's say you identified the new 2023 evaluation and management (E/M) guideline changes as an area of weakness. You want to ensure your organization is not losing revenue by undercoding, nor is it at risk for overcoding hospital E/M services. In this situation, you would set a goal to improve E/M accuracy with the objective of achieving a 95 percent accuracy rate.
You may also want to implement at-risk audits for highly utilized services and high-cost services, outsource your coding and/or audits to a third-party vendor, implement monetary incentives for your physician, providers, coders, and auditors, decrease payer denials by a set percentage, or implement a new electronic health record (EHR) system to improve clinical documentation. You can do all this and more. This is by no means an exhaustive list.
Step 3: Develop Your Plan
Now comes the stage in the process where you take your goals and objectives and translate them into a detailed action plan. This written plan is the primary source of information on how you will execute, monitor, and complete objectives. Your plan should include:
Goal
Objective
Budget
Resources
Timelines
Status
Targets/Measures
Outcome
You can use the strategic project plan template shown in Figure 1 to help you get organized.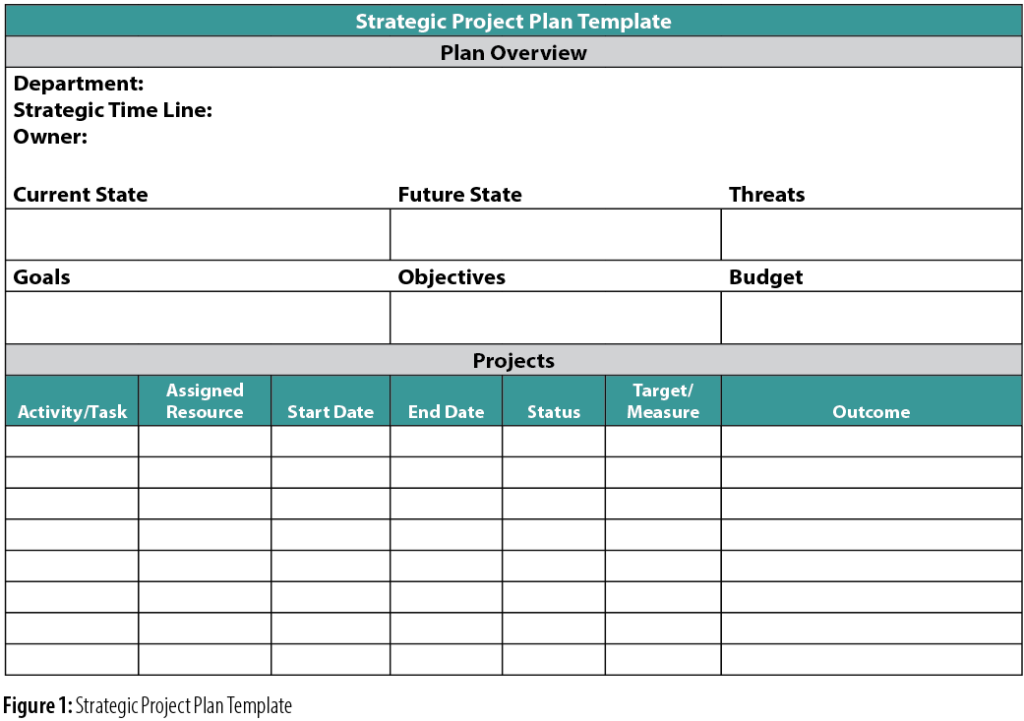 Be prepared to pivot and change your action plan as events within your organization and industry change, but never lose sight of where you want to go. No one planned for the COVID-19 lock-down in 2020, for example, but a good plan counts on unforeseen change, events, and threats that may alter the original roadmap. Be prepared to adapt your goals and objectives, if needed.
Step 4: Execute Your Plan
After all that critical thinking and planning, it's time to take action. Begin by communicating your strategic plan to your direct supervisor, physicians, team of coders and auditors, and any other stakeholders. The best way to capture everyone's attention is to write a one-page summary that is clear and concise and communicates how your strategic plan will add value. Demonstrate how the plan will impact the business over time. Make sure everyone is aware of your direction, is on board, and knows their specific role and responsibilities.
Next, implement the plan. Align specific tasks with the right person or team. Provide everyone with the necessary tools and resources to complete their tasks efficiently. Be sure to incorporate your goals into daily workflows. Communicate clear priorities to your team to help them stay focused on the initiatives that may have the biggest impact.
Lastly, revisit and monitor your progress on a regular basis to ensure it's on track and moving forward. A good way to do this is to identify key performance indicators (KPIs). For example, basic KPIs might include monthly production numbers, staffing ratios per physician, percentage of denials, and audit scores.
Achieve Your Goals
Strategic planning can assist you in setting the right goals for your compliance program and help you meet your organization's mission and vision statements. When you create and share a clear and well-thought-out strategic plan with your team, you can align everyone in a shared purpose and long-term direction, proactively implement objectives to get you there, and ensure your compliance program can stand up to the ever-changing world of healthcare.
---
Resources:
www.flashpointleadership.com/blog/strategy-isnt-just-for-executives
www.forbes.com/sites/davelavinsky/2013/10/18/strategic-plan-template-what-to-include/?sh=6a94d20347e1
www.smartsheet.com/how-to-write-strategic-plans
www.indeed.com/career-advice/career-development/how-to-write-a-strategic-plan
Latest posts by Stephani Scott
(see all)