5 Surefire Interview Strategies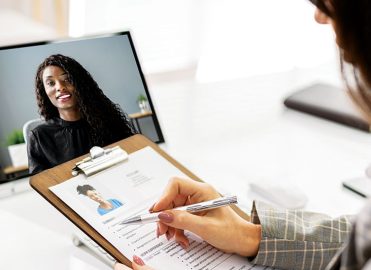 Build your dream team and avoid low productivity, low morale, and high turnover.
Recruiting and hiring new employees can be expensive and will eat up your production time quickly if you don't manage the process well from the get-go. Optimal outcomes begin with effective and well-planned interviews. If an interview is not organized, efficient, and focused, you may choose the wrong person, or worse — lose your next coding superstar. Ultimately, your goal is to hire a team of superstars that brings high retention and high morale for years to come. This may sound like an impossible dream, but Colleen Gianatasio, MHS, CPC, CPCO, CPC-P, CPMA, CRC, CPC-I, CCS, CCDS-O, 2022-2025 National Advisory Board president, knows how to make that dream come true. She explained how during her presentation "5 Interview Strategies for Hiring Your Dream Team" at AAPC's 2021 ELEVATE leadership conference.
When trying to gather your ideal team, Gianatasio said, "The plan is not going to be the same for everybody. I don't want you to walk away from this presentation with generic information. I want you to walk away from this with a personalized plan." To begin, she said, ask yourself five questions when planning an interview.
Who should be involved?
What does the future look like?
Where do I focus my questions?
When should I keep looking?
How do I ensure the best cultural fit?
Let's break down these questions.
1. Involve Key Players and Appropriate Interview Processes
Many years ago, the interview process was much quicker. You'd put in an application, get called in for an interview, meet with one or two people, and you'd know whether you were hired or not within a few days. Sometimes you'd even be hired on the spot. "It was quick and effective, but there are many benefits of using several types of interviews when you are hiring," Gianatasio said.
Today, to find the perfect candidates, there are many layers of interviewing and ways to sift through applicants that are less desirable, such as:
Phone Screening Interview
Phone screening interviews are a great way to save time, especially if you are interviewing to fill a lot of positions and have many applications to review. With a high volume of applicants, you can hire a recruiter or call in somebody from human resources (HR) to do the phone screenings. This method provides additional manpower, but you have to remember they're not experts in your field. It's a good idea to prepare your phone screener with rule-out questions and a list of soft skills you're looking for to help you narrow down applicants. For example, important soft skills for hiring a clinical documentation improvement (CDI) specialist would be:
Are they able to engage with physicians?
Are they a team player?
Are they good at communicating?
Think about skills and achievements that are necessary for the position and come up with questions that will rule out applicants who don't fulfill these requirements. Rule-out questions for a CDI specialist may include:
Do you have the required coding credential for the work? For example, Gianatasio requires the Certified Professional Coder (CPC®) or Certified Risk Adjustment Coder (CRC™) credential to work on her team.
Are you comfortable speaking in front of large groups? Gianatasio said that it's not uncommon for someone on her team to give a provider engagement presentation to 15-20 people at a time.
If the applicant is hesitant or answers "no" to any of these questions, then you've ruled them out.
In-person or Video Interview
Gianatasio's presentation was given during the pandemic shutdown, so she explained how COVID-19 has changed the interview experience for the traditional in-person interview. For example, the firm handshake that often starts and ends an interview may no longer take place.
Because remote positions are more common now, many interviews are conducted via video. "Your expectation for a video interview really should be as though that person is in front of you," said Gianatasio. "Too often I've seen people show up for interviews to high-level provider engagement positions — where they're expected to present to provider groups — looking more like they're ready to spend the day watching Hallmark Christmas movies. They have pajama-like clothes on, lounging back on a comfy couch with pillows behind them with a messy bun on top of their head. This isn't the appearance you want for somebody who will be facing customers. Even though times are more relaxed now, I would expect them to show the same amount of time and attention getting ready for the video and presenting themselves in a professional way as they would when presenting to physicians."
Case Assessment Interview
Assessments allow you to test your candidates' experience and skills with on-the-job scenarios to see if they check all the boxes that are required for the job.
Business Case/Coding Scenario Assessment: It's a good idea to screen the coding skills of potential hires, but limit the amount of time. "I've seen some organizations who send a candidate who has not even been hired yet a three-hour assessment; and to me, in my personal opinion, that's too much from somebody you know has no commitment to that organization," Gianatasio said.
Gianatasio asked conference attendees to give her feedback on what they thought was a decent amount of time to spend on a coding assessment. All agreed that within 60 minutes seemed to be a reasonable amount of time.
When you test someone and put them through a screening process, "Give them feedback. Make them stronger, even if they bombed the test," Gianatasio said. Tell them what they got wrong. Providing feedback will help your interviewee improve for the next position they apply for.
Verbal Assessment: It's helpful to require CDI specialist candidates to prepare a mock-up presentation for your organization's providers. Have the candidate pick the topic, put together two to three slides, and send it to you (the interviewer) as part of the interview process. It's a good way to see if the person can spell correctly, convey clear and concise thoughts, and use professional type fonts. You can also ask the candidate to take 5 minutes to make their presentation as if you were the provider. Use this as an opportunity to ask challenging questions that a provider might inquire about and to see if the candidate can articulate coding concepts. "That's my chance to see how they communicate verbally and how they respond on their feet," Gianatasio said.
Written Assessment: Business writing is important. "Unfortunately, I've made hires through the traditional interview process, and I wasn't aware of their lack of quality communication skills in the written form," Gianatasio said. To avoid this oversight, do a short assessment on how the candidate would respond to a provider who sends them an email. Check for a concise response, an appropriate salutation, and correct grammar.
Group Interview
Group interviews are a great way to get a lot of people's opinions in a short period of time. They can be intimidating, however, so decide up front who is going to ask which questions. For example, one person may ask the basic questions, one may ask the coding questions, and another may ask soft skill questions. "That way you're not stepping on each other … and you're using the interview to the best of your ability," Gianatasio said. Get as much interaction and information as possible in 45 minutes and be sure you are empathetic to the person sitting at the other end of the table or on the other side of the camera. "Make sure it doesn't feel like a firing squad," she said. Use the group dynamic to make it feel conversational and soften the experience.
Serial Interview
Serial interviews are for the stakeholders in the hiring decision. "You most likely will not be able to get them all together," Gianatasio warns. So, you may need to set a series of interviews for the manager, director, vice president, and coding team. The problem with this method is if there are multiple interviews spaced too far apart "companies are desperate to fill positions, people are acting fast, … and another company snaps them up," said Gianatasio. It's difficult for candidates to invest time in so many interviews, so keep them short and close together on the same day, within a four-hour span of time. Another way to omit so many interviews is to decide if the stakeholder really needs to be part of the hiring process. If they don't, just relay the information to them.
Meal Interview
A meal interview is when you take the candidate out for lunch or to a coffee shop and you have a discussion. Make sure you choose a place that will make it easy for conversation. Gianatasio finds that restaurants are a great place to learn more about a candidate's soft skills (e.g., how they interact with waitstaff and other restaurant patrons). Although this is a less formal setting for a business interview, you still must avoid topics like religion and politics — which is a great rule of thumb in most circumstances!
2. Focus on the Future
"Don't be short sighted!" warns Gianatasio. "Let's look into our crystal ball. What does the future look like?" When you're hiring, look at each candidate with your long-term organizational goals in mind. Don't just think about immediate needs.
Gianatasio conducted a creative visualization with conference attendees where she asked them to close their eyes and look into the future of their organization. If you want to be part of the creative visualization into the future, click on the crystal ball to watch a 5-minute clip in the electronic Healthcare Business Monthly, available in your My AAPC app.
3. Keep Your Questions Focused and Concise
"There's so much you need to learn about this person [the potential hire] to make sure they are a solid fit for your team," Gianatasio explained. "You can only ask so many questions in the allotted time." Here is how to focus your interview questions:
Structured Questions – A set of predetermined questions that are the same for each interviewee.
Structured questions are fair to all candidates, can easily be replicated by a multiple-person interview team, and make it easy to fill many positions quickly. They can, however, lead to answers that lack detail and depth.
Unstructured Questions – Rely on spontaneity and are more conversational and relaxed.
Unstructured questions help the candidate to build a rapport. But they can be time consuming, provide inconsistent results, and topics may go off on tangents that are unrelated to the job you are hiring for. These don't work well with multiple interviewers because the format is not replicated.
Situational Questions – Ask the candidate how they would act in a specific, hypothetical scenario that may happen in the future.
Situational questions help you discover how a candidate would respond on their feet in a real work situation.
Behavioral Questions – Ask the candidate to share a past work experience and how they responded to it.
Questions may begin with, "Tell me about a time when you disagreed with your boss" or "Tell me about a time when someone had a different work ethic than you," for example. This line of questioning may indicate how the person will be to work with.
Performance Questions – Focus on performance tasks that are important for the job.
For example, "Give me an example of a time that you were meeting with the provider one-on-one and they did not comprehend the coding concept you had carefully prepared. What steps did you take to help them understand?" These types of questions help you learn more about a person, their thought processes, and how they really operate.
4. Know When to Keep Looking
Keep an eye out for these red flags that point to an inadequate hire in the coding, auditing, and compliance fields:
Does not pay attention to detail
Unprofessional behavior
Generic resume or cover letter (not updated for the specific position they are applying for)
Inability to demonstrate the skills listed on their resume
Unexplained employment gaps (or frequent jobs for short periods of time, unless they are contract positions)
Does not own up to mistakes or blames others
Negativity towards former coworkers or employers
Other "showstoppers" may be candidates who show up late for the interview, spell HIPAA incorrectly, say they have no weaknesses, or overshare by revealing personal information that is irrelevant to the interview.
5. Ensure the Best Cultural Fit
You've screened, interviewed, asked the right questions, and looked for red flags. Once you've identified the candidate with the right hard and soft skills to get the job done, there's just one more factor to consider before you make an offer: Will they be a good cultural fit?
Avoid hiring people who are the same as you because hiring a diverse team will bring in new ideas and ways of doing things. Bring in candidates who have all kinds of differences, but who will adapt to and embrace your healthcare organization's core values. "When you hire for skills over culture, … you run the risk of the candidate not meshing with the team," according to Gianatasio.
You can find out in the interview whether your candidate is a good cultural fit by advertising your core values and discussing what core values looks like on your team. Ask your candidate some of these questions related to core values:
What's your most positive personality trait and why?
What's your worst personality trait and why?
What values are most important to you as a person and why?
What type of environment do you thrive in and why?
Do you feel that the role you are applying for has meaning?
Which of our core values resonates most with you?
If you're in an organization where you deal with fraud, waste, and abuse regularly, you'll want to be sure your candidate is honest and has integrity. "Anybody who can't be honest probably doesn't belong there," said Gianatasio.
A good cultural fit will ensure a successful hire, smoother transition, and longer retention. They will be a walking advertisement for your organization.
Latest posts by Michelle Dick
(see all)