Coding Inpatient and Observation Visits in 2023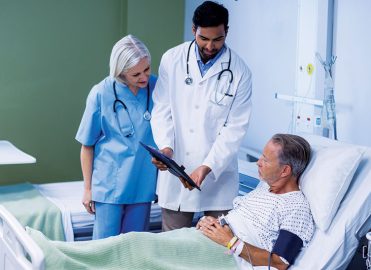 A thorough understanding of the latest guidelines for coding evaluation and management services is necessary to ensure compliant claims.
You've likely heard about the 2023 CPT® changes for reporting hospital inpatient and observation evaluation and management (E/M) services. AAPC has been preparing medical coders for these changes since they were announced and started offering education as soon as the American Medical Association's CPT® Editorial Panel finalized the changes. At AUDITCON — a virtual boutique conference held Nov. 3-4, 2022 — AAPC Chief Product Officer Raemarie Jimenez, CPC, CDEO, CIC, CPB, CPMA, CPPM, CCS, AAPC Approved Instructor, led the session "Audit Approach for Hospital Inpatient and Observation 2023 Guidelines" to ready auditors for the task of ensuring proper physician reimbursement. This article is a recap of that session.
E/M Guidelines: CPT® vs. CMS
Two years after the AMA revised the E/M coding guidelines for office and other outpatient services, we now have consistency throughout this section of CPT® and, for the most part, among payers. Although, "there are some notable differences in this area when it pertains to CPT® versus CMS," Jimenez forewarned.
"One of the biggest changes, I think, in the 2023 changes was the elimination of observation codes," Jimenez said. Effective Jan. 1, 2023, hospital observation codes 99217-99220 and 99224-99226 are deleted. These services are merged into the existing hospital inpatient services codes 99221-99223, 99231-99233, and 99238-99239, and the subsection is renamed Inpatient Hospital or Observation Care. As in the Office or Other Outpatient Services subsection, the descriptors for these codes are revised to allow for the use of total time or level of medical decision making (MDM) for code level selection.
Initial Care
Historically, only the admitting physician was able to use the initial hospital care codes (99221-99223). CPT® 2023 E/M guidelines now state: "An initial service may be reported when the patient has not received any professional services from the physician or other qualified health care professional (QHP) or another physician or QHP of the exact same specialty and subspecialty who belongs to the same group practice during the stay." CPT® considers advanced nurse practitioners and physician assistants who are assisting a physician to be of the same specialty and subspecialty as that physician and, therefore, may not separately bill for their services.
Note: The Centers for Medicare & Medicaid Services (CMS) does not have a subspecialty designation, so they're just looking at same group, same specialty.
CPT® clarifies in the 2023 E/M guidelines that a hospital admission is from when the patient is admitted until when the patient is discharged. "That's one course of admission," Jimenez said, "so they [the payers] would expect to see only one initial code for that course of stay from practitioners of the same specialty and subspecialty who belong to the same group practice."
Subsequent Care
For the subsequent care services (99231-99233), Jimenez provided an example of proper use: "Let's say that a patient is admitted to observation, and then it's decided to admit them to inpatient. You would use the subsequent care codes because they've already received an initial hospital service. You can only use one initial care code," she said.
The practitioner who orders observation care for a patient is still the one who bills for the initial service. Any other practitioner interacting with the patient while they are under observation care is going to bill the office and other outpatient services E/M, not the subsequent hospital care codes.
When to Use Modifier 25
"Another area where we see a difference in CPT® guidance versus CMS guidance is whether or not you can code for two E/M services on the same date of service," Jimenez said. According to 2023 CPT® E/M guidance, if a patient has a service somewhere else, another site of service, where they have an encounter and then they end up being admitted, both services could be reported with the use of modifier 25 Significant, separately identifiable evaluation and management service by the same physician or other qualified healthcare professional on the same day of the procedure or other service.
This is fine if the services are provided by two different providers who are not of the same specialty and subspecialty within the same group practice. "When it becomes an issue is when it's the same practice," Jimenez said. "Let's say that the primary care physician started seeing the patient in the office and then met the patient at the hospital to admit them. The course of work over that date of service is going to be included to report one level of service, one E/M per group, per specialty."
Based on this example, only the admission should be reported. But from a CPT® perspective, the primary care physician could bill separately for the office visit and the admission. This is one example of why it's essential to know your payer policies. "Most payers have the one E/M, one date of service rule," Jimenez said.
An exception to this rule is allowed for emergency department and critical care services, however. "Both CMS and CPT® will allow for the emergency department and the critical care to be billed on the same day," Jimenez said, "… but you would have to defer to what CMS requires for these to be separately billable."
Definition of "Calendar Days"
Now that the hospital care codes can be applied based on MDM or time, there will be instances when a single service extends two calendar days. CMS guidelines say that when the course of an encounter crosses two dates of service, only one date of service is reported — the date the encounter began.
Per the 2023 Medicare Physician Fee Schedule (MPFS) final rule, "a billing practitioner shall bill only one of the hospital inpatient or observation care codes for an initial visit, a subsequent visit, or inpatient or observation care (including admission and discharge), as appropriate once per calendar date." CMS clarifies that "per day" in the CPT® code descriptors, is also referred to as "date of encounter," and is the same thing as "calendar date."
Of note, CMS is keeping the "8- to 24-hour" rule. In the 2023 MPFS final rule, CMS included Table 22 to show how it is applying this rule (see Table A). "I would keep this table handy and refer back to it so that you know what code ranges should be used," Jimenez said.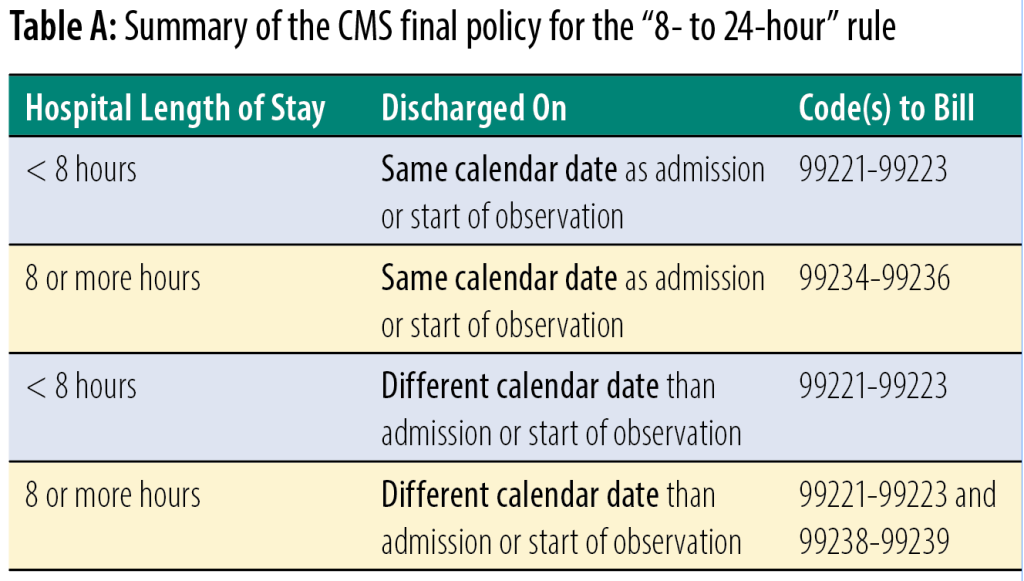 Coding Time
One area that will require close attention is the change in the existing initial and subsequent care code descriptors when it comes to time. In the office and other outpatient codes, we're given a code range, but for initial inpatient and observation codes 99221-99223, we're given a minimum time that must be met. If the minimum time is not met, then MDM should be used to select the code level.
For initial hospital inpatient or observation services of 90 minutes or longer (99223), subsequent services of 65 minutes or longer (99233), and inpatient or observation care services of 100 minutes or longer on the same date of service (99236), you will use new prolonged services code 99418 — unless the payer is Medicare. CMS created its own G codes for prolonged services. HCPCS Level II code G0316 is specific to hospital inpatient and observation care. (There are two new G codes for nursing facility services and home visits, as well.)
The following is a list of activities that can be used when defining total time:
Preparing to see the patient (e.g., review of tests)
Obtaining and/or reviewing a separately obtained history
Performing a medically appropriate exam and/or evaluation
Ordering medications, tests, or procedures
Referring and communicating with other pros (when not separately reported)
Counseling and education
Documentation
Independent interpretation of results
Care coordination
Clinical staff time cannot be included in total time, nor can the time that was spent performing other billable services. "An audit focus should be making sure we're not double counting time," Jimenez said. "You want to make sure that you clearly see documentation saying that the documented time does not include other billable services."
CMS is looking for a time statement — the total time spent and all the activities that were performed to get to that time. It's not necessary for the physician to document how much time was spent performing each activity, but the total time and the list of activities should make sense. Saying "spent 30 minutes" without accounting for that time is a problem.
"We expect to see a history and exam as auditors," Jimenez said. "We are going to be using the entirety of the record to support services." This information will help auditors understand the complexity and the nature of the encounter.
Time audit concerns include:
Reporting the same time for all encounters
Rounding up time to reach a higher-level E/M
Not carving out time that was spent performing other billable services
Total time for the date of the encounter
Mixing CPT® and CMS codes/guidelines
Auditors should check carefully that the differences in time standards among some of the codes, such as those for prolonged services, are used correctly, Jimenez said.
Put Your E/M Knowledge to the Test
There are considerable changes to the E/M services guidelines, including the MDM table, which Jimenez spent time discussing during her presentation before reviewing some documentation examples for inpatient and observation coding. Review the following case example and see if you come to the same code selection as Jimenez.
Case 1: Inpatient
Family Medicine
History and Physical
Re: Richard Johnson
Date of Service: January 5, 20XX
MR#300-1
History of Present Illness: The patient is an 81-year-old patient of Dr. Williams, with a history of adult-onset diabetes controlled with oral hypoglycemia and he is admitted today because of dysuria and fever, having recently been started on Cipro as an outpatient, no improvement. Requested office and hospital records, including the consult note from Dr. Martinez of urology today. I also spoke with the ED physician.
Three days before this admission, he began to have burning with urination. His temperature was 102 degrees yesterday and he became very weak to the point that he could not stand, and his daughter brought him to ED. The burning urination has not been improving and his temperature was 100 degrees today. His other urologic history is per the urology consult note.
Past Medical History: Includes coronary artery disease, chronic kidney disease, and easy bruising tendency, hyperlipidemia, hypertension, hypokalemia, intermittent claudication.
Medications: Nursing reconciliation includes Cipro, which was recently started.
Allergies: NKDA
Family History: Includes a brother with frequent UTIs. There is no personal or family history of DVT or pulmonary embolism.
Social History: He lives alone and has 2 daughters who live close to him. He is an engineer and had worked at Westinghouse. Is currently continuing to work as a consultant. He denies any smoking, alcohol, or drug history. He says he has a living will, but would be a full code in this situation.
Review of Systems: Weak, nauseous and had a decreased appetite, no vomiting. No abdominal pain. He has chronic constipation with a bowel movement 2 days ago. No chest pain. No shortness of breath.
Physical Examination
General: He is quite pleasant, well appearing, and alert with normal affect. Patient in no acute distress.
HEENT: Oral mucosa appropriately moist. TMs normal. PERRLA, EOM clear. Conjunctivae and sclerae clear.
Neck: No thyromegaly appreciated. No carotid bruits, no lymphadenopathy.
Vital Signs: Temperature in the ED at 99.5 degrees and subsequently 98.9 degrees, oxygen saturation 96% on room air, blood pressure was 117/63.
Heart: Normal rate, regular rhythm with II/VI systolic ejection murmur. He says he has a chronic heart murmur.
Lungs: Clear. No wheezes, rhonchi, or rales.
Abdomen: Obese, soft, nontender, nondistended, normoactive bowel sounds. No masses, rebounding or guarding. No hepatosplenomegaly.
Extremities: No pretibial edema or calf tenderness. Patient is too weak to examine gait and station.
Genitourinary: Genitalia with circumcision normal. No masses, infection, no hernias. No pain felt with examination of the kidney area on both sides and with percussion. No CVA tenderness.
Laboratory Data: Sodium is 120, potassium 3.9, chloride 89, CO2 20, BUN 28, creatine is 1.77, and liver function tests remarkable for mildly low protein and albumin. White count 17.8, hemoglobin is 10, platelets are 141, MCV is 91.5. Urinalysis remarkable for 77 white cells, 2 red cells, leukocyte esterase 2+, urine nitrate is negative, and by way of comparison sodium was 131 in October 20XX, and hemoglobin was 12.8 in January 20XX. Other pertinent office labs included hemoglobin A1c of 6.8 on April 23rd of last year and BMP on June 3rd showed BUN 25 and creatine 1.4. Sodium was 131 and PSA was normal at 1.14 on March 20, 20XX. TSH was 0.78, but this was in August 20XX, vitamin B12 level was above normal. Last EKG in the system was January 20XX, showing normal sinus rhythm and inferior Q-waves and old MI. CT abdomen and pelvis without contrast today shows evidence of enlarged prostate and heavily diseased abdominal aorta without dilations.
Impression and Plan
1. Complicated UTI with fever. Patient on Cipro. His fever was improving, but he has been seen by urology while in the ER and was switched to cefepime. It will be important to get the culture result if it is available from the office. Cultures including blood cultures were repeated here and he has been put on normal saline IV.
2. Severe hyponatremia, with previous history of milder hyponatremia and chronic kidney disease, which is probably worse due to dehydration. He is getting hydrated with normal saline and I will consult nephrology regarding this and repeat a TSH.
3. Hypertension and hypertensives have been ordered. EKG ordered.
4. History of coronary artery disease. We will not pursue this further, unless he might need an operation, which is doubtful.
5. Adult-onset diabetes, well controlled and will hold oral medications. Weill put him on a sliding scale insulin.
After talking through the documentation, Jimenez determined that the number and complexity of problems addressed is moderate, the amount and/or complexity of data to be reviewed and analyzed is extensive, and the risk of complications and/or morbidity of patient management is high. "In this particular case, you're looking at a high level based on the amount of data reviewed and the admission," Jimenez said. "So, your level of service would be the initial level, 99223."
Although we will continue to use CMS' 1995 and 1997 documentation guidelines for dates of service prior to Jan. 1, 2023, the time is coming when we will have only one set of guidelines to reference. "It's nice to have one standard and be able to talk about the guidelines as the guidelines, and not have to reference a year anymore. That's one of the things that I welcome in this change," said Jimenez.
Bonus: Watch a portion of the AUDITCON session where Raemarie Jimenez gives the rationale for her coding this case in the electronic version of Healthcare Business Monthly, available in your My AAPC account.
Latest posts by Renee Dustman
(see all)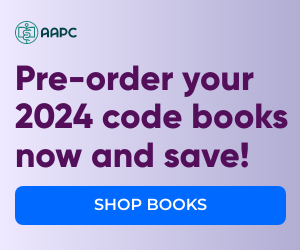 24 Responses to "Coding Inpatient and Observation Visits in 2023"