Update Your Skin Substitute Code List for 2023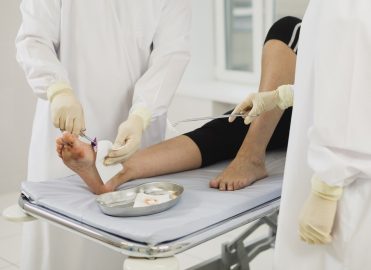 Four new HCPCS Level II codes are payable under Medicare.
The terminology to describe skin substitute products and the Medicare payment methodology did not change this year, but there are four new HCPCS Level II codes to add to your billing system. The new codes, effective Jan. 1, 2023, describe various manufactured allograft products used for the treatment of wounds.
What are Skin Substitutes?
The Centers for Medicare & Medicaid Services (CMS) defines skin substitutes in the 2021 Outpatient Patient Prospective Payment System and Ambulatory Surgical Center (OPPS/ASC) final rule as "a category of biological and synthetic products that are most commonly used in outpatient settings for the treatment of diabetic foot ulcers and venous leg ulcers."
Skin substitutes, which do not include bandages and other standard dressings, are also referred to as cellular- and/or tissue-based products for skin wounds (CTPs).
In the 2023 OPPS/ASC and Medicare Physician Fee Schedule (MPFS) proposed rules, CMS considered changing the term skin substitutes to "wound care management coverings." After receiving a lot of negative feedback, however, the agency decided to postpone the name change.
What are the New Skin Substitute Codes?
There are four new HCPCS Level II codes that describe various allograft products, as follows:
Q4236 Carepatch, per square centimeter
This reactivated code is for carePATCH™ — a dehydrated human amniotic membrane allograft.
Q4262 Dual layer impax membrane, per square centimeter
This code is for Dual Layer Impax™ — a dehydrated human amniotic membrane allograft.
Q4263 Surgraft tl, per square centimeter
This code is for SurGraft® TL — an allograft derived from human amniotic membrane.
Q4264 Cocoon membrane, per square centimeter
This code describes a human amnion allograft.
Also of note: HCPCS Level II code C1849 Skin substitute, synthetic, resorbable, per sq cm is deleted effective Dec. 31, 2022.
How Does Medicare Pay for Skin Substitute Products?
CMS categorizes skin substitutes as low- and high-cost products. High cost is anything above the mean unit cost, which is $47, or $837 per day, for 2023. Per CMS transmittal 11762, report the use of high-cost products with the performance of skin application procedures described by CPT® codes 15271-15278 and report the use of low-cost products with the performance of skin application procedures described by HCPCS Level II codes C5271-C5278.
In the January 2023 update of the ASC Payment System, CMS moved the following products from the low-cost category to the high-cost category:
A2005-A2006, A2208-A2013, A2015-A2018, A4100, Q4170, Q4191, Q4210, Q4235, Q4248-Q4250, Q4254
See Table 10 in transmittal 11762 for a current list of all the skin substitute products and their cost assignments.
Payment Revisions for Skin Substitutes on the Horizon
Skin substitutes are either contractor priced or paid the average sales price plus 6 percent. CMS acknowledges in 2023 rulemaking that this methodology doesn't take into consideration the "increasing intersection between biological, bioengineered, and synthetic components" now being used in skin substitutes.
"After further review, we agree with interested party recommendations that the suite of products referred to as skin substitutes should be treated in a uniform manner across different outpatient care settings," CMS states in the 2023 MPFS final rule.
State Your Case at Next CMS Town Hall Meeting
CMS will hold a town hall on Jan. 18, from 12-3 pm ET to discuss the changes in payment and terminology of skin substitute products under the MPFS. Specifically, the agency is seeking feedback on the following questions:
What should CMS consider in its efforts to ensure consistent, fair, and appropriate payment for services and products across different settings of care?
How could CMS ensure that valuation under the MPFS adequately accounts for variability in relative resource costs of different skin substitute products as supplies within the Practice Expense Relative Value Unit methodology?
Are there similarly resourced groups of products/services that could inform how payment might be stratified without risking access to services?
What should CMS consider as alternatives regarding any potential changes to terminology?
Latest posts by Renee Dustman
(see all)