I Am AAPC: Theresa Harvey, CPC-A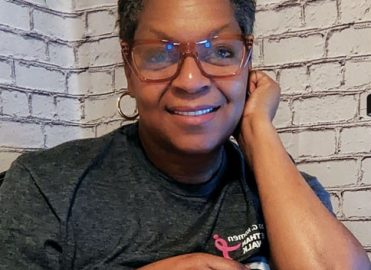 In 2015 I learned about the medical coding profession after being in customer service for several years. I was a call center supervisor, as well as a freelance seamstress. In one of my client fittings, I had expressed that I needed a career change. Customer service was not rewarding and designing and sewing dresses was no longer enjoyable or sustainable.
That client happened to be a medical coder. Occasionally I would meet her at her job (the VA hospital) for lunch and to drop off alterations, but I never really knew what she did. One day, I asked her to explain what she did for a living.
Taking My Lumps
This was my official introduction to medical coding. It sounded interesting, and my client and I agreed that my detailed and meticulous method of working would be transferable to becoming a good coder. So, when my contract ended at the call center, I went full speed ahead in pursuit of becoming a medical coder.
I enrolled in a medical billing and coding program at a private school in my hometown. I was extremely excited. My future seemed brighter, and I could see myself doing well in this role and my life changing for the better. Sadly, my excitement slowly dwindled away. I was (kind of) being taught medical terminology, ICD-9-CM, and Medisoft to prepare me for certification. The instructor gave me and the other students a library of photocopies and told us this was an independent study course and that we needed to get used to doing a lot of reading.
I shared my experience with my coder client, and I could hear her concern as she asked about the curriculum, the books, and the instructor's credentials. Three weeks into the training, I realized the software and books were outdated. As you have no doubt surmised, this was not a successful outcome. But it was not exactly a waste of time, either. The experience only confirmed my interest in medical coding, and I wasn't going to let it deter me from my goal.
Making Strides
By 2018 I was still in pursuit of my goal. I was able to secure a grant that year and, after sufficient research, joined a new medical coding program at the community college. Exam day came soon enough. Six hours and 40 minutes later, I was too mentally drained to cry. I knew I didn't pass. I thought that the program was not long enough and that there was something missing, but I couldn't put my finger on it. I continued to study but failed my second attempt, as well.
Finding My Way
Fast-forward to 2021. I registered for AAPC's Certified Professional Coder (CPC®) program, including medical terminology, anatomy, and physiology, and although I failed my first exam attempt, I was too close to be defeated. I extended the course for another three months and put myself on house arrest one month prior to the exam date because I knew this time the problem wasn't the program — it was the student. I took a deep look into my past study and social habits and shut it all down to focus on my future. That approach and attitude worked, and I finally passed on my fourth attempt!
I had so many personal challenges on the road to becoming credentialed. But through the stress and tears I remained faithful, hopeful, and committed. The challenge now is landing a professional coder position; however, I plan to keep the same energy and efforts and, God willing, I'll be back to write about my successes. For those of you thinking about throwing in the towel, I hope my story inspires you to keep trying. Don't give up!
---
#iamaapc
We want to feature you in Healthcare Business Monthly! Tell us in fewer than 500 words why you became a member of AAPC, how your AAPC credentials have helped you in your career, and the best part of being an AAPC member. Send your story and a digital photo of yourself to iamaapc@aapc.com.
Latest posts by Lee Fifield
(see all)