New Coverage for Colorectal Cancer Screening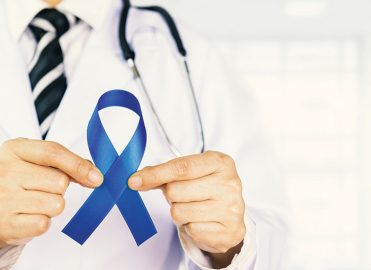 Changes to Medicare Part B policy for these tests could save lives.
Colorectal cancer is the third most common cancer diagnosed in the United States and the third leading cause of cancer-related deaths in men and women, causing more than 52,000 deaths in 2022. But although the overall death rate from colorectal cancer has dropped each year in the past few decades, deaths from colorectal cancer among people younger than 55 have increased 1 percent every year from 2008 to 2017. It's estimated that one in seven people diagnosed with colorectal cancer is under the age of 50.
Based on this statistic, the United States Preventive Services Task Force (USPSTF) issued a revised final recommendation in May 2021 that people who do not have signs or symptoms of colorectal cancer and who are at average risk for the disease should start colorectal cancer screening (CRC screening) at age 45. That same year, the USPSTF also revised its evidence-based recommendation to state that "positive results on stool-based screening tests require follow-up colonoscopy for the screening benefits to be achieved."
The Centers for Medicare & Medicaid Services (CMS) is always a year or two behind the times but in the 2023 Medicare Physician Fee Schedule (MPFS) final rule CMS took great strides to update its CRC screening coverage policy for Medicare Part B.
CRC Screening Coverage Expanded
Medicare covers several types of CRC screenings, depending on a patient's risk and other factors, including colonoscopy and flexible sigmoidoscopy screenings. CMS has revised National Coverage Determination (NCD) 210.3 – CRC Screening Tests a few times over the past 20 years to add other types of tests. In 2004, CMS added coverage for immunoassay-based fecal occult blood tests (iFOBT); in 2014, they added coverage for the Cologuard™ multi-target stool DNA (MT-sDNA) test; and in 2021, they added coverage for blood-based biomarker tests.
Until recently, though, coverage for these screenings was generally limited to patients 50 years and older. Effective Jan. 1, 2023, Medicare coverage of CRC screening tests is expanded by reducing the minimum age payment limitation from 50 years to 45 years.
Medicare Part B covers the following tests for beneficiaries who are 45-85 years old, asymptomatic, and at average risk for colorectal cancer:
Blood-based biomarker tests
MT-sDNA tests
Medicare Part B covers the following tests for beneficiaries who are either 45 years or older and at normal colorectal cancer risk OR at high risk for colorectal cancer:
iFOBT and guaiac-based FOBT (gFOBT) tests
Barium enemas
Flexible sigmoidoscopies
Screening colonoscopies (there is no minimum age requirement for screening colonoscopies)
Preventive CRC Screening Redefined
CMS also expanded the regulatory definition of CRC screening in the 2023 MPFS final rule to include, effective Jan. 1, 2023, a follow-on screening colonoscopy after a Medicare covered non-invasive stool-based CRC screening test (FOBT or MT-sDNA) returns a positive result.
This policy revision is huge because, up until this year, CMS has always maintained that a colonoscopy after a positive non-invasive stool-based CRC screening test is diagnostic in nature. This stance meant Medicare beneficiaries could go in for what they thought would be a free screening colonoscopy and, if polyps were found and removed, they could be billed for a diagnostic colonoscopy.
CMS states in the 2023 MPFS final rule, "The outcome of our more appropriate and complete approach to CRC screening will be that, in many cases, beneficiary costs sharing for both the initial screening stool-based test and the follow-on screening colonoscopy test will not apply because both tests will be paid at 100 percent (no applicable copayment percentage) …"
Per NCD 210.3, the frequency limitations for screening colonoscopy do not apply in this scenario. In all other scenarios, the frequency limitations have not changed.
Cost-Sharing Changes
A provision of the Consolidated Appropriations Act (CAA) of 2021 has put Medicare patients on a gradual coinsurance reduction plan for certain CRC screening tests that turn into a diagnostic or therapeutic service. In 2022, the addition of any procedure beyond a planned colorectal cancer screening test (for which there is no coinsurance) resulted in the patient having to pay a 20 percent coinsurance (i.e., copay). Section 122 of the CAA gradually reduces the amount of coinsurance until it's free for dates of service on or after Jan. 1, 2030, as shown in the table below.
| | |
| --- | --- |
| Service Year | Copay |
| 2022 | 20% |
| 2023-2026 | 15% |
| 2027-2029 | 10% |
| 2030 and beyond | 0% |
The reduced coinsurance applies to colorectal cancer screening reported with any of the following three HCPCS Level II codes:
G0104 Colorectal cancer screening; flexible sigmoidoscopy
G0105 Colorectal cancer screening; colonoscopy on individual at high risk
G0121 Colorectal cancer screening; colonoscopy on individual not meeting criteria for high risk
To indicate the screening colorectal cancer procedure became a diagnostic or therapeutic service, append modifier PT to at least one code on the claim, submitted on the line item with codes 10004-69990, G0500, 00811, or +99153. CMS will continue to waive the deductible and the coinsurance amount will be reduced by the amount indicated above for the procedures performed on the same date of service and billed on the same claim.
---
Resources:
www.cms.gov/files/document/mm12656-changes-beneficiary-coinsurance-additional-procedures-furnished-during-same-clinical.pdf
www.cms.gov/medicare/prevention/prevntiongeninfo/medicare-preventive-services/mps-quickreferencechart-1.html#COLO_CAN
Latest posts by Lee Fifield
(see all)