HEALTHCON 2023: Day 2 Wrap-Up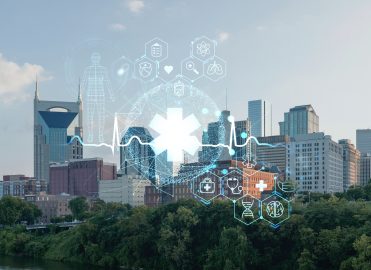 The first full day of conference started with a look at the current state of healthcare and how we can move into the future.
After a successful start yesterday to HEALTHCON 2023, attendees hit the ground running this morning for a full day of sessions. The day was filled with dozens of informative sessions on topics ranging from modifier use and coding to creating surgical letters and compliance plans. The Virtual Café was open for discussions with the National Advisory Board and Board of Directors around industry hot topics, and there were lots of demos, giveaways, and trivia challenges.
A Memorable Start
The morning began with a keynote address from Paul Keckley. Keckley is a healthcare policy analyst and industry expert with 40+ years' experience. He's a frequent speaker and advisor to healthcare organizations focused on long-term growth, sustainability, and advocacy strategies.
Keckley's presentation centered around moving out of the past and into the future of healthcare and how we all as healthcare professionals can (and should) contribute to how that future unfolds. "I know this for sure," said Keckley: "The future is not a repeat of the past." The discussion ran the gamut and included thoughts on the enmity between payer and provider, the current healthcare system's codependent sectors, artificial intelligence (AI), technologies, the mind-body approach to patient treatment, and human services.
He encouraged all attendees to take their thoughts and questions to their board and leaders. "I want questions," said Keckley. "I want things to be wide open. I want anything goes." Keckley described this as "a mission" and encouraged everyone to "be in the room." "We've got to fix the system," he said. To try new ideas. "Try early, fail often," said Keckley. We have to have innovation coming from the rank and file. Only then can we elicit real change and help ourselves to become more effective in our current and future jobs.
So Many Options
Attendees spent the rest of the morning in breakout sessions that covered a wide variety of subjects before breaking for lunch and gearing up for the afternoon.
CJ Wolf, MD, CPC, COC, CHC, started off the first breakout session of the morning, "Thinking Like an MD for E/M Services," by quoting Sir William Osler to summarize the session's big takeaway: "Medicine is a science of uncertainty and an art of probability." Essentially, while there are a lot of statistics and a lot of numbers, medicine is not simple math and there is no right answer to everything. Every patient is different, every case is different, and therefore it takes some thoughtfulness, a little clinical knowledge, and a lot of open communication in order for the coder and physician to effectively work together.
Using several case scenarios, Dr. Wolf explained the thought process of a physician as they work through a patient encounter. Using specific examples, he showed the subjectivity of phrases such as "high complexity," "monitoring for toxicity," and "morbidity" in the medical decision making (MDM) evaluation and management (E/M) table.
Dr. Wolf continuously directed coders to several industry-standard books and videos to help them learn "doctor speak." He offered these resources to not only stress the importance of understanding clinical documentation but to offer coders a reliable path to learning the language needed to ask physicians the kinds of questions that get complete answers. Accurate medical coding relies on a strong partnership between coders and physicians, and the responsibility lies with both parties to meet in the middle.
In her session "Inpatient Coding – Getting Back to Basics," Amy Pritchett, CPC, CPCO, CDEI, CDEO, CPMA, CRC, CPC-I, CANPC, CASCC, CEDC, AAPC Fellow, showed that she knows her stuff as she kept the audience chuckling with her coding tips and examples. She reviewed the new ICD-10-CM guidelines that went into effect on April 1, 2023, focusing on social determinants of health and their increasing role in healthcare. She also covered the Inpatient Only (IPO) code list and how money can be lost and never regained when reporting these codes. Finally, Pritchett touched on MS-DRGs, the IPPS 2023 Final Rule, and some upcoming ICD-10-PCS changes.
Attendees also spent the morning learning about CPT® coding updates, DRGs, managing leadership, billing issues, risk mitigation audits, crafting surgical letters, radiation oncology, and workplace violence considerations.
Delving Deeper
The afternoon included education on everything from coding with modifiers to clinical genetics.
In her session "Provider-Based Billing," Pam Warren-Brooks, MHA, CPC, COC, PCS, AAPC Fellow, delved into the intricacies that arise when a physician practice is employed by a hospital. Since these practices provide their services in a clinic or office which is considered part of the hospital, provider-based billing is used. Warren-Brooks illustrated how these models operate, how they are billed (including common mistakes), designation by payer, and how incident-to can mean something different depending on location. She also discussed the confusion of multiple patient bills, how charges can end up different for Medicare versus commercial insurance, and hidden facility fees, ending the session with clinical examples and their billing.
"Monitoring Medical Necessity: Do You Need Help?" contained a number of practical suggestions from CJ Wolf, MD, CPC, COC, CHC, for practices developing and/or maintaining a compliance program. Dr. Wolf began with the reminder that Medicare's definition of medical necessity is not the same as a doctor's definition, and that Medicare will only pay for "covered, reasonable, and necessary" services. Dr. Wolf encouraged practices to scour federal and state statutes, regulations, manuals, and national and local coverage determinations to design, implement, and maintain a compliance program with its own set of monitors and warning indicators. That program should focus on the top 10 services your practice provides and be 80 percent of what the practice does on a regular basis. Your program should then perform a risk assessment on the services to make sure they are thoroughly documenting the "specific sign, symptom, or patient complaint that makes the service reasonable and necessary." In other words, "read the determinations, run a query for those things, and put a policy in place."
In "Emergency Department Professional Fee E/M Coding," AAPC's Rae Jimenez, CPC, CDEO, CIC, CPB, CPMA, CPPM, CCS, AAPC Approved Instructor, provided an overview of the 2023 E/M guideline changes, singling out the challenges many coders and providers are struggling to understand. She quickly and succinctly explained frequently asked questions surrounding inpatient and observation services, such as place of service; when to use the initial and subsequent codes; and when it's appropriate to bill critical care services in the emergency department.
The bulk of the questions from attendees were about data. "I think this is where we struggle the most," Jimenez said. She explained when to count orders and reviews, interpretations, review of external records, discussion with other providers, and independent historians. Then, she drove the learning home by walking through a chart and pointing out the data elements that could be counted. It was clear by all the questions from the live and virtual audiences that there is still much confusion among providers about what may be counted toward the level of service and how they need to document what they did so it stands up to an audit.
In the session "NCCI and Modifiers for Ortho – Do We Really Understand the Risk?" Pam Vanderbilt, CPC, CPCO, CDEO, CPB, CPMA, CPPM, CRC, CPC-I, CEMC, CFPC, CPEDC, said, "We need to talk about modifiers because they are risky." In her trainings, Vanderbilt has heard coders say:
"I pulled out my NCCI manual from 1997 to look up the edits."
"I just stick them on and see what happens."
So, it's not just modifiers 25 and 59, according to Vanderbilt. We need to understand how to use all modifiers correctly.
Jessica Miller, CPC, MHA, welcomed HEALTHCON attendees to her session, "Successful AI Integration for Healthcare," by asking who is currently using AI in their practice. A small number of attendees raised their hands, but Miller anticipates everyone will be using the technology by next year's HEALTHCON. Miller provided a detailed look at AI, machine learning (ML), natural language processing (NLP), and robotic process automation (RPA), and how the technologies are currently used in healthcare. She also examined where AI in healthcare is headed and how a medical coder's role will evolve. "Subject matter experts are always going to be needed to verify and guide the machine learning and artificial intelligence process. While artificial intelligence is solving many of the issues in our efficiency and accuracy, it's never going to take the place of human power data decision or data driven decision making," Miller said.
During her presentation "Hospital/Observation 2023," Jaci Kipreos, CPC, COC, CDEO, CPMA, CRC, CPC-I, CEMC, told attendees that if they're familiar with the 2021 changes to outpatient/office E/Ms, they should be able to understand the 2023 updates to inpatient/observation services. "The 2023 guidelines basically take the 2021 E/M updates and extend that to the hospital side. They made a few minor tweaks to the MDM grid," she explained. But overall, it's the same rules.
Don't Miss Day 3
The conference continues through Wednesday, the 24th. Come back to the Knowledge Center Blog for daily wrap-ups of HEALTHCON 2023.
#HEALTHCON23
Latest posts by Lee Fifield
(see all)