HEALTHCON 2023: Day 3 Sessions Inspire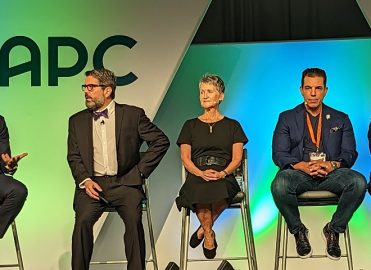 AAPC's HEALTHCON 2023 continued in Nashville (and virtually) today. Sessions were held at the Gaylord Opryland Resort & Convention Center. Early birds could join a session on how to build their brand using social media. After the coffee kicked in, it was time for a general session on legal trends. AAPC's Legal Advisory Board offered insights into the most pressing legal concerns for medical practices and healthcare facilities facing increased financial scrutiny and regulation.
Christopher Parrella, Esq., CPC, CHC, CPCO, Julie Chicoine, JD, BSN, CPC, Michael D. Miscoe, JD, CPC, CASCC, CUC, CCPC, CPCO, CPMA, CEMA, AAPC Fellow, and Robert Pelaia, Esq., CPC, CPCO, listed the top issues they are seeing in the industry: telehealth, Health Resources and Services Administration (HRSA) audits, and price transparency mandated in the No Surprises Act.
Chicoine's top issue is the Office of Inspector General (OIG) compliance guidance updates recently announced and due to be released this year. According to Chicoine, the guidance hasn't been updated since 2008. A general compliance program guidance for everybody should be released by the end of this year and more industry-specific compliance program guidance should be released in 2024. "I suspect that they're going to be higher level and more broadly written because they want to foster a culture of compliance and not necessarily a compliance program and compliance infrastructure with an organization," Chicoine said.
The panel then took questions from the audience about a variety of issues, including the whistleblower process, locum tenons, risk adjustment, breach notification, and more.
AMA Discusses the Future of Digital Medicine
Next up was a general session presented by Zachary Hochstetler, CPT® Editorial and Regulatory Director, and Samantha Ashley, CPT® Coding and Regulatory Manager. The duo talked about expanding the CPT® code set to meet the needs of digital medicine. Since the pandemic, the landscape of telemedicine and artificial intelligence (AI) has shifted, and digital medicine services have played a critical role in health and health equity. Audio and video telehealth visits, telephone consults and check-ins with patients, remote physiologic monitoring (RPM), remote therapeutic monitoring (RTM), and more have all made strides forward, and the American Medical Association (AMA) has continued to work to enable a foundation for their continued adoption.
In addition to new and more granular codes, the AMA has created a universal set of definitions to outline the unique differentiations between services while providing consistent language between federal agencies, payers, and providers. Hochstetler encouraged all attendees to remain engaged with the CPT® editorial updates in the coming years to stay abreast of the latest changes. Things are changing rapidly. "Don't be caught off guard," Hochstetler said. "There will be a lot of guidance coming out over the next year or so." Regulatory and payment challenges remain for digital medicine, but options for reporting through the CPT® code set continue to increase.
Breakout Sessions Du Jour
After lunch with exhibitors, attendees had a variety of breakout sessions from which to choose. There were sessions on medical decision making (MDM), ophthalmology coding, appealing denied claims, home health and hospice documentation and coding, navigating the Merit-Based Incentive Payment System (MIPS), productivity, auditing, compliance, and even medical identify theft.
Catherine Keegan's, BSBM, CPC, CCS-P, session, The Appeal Process from Denial to Completion, contained some commonsense advice for tackling the denial process. One of her major recommendations was to silo denials into their different components, such as denials based on coding or denials based on authorization/eligibility. Keegan suggested farming denials out to team members responsible for each area whenever possible; paying special attention to the payer's specific appeal requirements; and knowing when to stop trying to get a claim paid. "You can't win 'em all!" she said.
Linda Martien's, CPC, COC, CPMA, CRC, CPC-I, AAPC Fellow, session, Dissecting Medical Necessity, focused on avoiding claim denials due to poor or incomplete practitioner notes. "A patient's diagnosis is one criterion that drives medical necessity from a payer's perspective," she said. "From a clinical perspective, medical necessity is determined by the provider based on evidence-based medical data." There are two major reasons for claim denials. "Medical necessity documentation, or lack of it, is one of the most common reasons for denials, and registration errors is the second," according to Martien. Keeping communication at the forefront of your relationship with your practitioner(s) is key to successful claim payments. Remember, she said, "coders don't speak 'doctor' and doctors don't speak 'coder'. Explaining to them why we look at things a certain way opens the door to dialogue with our providers and hopefully leads to a better understanding and cooperation with our doctors."
In the session Medical Identity Theft, Kelly A. Shew, RHIA, CPC, CPCO, CDEO, CPB, CPMA, CPPM, CRC, CEMC, CGIC, CPEDC, AAPC Approved Instructor, delivered practical information to help providers and patients stay aware of identity theft, as well as the risks and warning signs of the crime. She warned that, in most cases, the victim doesn't realize their identity was stolen until at about six months after the initial theft. Shew also offered several precautions for attendees on how to protect themselves against identity theft, which included saving explanation of benefits (EOBs) in a safe space, shredding prescription bottle labels, and safeguarding sensitive information when receiving unprompted telephone calls.
In Risky Business: The Continuity of Risk and Revenue Impact of MDM for E/M, Stuart Newsome, CPCO, explained the ways that risk is woven through each of the three elements in the E/M MDM table. The biggest hole in the old table is the biggest advantage of the current table, he said: the physician's discretion and judgment. The physician's expertise and broad knowledge needs to be written out before medical coders can translate the record into accurate service codes, he said. Risk is subjective and a physician is constantly assessing risk, as it is an underlying consideration for addressing each element of the MDM table. Coders need to see queries as opportunities to educate physicians on how to better explain their thought processes. He suggested the mnemonic "ALLSETDOC?" as coined by Dr. Pamela P. Bensen, MD, MS, FACEP, as a way coders can help physicians better communicate the subjectivity of their risk assessments, which can in turn lead to more accurately leveled E/M encounters.
Revenue Cycle Management Provides Job Options
The last general session of the day, Alternate Career Paths and Opportunities in RCM, was a panel session moderated by AAPC's director of education Leonta Williams, MBA, RHIA, CPC, CPCO, CRC, CEMC, CHONC, CCS, CCDS. The panel members joining her were Astara N. Crews, MJ, CPC, CPEDC, CHC, CHPC, CHIAP; Cokethia Rachel, CPC, CCS, CPMA, CCMA, SSBBP, Approved AHIMA ICD-10-CM/PCS Trainer; Jessica Miller, CPC, MHA; and Martien, each of whom has had a long and successful career in the business side of healthcare. They shared the path they took to get where they are today, their experiences, and offered advice about the many roles in revenue cycle management. Clinical documentation improvement (CDI) specialist, management, risk adjustment, and data analyst roles were discussed.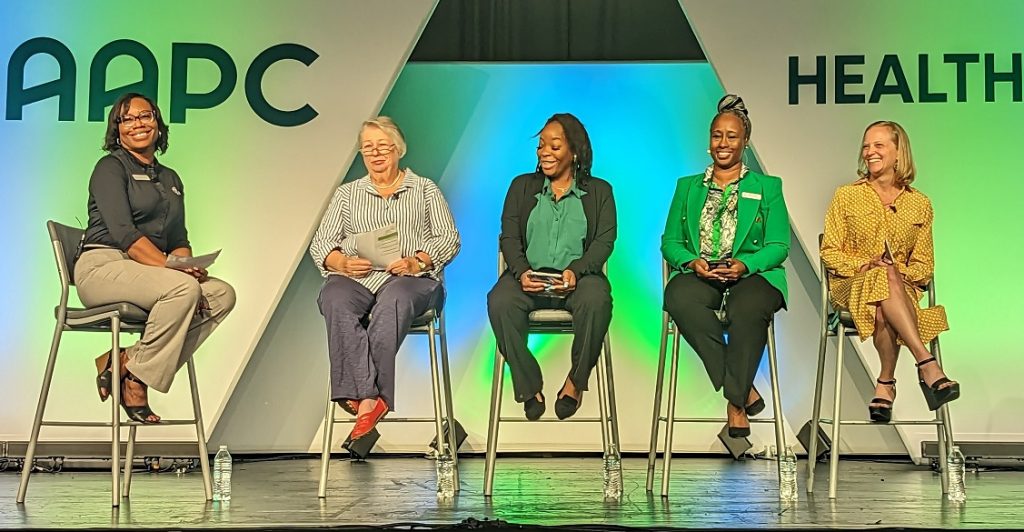 Miller suggested seeking out professionals on LinkedIn who are doing the job you want and asking about their experience. She also suggested that with the advances of AI, the industry may soon need more auditor, quality improvement, and compliance roles, but that while AI may "take some of our processes, we are not replaceable." everyone agreed that volunteering to advance your career trajectory was not only beneficial, but extremely satisfying. "Without those connections," said Martien, "I know I would not have enjoyed the professional success that I have." No matter what career course you take or how you get there, Miller's words of advice were sound: "Your only limitation is yourself. Don't be afraid to take that opportunity."
After another break with exhibitors, the final wave of sessions for the day covered family physician coding, ear nose, and throat coding, surgery coding, how to correctly identify transgender patients in the electronic medical record, payer policies, credentialing, and healthcare fraud and compliance.
In Don't Be Singing The Folsom Prison Blues — Understanding & Utilizing NCD, LCD & Payer Guidelines, Marianne Durling, MHA, RHIA, CPC, CPCO, CIC, CDEI, CCS, CDIP, AAPC Approved Instructor, offered a comprehensive overview of how CMS works on the national and local level. In particular, she discussed the functions of the regional Medicare Administrative Contractors (MACs) and encouraged her audience to take full advantage of everything the MACs have to offer, including virtual and in-person education opportunities. Durling offered this advice: If your local MAC cannot clarify coverage for a given service or procedure, go to the other MACs and see what they have to say. Bringing that information back to your local MAC can be a great help with appeals, she said.
Samuel Church, MD, MPH, CPC, CRC, CPC-I, rounded out the day with an important breakout session that offered insight on CPT® codes that your practice may be missing, but should be capturing. Dr. Church kept the audience laughing while offering many examples and tips for making sure your practice is maximizing efficiency. He emphasized the importance of having an organized practice to optimize workflow and save time. Finally, Dr. church revealed some "secret codes" that many practices routinely fail to capture and emphasized that the reimbursement for these codes adds up.
When In Nashville …
Tonight, attendees can join AAPC at the Wildhorse Saloon in downtown Nashville to mingle and enjoy all that the birthplace of country music has to offer. Yeeha!
Latest posts by Renee Dustman
(see all)