HEALTHCON 2023 Comes to an End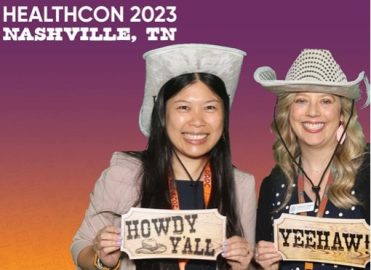 AAPC's HEALTHCON 2023 ended today after four days of education, inspiration, networking, and fun. The day began with an early networking breakfast followed by the morning's keynote address. Motivational speaker and comedian Larry Weaver started the day on a positive note with a somewhat anecdotal approach to developing these healthy habits:
Remember to smile
Sleep better to perform better
Eat what makes you feel good later
Exercise for energy
Energy + ability = motivation
Surround yourself with positive people
Avoid negative people
Restore balance with gratitude
Spread a little kindness
Find the humor in life
Smiling was easy during Weaver's monologue as he kept the jokes coming. But it's not always easy to get a good night's sleep, especially when at conference. "Nashville is crazy!" Weaver said. "It's 9 a.m. and I bet there's a bachelorette party on a tractor out there right now!"
Eating healthy isn't always easy either. Weaver recounted his diet of pizza and grandma's green bean casserole as a child. "She could turn anything into junk food," Weaver said about his grandma's cooking. "She'd take a green bean right off the vine, salt it, cover it with some Velveeta cheese and sprinkles of fried onions on top, and call it a green bean casserole. Come and get your veggies!"
Weaver's wife is more health conscious, though. "She's real fit. She's a runner. Any runners here?" Weaver asked of the audience. "They're out running apparently," Weaver joked after nobody raised their hand. Fortunately, any exercise is better than none. "They say a 12-minute walk in nature can boost your creativity by up to 60 percent," Weaver said.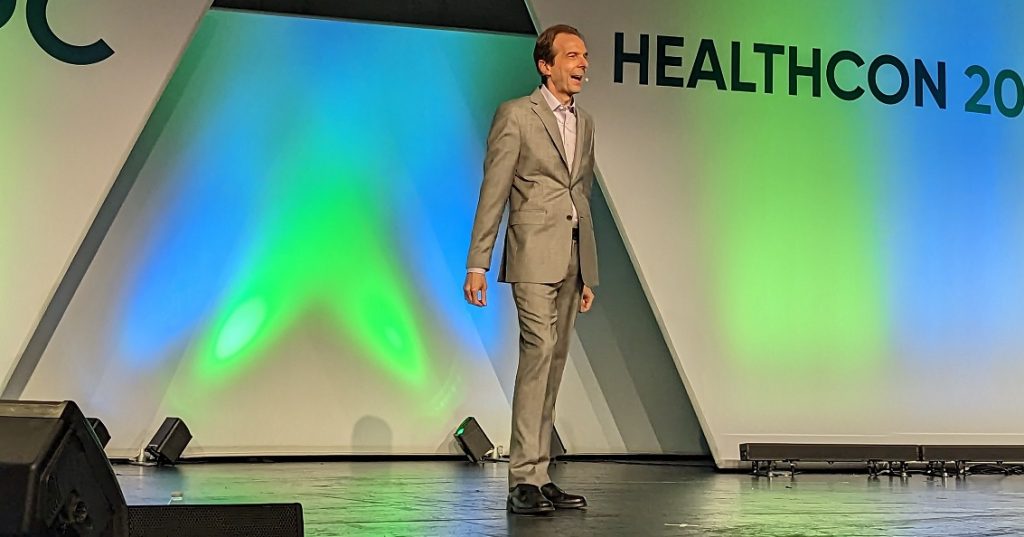 "You can always eat better. You can always sleep better. There are always things you can do to increase your energy levels," Weaver said. "Can you increase your ability? The answer is always yes." It's easier to stay motivated if you surround yourself with positive people. "Find somebody positive and take their spirit. Benefit from them," Weaver said. Be thankful for what you have and remember to be kind.
Lastly, remember to laugh. Laughter is the best medicine, after all. "You can even burn calories," Weaver said. "So, if you haven't laughed yet this morning, there's still hope for you. We'll burn off a few calories this morning." Without a doubt, attendees left this session feeling more positive, lighter, and ready for their final day of conference.
Breakout Sessions Abound
The morning continued with a choice of breakout sessions offering education on topics including arthroscopic procedures, mastering ICD-10-PCS coding, and changes to the 2023 Medicare physician fee schedule final rule.
Jennifer Simmons, MBA, CPC, CPC-I, gave a very engaging and interactive presentation on the "Hidden Gems In the ICD-10-CM Coding Manual." Simmons kept attendees laughing as she pointed out guideline tips and showed examples of anatomy, physiology, and pathology that AAPC includes as a bonus in the paper and electronic versions of its ICD-10-CM code book.
In "Infusion Confusion," Kelly Loya, CPC, CPC-I, CHC, CPhT, CHIAP, CRMA, offered a number of important takeaways for coding complex infusions. First, she reminded her audience of the difference between coding hierarchies for facilities and physicians' offices. Facility coders should always code the most complex procedure first, beginning with chemotherapy and followed by prophylactic medication, and hydration, whereas physicians should begin their coding with the primary reason for the infusion.
Loya then went into the intricacies of coding hydration, which may not be reported if administered for under 31 minutes, when running concurrently with anything else, or when simply keeping a line open for other therapies. But she was quick to point out that hydration can be billed if the provider orders it for medically necessity, such as replacing fluid volume or for certain medications.
Loya finished by offering a tried-and-true method for organizing complex infusion information into a manageable visual format. She gave her audience a tool consisting of a grid where they could place information regarding the medication type, administration route, the infusion type (hydration, therapeutic, or chemotherapy) and the time. Once arranged in the grid, Loya noted, the information can be easily arranged into the associated CPT® or HCPCS Level II codes before assigning the appropriate number of units to each code.
Clarification on autism as a neurodevelopmental disorder, recognizable traits, and commonly misunderstood facts is how Kathy Burkhardt, MSL, RHIA, started her session "Outpatient Treatment of Autism and Related Disorders." She went on to show attendees how clinical and social awareness of autism spectrum disorder (ASD) has presented over 120 years and explained important differences among similarly presenting disorders such as Asperger's Syndrome and Pervasive Developmental Disorder.
Burkhardt then took attendees through the treatment options for ASD, stressing the importance of individualized care. The applicable ICD-10 codes were the next focus, followed by CPT® codes and caveats for their use, such as making sure the times and different providers (for team-based care) are assigned clearly in the documentation. She concluded by explaining some current insurance roadblocks, the need for documentation standards, and asked that we all continue to be open as medical and social perceptions of ASD continue to evolve.
A compliance panel was also convened to discuss compliance pitfalls and how to avoid them. Jaci Kipreos, CPC, COC, CDEO, CPMA, CRC, CPC-I, CEMC; Khushwinder Singh, MD, MHA, CDIP, CPC, CPCO, CPMA, CRC; Sandra Giangreco Brown, MHA, BS, RHIT, CHC, CCS, CCS-P, CPC, COC, CPC-I, COBGC, PCS, AAPC Approved Instructor, AHIMA ICD-10-CM Trainer; and William E. Hopkins made up the illustrious panel. They brought their coding, auditing, healthcare plan, and legal experience to the table to answer real-world compliance questions from attendees about place of service, addendums to healthcare records, billing, and much more. Hopkins stressed that "getting everyone to the why" is critical to ensuring everyone from front-end staff to auditors to physicians stay on the right road. Understanding why a compliance rule must be followed is key to staying out of legal and financial trouble.
One Last Opportunity to Learn
After a delicious lunch, it was time for one last session before heading home. Hernia repair, outpatient facility coding, benchmarking, and much more were on the docket.
Kaitlyn Brack, CPC, CEMC, CFPC, CPEDC, AAPC Approved Instructor, took attendees through a comprehensive overview of Medicare Wellness Visits (MWV) during her session "The Ins and Outs of Medicare Wellness." During this interactive session, Brack explained the often-misunderstood differences between preventive visits and wellness visits, elaborated on documentation requirements, then got into coding, all while offering clinical examples and giving prizes to attendees who correctly answered questions.
The documentation portion included details on health risk assessments (HRAs) and the various tools used to measure risk factors. Also, Brack offered advice on how providers can discuss difficult topics with patients and how coders can help educate their providers on documentation requirements. The coding portion focused on the distinguishing criteria required by codes G0402, G0438, and G0439, including specific examples and modifier guidance. She concluded the presentation with a list of relevant caveats and links to additional information.
Nate Felt, MS, ATC, PTA, CPC, dazzled attendees with his impressive radiology knowledge and high-flying, acrobatic dunks. Felt packed his "Diving Into Diagnostic Radiology" session with an informative breakdown of diagnostic radiology codes, practice parameters, and guidelines. He showed attendees where to find information that can help answer their coding queries and ensure proper documentation to avoid claim denials. Felt also took a short break at halftime to showcase an impressive highlight reel that delighted those in attendance — a fun way to wrap up the conference!
A final farewell led by AAPC Alex wrapped up the day for both virtual and in-person attendees.
The last day of conference is always bittersweet, but there is always next year to look forward to. Don't miss HEALTHCON 2024 in Las Vegas, Nevada!
Latest posts by Lee Fifield
(see all)