AAPC Celebrates 35 Years in Business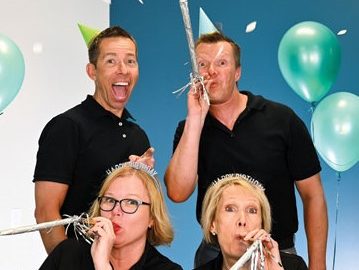 Now the world's largest training and credentialing organization for the business of healthcare, 240K members is our greatest success.
Thirty-five years ago, AAPC began its mission to legitimize medical coders' role in revenue cycle management. Who could have predicted that we would one day comprise a network of nearly a quarter million members who represent every aspect of the revenue cycle? In honor of our 35th anniversary, join us in a stroll down memory lane as we recall how the business of healthcare has changed over the years and how AAPC has evolved to accommodate the diverse needs of our members and industry partners.
Major Milestones
In 1988, healthcare was predominantly a paper-based system. Medical coders and billers processed paper claims based on handwritten doctors' notes. Insurance claim forms were typically hand- or typewritten and then mailed. It was a slow, tedious process rife with errors and fraud. The need for a support system for medical coders was evident; thus, the American Academy of Procedural Coders (AAPC) was formed. The timing couldn't have been better because the healthcare industry was about to experience some significant changes.
In 1995, for example, the Centers for Medicare & Medicaid Services (CMS) released documentation guidelines for evaluation and management (E/M) services. These guidelines changed the way physicians could bill Medicare for E/M visits and were a major learning curve for providers and coders, alike.
As the digital revolution ramped up and computers became integrated in our everyday workflows, the U.S. government saw a need for regulating electronic data. The Health Insurance Portability and Accountability Act of 1996 (HIPAA) required the creation of national standards to protect patient health information (PHI) from being disclosed without the patient's consent. HIPAA marked a historic shift in healthcare — clinical and office staff were now held accountable for the privacy and security of patients' information.
Then, in 1997, the Office of Inspector General (OIG) released its first Work Plan, increasing its scrutiny over medical coding, and the demand for certified coding professionals grew. The OIG's mission to protect the Medicare trust fund also resulted in the creation of new roles in compliance and auditing. At the same time, CMS released a second version of E/M documentation guidelines.

In 1998, Medicare received and processed more than 700 million claims with more than 80 percent of those claims submitted electronically. Just three years later, Congress made electronic submission of Medicare claims a requirement. By 2002, all HIPAA-covered entities (except for small health plans) were required to adopt ICD-9, CPT®-4, National Drug Codes, Code on Dental Procedures and Nomenclature, and HCPCS Level II, as well as electronic transactions standards ASC X12 Version 4010 and NCPDP Version 5.1. The electronic transaction standards were later updated to ASC X12 Version 5010, NCPDP D.0, and NCPDP 3.0. Then came the Health Information Technology and Economic and Clinical Health Act (HITECH), part of the American Reinvestment and Recovery Act of 2009, which increased the civil monetary penalties for HIPAA violations (among other things).
Soon thereafter, the pivotal Patient Protection and Affordable Care Act (ACA) was signed into law. Among many other things, the ACA prohibited health insurance companies from denying or charging more for coverage based on an individual's health status and provided for preventive benefit requirements. In just one year, more than 25.7 million beneficiaries in Original Medicare had received at least one preventive service at no out-of-pocket cost.
Then, after a long, drawn-out battle over when to implement the International Classification of Diseases 10th Revision (ICD-10), the U.S. healthcare system finally transitioned to the expanded code set in 2015. AAPC had been offering ICD-10 training and proficiency testing for years by the time it was implemented, putting members in a prime position to be subject matter experts highly sought after by practices scrambling to adopt the new code set.
With all the commotion of adopting a new code set, hardly anyone noticed when Congress passed the Medicare Access and CHIP Reauthorization Act of 2015 (MACRA). AAPC created MACRA Proficiency training specifically for navigating the new Quality Payment Program (QPP) and its two participation tracks — the Merit-Based Incentive Payment System (MIPS) and the Advanced Alternative Payment Model (APM) — before it was implemented in 2017.
Fast forward to the present when CMS sunset its '95 and '97 guidelines and adopted the American Medical Association's 2021 E/M guidelines for office and outpatient services and then, in 2023, the AMA's E/M guideline changes for the rest of the E/M section. With each release, AAPC launched targeted training to educate the industry on how to interpret the latest E/M guidelines before they were implemented.
AAPC has consistently offered the latest training on new regulations, coding updates, and other industry changes, so members have the skills they need to do their jobs.
"The business of healthcare has certainly changed over the past 35 years. AAPC has been at the forefront of this change, alongside our members. While change is inevitable and we know the industry will continue to evolve, our members can rely on AAPC to continue to take a leading role. AAPC looks forward to working with, connecting, and engaging our members as we embark on the next 35 years of the association and the opportunities that lie ahead for the business of healthcare," Executive Director of Membership Brian Van Norman said.
Coming of Age
Through the years, AAPC certifications, training, and events have evolved to meet current needs and standards, and we have added several business solutions. Now, in our 35th year, we are positioned to help healthcare organizations, as well as healthcare professionals, optimize all aspects of their revenue cycle. We are both a networking association and a certifying body. We are a creator of software and education curriculum, as well as an auditing and job recruiting facilitator. We now offer a wide range of certifications; conduct in-person and virtual conferences, webinars, and workshops; publish print and electronic coding-related resources; and provide networking opportunities through our local chapters and online community.
"I think the best part of AAPC is the members and officers who care so much about the profession. So many are willing to give back because someone has helped them along the way. Many say they wouldn't be where they are without the support of others or without their certification," Local Chapters Manager Marti Johnson said.
AAPC began as a local association with a mission to provide education and certification to medical coders working in physician-based settings, but we are so much more now. We're not the same as we were 35 years ago because your roles in revenue cycle management are not the same. And 35 years from now, everything will be different still. But you can bet AAPC will be there, and we hope you will be too!
"AAPC sits at the crossroads of healthcare payment and delivery, yet at the forefront of advancing individual careers and elevating organizational standards. It's been an honor to be part of this association and the success of our members, partners, and clients for so many years," AAPC CEO Bevan Erickson said.
"I have been a member of AAPC since 1998, and the changes have been phenomenal in that time. AAPC was originally geared toward medical coders, but has grown to include the many facets of the business side of healthcare. These advances have made it possible for us to not only become a certified coder, but also to become involved in compliance, risk adjustment, facility and non-facility coding, and practice management, to name a few. We have a broad spectrum of professionals who have seen the value in the certifications and now have physicians, advanced practitioners, nurses, and attorneys included among our ranks. Personally, I have moved up the ladder from a coder to the director of auditing. I am also a coding instructor for AAPC. I helped to start my local chapter and was fortunate to serve on the AAPC Chapter Association board of directors. There is tremendous opportunity to further your career and mentor others along the way. Happy anniversary AAPC and here's to 35 more years!"
—
Brenda Edwards, CPC, CDEO, CPB, CPMA, CPC-I, CEMC, CRC, CPMS, CMRS, CMCS
"When I became an AAPC Certified Professional Coder (CPC®) in 1994, the term "coder" was foreign to most people, whereas now, it is known across the world. After creating the Pro-Tulsa, Oklahoma local chapter, our local medical community came together and there was a lot of interest in becoming certified. The focus in the early days of AAPC was medical coding, but over the past 29 years, it has expanded to cover the healthcare revenue cycle including billing, auditing, documentation, management, quality risk adjustment, etc. Certification and membership with this awesome organization has offered me opportunities and friendships I never dreamed possible. I was chosen as the 2006 Networker of the Year, which then opened the door to serving on the NAB from 2007 to 2009. I obtained my Certified Orthopedic Surgery Coder (COSC™) credential along with certification as a coding instructor (CPC-I), so that I could join AAPC's ICD-10 training program. I traveled to many different states instructing practice managers, coders, and everyone in between how to transition their practice for this change. After 21 years of owning a coding and consulting business, I now look to a retirement full of memories, achievements, and friendships."
— Suzanne Quinton, CPC, COSC, CPC-I
"AAPC and its founding members were instrumental in transforming medical coding from a clerical job to a highly sought after career through the development of certifications and ongoing education, giving credibility to the complexities of medical coding. My affiliation with AAPC and the network of professionals that AAPC has created has provided me with the tools and connections to take my career from a front desk clerk at a small doctors' office to where I am today. Happy 35th anniversary, AAPC! "
— Kathy Pride, CPC, CPMA
"I remember being so excited and relieved when I discovered AAPC; there was a professional organization where I could meet and talk with other coders who had the same questions I had. Like most coders at that time (mid '90s), I came to coding in a roundabout way. I was an EMT who needed a more reliable schedule.
I promptly joined the Columbia, Missouri local chapter and applied to take the CPC® exam. At that time, there were just two choices: CPC® or CPC-H (now COC®). It is amazing to think of the growth of the industry and how AAPC has impacted it and my own professional and personal growth over the years.
Past president Reed Pew deserves a mention here: He is responsible for bringing us from a small 'mom and pop' operation to the multinational organization we are today. Because of this, and his encouragement, I gathered the courage to become more involved in my local chapter and then the national organization. I know, without a doubt, I would not have enjoyed the successes I have without this amazing group of coding, billing, auditing, compliance, and other colleagues and friends. We call each other brothers and sisters from other misters or mothers: We are family."
— Linda Martien, COC, CPC, CPMA, CRC, CPC-I
"Finding AAPC has been the most awesome experience one could ever have in their profession.
In 2001, I attended a seminar that ended with mentioning the AAPC organization. In 2002, my husband called to say he was retiring, and we were moving to Tennessee. I immediately told him that I had to get the CPC® certificate to prove I knew what I was talking about when looking for a job.
I obtained my CPC® in 2004 and in 2005 attended AAPC's national conference in Salt Lake City. After going through the three-day program, I was successful in earning the instructor credential. It was non-stop from there for me. I was elected president of my local chapter, conducted CPC® classes locally, and attended AAPC national and regional conferences. I observed over the years the dedication that AAPC puts into serving their membership through education and networking.
At conference, you could see the dedication in their work supporting the needs of the attendees and AAPC. I wanted to be a part of that! In 2013, I was selected to be on the AAPCCA. This allowed me to see the behind the scenes, true dedication, and efforts of the employees, volunteers, and everyone who worked solely for the betterment of its members.
Being on the ICD-10-CM training team, serving on multiple committees, speaking at local chapters, CPC® instructor, and instructor for clients through AAPC has allowed me to increase my knowledge and educate myself in areas that I was not familiar with. In other words, my experience with AAPC allowed me not to be afraid to 'come out of the box.'
Being associated with AAPC has enabled me to have the most treasured, lifelong friendships, meeting wonderful, dedicated professionals along the way and experiencing a world that I would have never found if not for the open arms of AAPC. I could keep on going, but my advice to you is 'come out of your box.'"
—
Sharon J. Oliver, CPC, CDEO, CPMA, CRC, AAPC Licensed VILT Instructor
AAPC Trivia
Test your knowledge of AAPC with these trivia questions!
1. What did the acronym AAPC stand for in the 1990s?
2. How many years of experience used to be required before sitting for the CPC® exam?
3. When was the first HEALTHCON?
4. When did AAPC release the My AAPC app?
5. What was the first of AAPC's publications called?
Answers:
1. American Academy of Professional Coders; 2. Two years; 3. 2014; 4. 2017;
5. AAPC News
---
Resources:
www.cms.gov/Regulations-and-Guidance/Administrative-Simplification/HIPAA-ACA/Downloads/Timeline-of-Key-Statutes-and-Regulations-20181116.pdf
https://www.cms.gov/About-CMS/Agency-Information/History/Downloads/Medicare-and-Medicaid-Milestones-1937-2015.pdf
Latest posts by Renee Dustman
(see all)