Clear Up Dementia Coding Confusion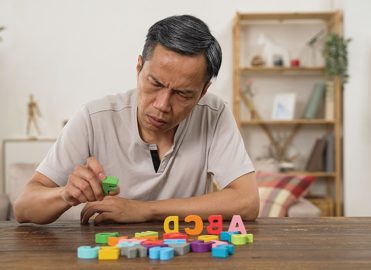 2023 ICD-10-CM update expands F01-F03 code categories to allow providers to indicate disease stage and symptoms.
The 2023 update to ICD-10-CM finally provided an expansion of the dementia codes, which has been needed for a very long time. Previously, we were only able to report with/without behavioral disturbance and a code option for wandering (Z91.83) if supported by documentation. The new combination codes increase specificity by representing the disease stage and the wide variety of potential symptoms, which create complexities for patient care.
What Is Dementia?
Dementia is an umbrella term for many different diseases associated with memory loss that deteriorates over time. Alzheimer's disease is the most common type, but vascular dementia is a close second with our society's common diagnoses of hypertension, heart disease, stroke, etc., increasing the risk. One of the most problematic aspects of these diseases are the symptoms of agitation, anxiety, and behavioral, psychotic, and mood disturbances. These symptoms change over time with the severity of the disease.
Coding Dementia Depends on Documentation
It's especially important when dealing with the nuances of behavioral symptoms that we don't assume or inadvertently code a condition that's not specifically supported. Fortunately, there are clear definitions for each of the behaviors represented by the new codes. It's all in the details, as they say. Severity is classified as unspecified, mild, moderate, or severe and must be determined by the provider. For each level of severity, there are codes which represent specific potential symptoms as well as a code for patients without any symptoms.
Let's look at the individual behavioral symptoms and the definitions provided to us by ICD-10-CM:
Agitation: restlessness, rocking, pacing, exit-seeking, profanity, shouting, threatening, anger, aggression, combativeness, or violence.
Other behavioral disturbance: sleep disturbance, social disinhibition, or sexual disinhibition.

If documentation supports wandering, guidelines direct us to also code the underlying disorder. If the underlying disorder is vascular dementia, other dementia, or unspecified dementia, code the underlying disorder as "with other behavioral disturbance."

Psychotic disturbance: hallucinations, paranoia, suspiciousness, or delusional state.
Mood disturbance: depression, apathy, or anhedonia.
Anxiety: as stated.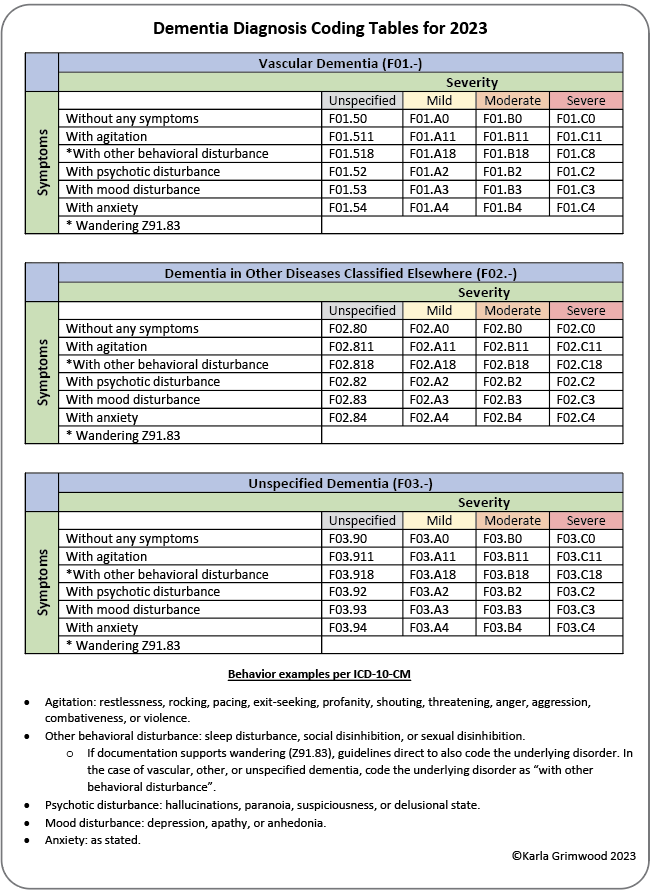 It's always important to read the new guidelines each year, but especially when there have been major changes such as these. Please be sure to carefully read Section I.C.5.d. in the 2023 ICD-10-CM Official Guidelines for Coding and Reporting. The codes are only to be assigned if documented by the provider, and the record must support the level of severity and any behavioral symptoms reported. If severity is not documented, code it as "unspecified." Also, if a patient is admitted to an inpatient acute care hospital or other inpatient facility setting with dementia at one severity level, and it progresses to a higher severity level, assign one code for the highest severity level reported during the stay. Due to the nature of the disease, this is a more common occurrence than not, so be sure to watch for it.
Here are some examples to help you understand how all of these pieces fall into place with one code. Refer to the Dementia Diagnosis Coding Table to guide you. Once you understand it, it's easy!
Example 1
Mr. Jameson is a retired mailman. He has moderate, late-onset Alzheimer's disease. He lives with his daughter and her family. Today he presents to the clinic with his daughter, reporting episodes of hallucinations and paranoia. Last night, he unknowingly walked out of their home. He wandered to the neighbor's house and rang their doorbell at 1 a.m. to deliver mail. Fortunately, the neighbor called his daughter, and he was returned home safely.
The diagnosis code(s) to capture his disease, severity, and any other symptoms:
G30.1 Alzheimer's disease with late onset
Use additional codes as directed:
F02.B2 Dementia in other diseases classified elsewhere, moderate, with psychotic disturbance
Z91.83 Wandering in diseases classified elsewhere
Example 2
Mrs. Tate lives in a secure memory care unit and has had multi-infarct dementia for many years. In her severe stage, she does not recognize her daily caregivers, and when they try to provide personal care, she becomes combative and yells for help. Her son and MPOA contacted me to see if anything more can be done to calm her during caregiving tasks.
The diagnosis code to capture her disease, severity, and any other symptoms:
F01.C11 Vascular dementia, severe, with agitation
Dementia Patients Deserve Clarity
As you use the Dementia Diagnosis Coding Table for your coding scenarios, you'll soon feel confident to code the level of specificity documented by the provider to ensure the most accurate representation of patient complexity to the payer. Dementia is a complex disease, and these new ICD-10-CM combination codes finally give insight into the variability of individual patients.
Latest posts by Karla Grimwood
(see all)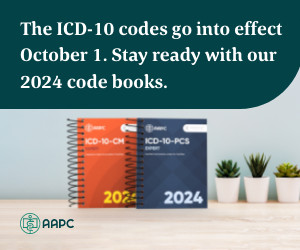 One Response to "Clear Up Dementia Coding Confusion"