I Am AAPC: Kim Montenegro, CPC, CPB, CPMA, CPPM, CRC, CPC-I, COSC, CSFAC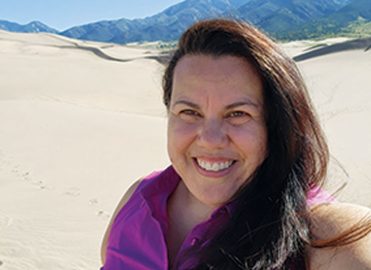 I began working in healthcare when I was 19. I had trained to be a medical assistant, where I learned the basics of coding, billing, record management, and office management; and I spent the next decade working in medical administration jobs, doing everything from patient registration to billing to patient advocacy. I love that there is rarely a dull moment in healthcare.
In 2007, I began working at a surgery center as a biller and was quickly given other responsibilities in revenue cycle management (RCM). I soon learned about AAPC through a colleague who wanted to become certified in medical coding. I decided I wanted to get certified as well, since my experience with coding was basic. At first, I thought AAPC membership was just a requirement to be able to sit for AAPC exams. I soon discovered that AAPC had much more to offer me.
Networking Works
After passing the Certified Professional Coder (CPC®) exam, I was motivated to keep learning. I went onto forums to read about various RCM topics. I became deeply involved with the Aurora, Colorado, local chapter, sharing my expertise in anesthesia. This gave me a lot of visibility and helped me build my network.
Many people gave me job leads, but I was loyal to the company which had reimbursed me for my dues and exam, so I stayed put until the company was sold. By then, I had earned my Certified Professional Medical Auditor (CPMA®) certification. My next job was in orthopedics, which was followed by teaching at a technical college and then working as a hierarchical condition category educator, all of which inspired me to earn additional pertinent credentials. Each certification has been a step up in my career.
Given all the credentials I have and the ones I still want to acquire, I enjoy the variety and the opportunity to share my expertise at so many levels. AAPC offers so many opportunities to network and meet likeminded people, both in person and virtually. I have learned that I will never know it all, so being able to network with amazing people in the industry is an added perk.
Respect Is Earned
Early in my career, I knew that I was really good at what I did; however, I did not have the letters after my name to back it up. The best part about being an AAPC member is that I am taken seriously because my credentials come from a reputable credentialing organization.
---
#iamaapc
We want to feature you in Healthcare Business Monthly! Tell us in fewer than 500 words why you became a member of AAPC, how your AAPC credentials have helped you in your career, and the best part of being an AAPC member. Send your story and a digital photo of yourself to iamaapc@aapc.com.
Latest posts by Lee Fifield
(see all)