Member of the Month: MariaRita Genovese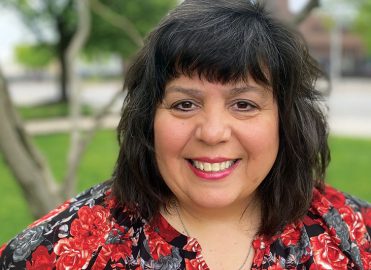 Her positive attitude will inspire you in your professional journey.
I had just graduated from college and was looking for a job when my primary care physician informed me of a position available at the practice for a front desk receptionist. I got that job, and in the years that I worked there, I learned a lot.
Built a Career From the Ground Up
I learned how to schedule appointments, register patients in the computer (after switching everything from paper and ink), call in medication refills for patients, and many other things. I loved it.
Over the years, I moved on to work in orthopedics, returned to primary care, and then found my final love in oncology, where I've worked for the past 16 years. I currently work at MD Anderson Cancer Center at Cooper University Hospital in Camden as director of revenue cycle and business operations. I'm responsible for several business-related areas, including an oncology-specific access center that handles scheduling all appointments for our providers, the medical records team, administrative assistants, and surgical schedulers. I am also a resource for the four fellowship programs and work with an entire revenue cycle team.
I couldn't have asked for a better team; they never stop working, always put the needs of the patients first, show empathy, and possess a wide range of other attributes.
Learned From Others
I have been shaped by numerous people throughout my career, but there are three individuals who have been the most influential for me.
First, there was my mother. My mother passed away from breast cancer at the age of 56. She could only speak Italian and had to rely on her two teenage children to help her navigate the healthcare system and understand what her illness was and what the treatment would entail. As a result, I became motivated to assist all patients in having a better personalized experience within the system during their cancer journey.
Second is Janice Schellinger, who was my manager in my first oncology job. She saw something in me that I didn't see in myself. She was instrumental in my thinking outside the box and doing so many other things that I had never thought of, including working in the world of revenue.
The third is Richard Haldeman, whom I consider a mentor. He was vice president and chief financial officer while I was employed at Kimmel Cancer Center. He helped me develop as a leader and as a person, and his constructive criticism was vital to my professional development. Accepting criticism and learning from it is important. The person I am today is very different from the one who began this journey more than 30 years ago.
Inspired by Others
The patient's journey to overcome their condition is what inspires me every single day. It's a concerted effort at MD Anderson to provide patients with the most individualized experience possible in all areas, including the clinical, financial, and patient satisfaction spheres. I couldn't have asked for a better team than the one I have; they never stop working, always put the needs of patients first, show empathy, and possess a wide range of other positive attributes.
I'm most proud of making processes available in electronic form to reduce the time it takes for patients, staff, and physicians to complete forms. I also do my best to support my team and providers in making their internal processes run smoothly. It's the little things, like assisting patients who misplace their insurance card or are having trouble navigating the sometimes complex system, that are the most rewarding. The time I spend educating and mentoring the leaders of tomorrow is also extremely rewarding.
I am inspired to give back to our community because of my involvement with AAPC, local chapters, and members. Without AAPC, I would not be where I am today.
Pushes Past Boundaries
At 49, I went to work at MD Anderson after working in the same place for more than 20 years. I went back to school at 54 and earned my master's degree, which I just finished. I never thought I could do that. I never thought I had the time. I owe my son, Antonio, everything; he pushed me and said, "It's your time now." I also had a great leader, Christine Winn, PhD, FACHE, who kept pushing me to do it. I did it, and I'm so glad. The most important lesson I have learned is that it's never too late to get that extra certification, to get a degree, to change jobs, or to take an adventure.
Latest posts by MariaRita Genovese
(see all)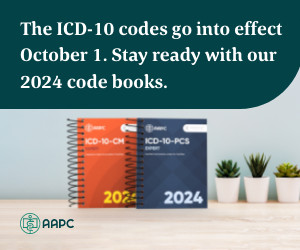 One Response to "Member of the Month: MariaRita Genovese"