Unlock the Power of Benchmarking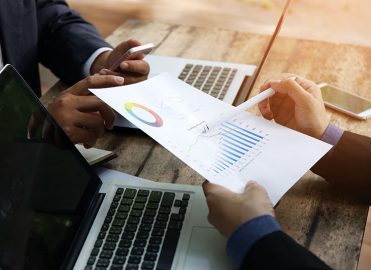 Streamline your medical practice's operations and improve patient satisfaction with benchmarking.
Benchmarking is used to judge the quality or level of other similar things. It's an invaluable tool for measuring and improving upon patient satisfaction, financial stability, and quality of care in medical practices.
At AAPC's HEALTHCON 2022 conference, held March 27-30 in Washington D.C., speaker Tracy Bird, CPC, CPMA, CEMC, CPC-I, FACMPE, discussed the purpose of benchmarking, which metrics to compare, the benchmarking process, and tracking progress in her session "Benchmarking for Practice Success." Bird presented three case studies from organizational, financial, and quality viewpoints to provide practical examples for everyday situations.
The Benefits of Benchmarking
"We use benchmarking to understand where we are in order to decide where we want to go," said Bird. The healthcare industry often changes at the speed of light. "The dynamics of healthcare really dictate that we have to take some control and put some measurement and analysis around what we do in order to move our practices forward," said Bird. Benchmarking can accomplish this, helping medical practices identify, predict, and adjust to challenges.
The purpose of benchmarking is to:
Improve efficiency,
Improve quality of care,
Improve patient safety, and
Improve patient satisfaction.
The process itself looks at standards, best practices, and evidence-based information to identify potential areas for improvement. Benchmarking can measure patients, clicks, visits, and procedures in a variety of ways. Remember: Any metric deemed important can be benchmarked.
Metrics and functions can be benchmarked against your own practice or against data submitted by others. Comparing your doctors' billing habits for evaluation and management (E/M) visits to others on a bell curve, for example, can be as useful to improving patient satisfaction as measuring responses to patient phone calls.
Breaking Down the Process
The steps to benchmarking are to measure, analyze, compare, and improve. The mechanics of benchmarking progress through the following series of steps:
Select > Note > Evaluate > Identify > Track
First, select what you want to measure and improve. Then, note the differences between the current baseline and the benchmark and consider any factors that may be contributing to the differences. Once an evaluation had been made, identify what to do going forward. Is action needed? If so, who will be responsible and what are best practices? Finally, track the progress of the actions you set in motion. "There's no point in measuring something if we don't measure that we're getting better," said Bird.
Benchmarking Categories
There are three areas a medical practice should consider when deciding what metrics to benchmark: organizational, financial, and quality standards. Let's review three case studies to understand each type.
Case Study #1 – Organizational
A recent patient satisfaction survey indicates patients are unhappy with their ability to reach your practice by phone; they cannot schedule appointments when they need them. Because of this, you have noticed a higher-than-normal no-show rate lately. Additionally, there was a complaint that nurses are unresponsive to patients' calls.
In this case, operational metrics should be benchmarked. Since medical practices serve patients, it's critical to assess patient surveys. Some of the key performance indicators to think about surrounding this scenario are:
Scheduling – no-shows, cancellation rates, ability to get an appointment when needed
Patient flow – wait times and total appointment times
Visit counts – new patients vs. established patients
Average visits per day
Work relative value units (wRVUs)
When assessing survey results, consider phone calls, appointment scheduling, and internal and external communication. Having your reception staff track the calls that come into the practice will tell you a lot about your operational function. Track how many calls are for prescriptions, how many are for referrals, etc., and how many calls are repeat calls from the same patient who did not receive a call back. If, for example, 32 percent of patients who called for their test results had to call a second time, best practices for telephone management should be reviewed and corrected.
If you find that patients are unable to get an appointment when they need one, review your scheduling best practices. Ask yourself whether the scheduling rules are clear between scheduling staff and providers. Does everyone agree on how long certain types of appointments will last? If a third appointment is scheduled too far out, is there a capacity problem, too few providers, or is there another issue? Does this impact the no-show rate?
Use benchmarking data to decide which areas need improvement and then evaluate the access to care in your practice. Whether you use internal or external benchmarks, the data will help you find solutions.
Case Study #2 – Financial
You are the administrator of a private primary care practice. Today is payday. As you sit down to prepare the payroll, you find there is not enough money in the account.
In this scenario, you will need to discover if this is an expense problem, a revenue problem, or a combination of both.
To assess expenses, review staff costs, general operating costs, and physician compensation to see if there is a shortfall when added to net patient revenue.
To benchmark revenue, measure accounts receivable (A/R) charges, payments, and adjustments and look for outliers.
Key performance indicators for revenue include:
Gross charges
Days to post
Days to bill
Clean claim rate
Unbilled charges – claims on hold
Unbilled appointments – appointments without charges
Payments
Adjustments – contractual and non-contractual
Expected vs. allowed
Accounts receivable – Percentage over 90 days, days in A/R, average days to pay
Denial rate
Resolution rate
Write-off rate
Run reports by date of service and also by transaction date to provide a complete management picture. As a rule, 55-70 percent of A/R should be less than 60 days old, and no more than 20 percent should be aged greater than 120 days.
Three tips for monitoring charges:
Charges should be consistent from month to month.
Monitor charges by service line (E/M, lab, etc.).
Establish internal benchmarks or compare with external benchmarks (MGMA offers external data for most specialties).
When assessing data, pay attention to outliers that could be costing your practice revenue. Scrutinize contractual adjustments, as they are one of the most under-managed areas in a practice. Do not group them in with other adjustments. Establish several adjustment codes, as well: Don't lump everything under "other write-offs." Monitor write-offs to protect against employee dishonesty or incompetence.
Use monthly, year-to-date, and average columns to compare internal benchmarks. Monitor by major payer to identify trends, and track adjustment percent by provider. Adjustments tend to mirror receipts, not charges. When adjustments appear too high or low, look for anomalous Medicare and Medicaid postings for the month, whether bad debt has not been written off, claims filing errors, and other errors. Finally, measure the changes over time.
Case Study #3 – Quality
You are the administrator of a primary care practice that has enjoyed modest growth over the last year of 1-2 percent. Forty percent of your revenue comes from Medicare. You have been trying to participate in all the quality initiatives for Medicare over the years, including PQRS, the value-based payment modifier, and meaningful use, and now have moved into the current quality programs, including the Merit-Based Incentive Payment System (MIPS) and quality reporting through a certified electronic health record (CEHRT). To maintain your current revenue stream, you must continue to demonstrate quality, as value-based reimbursement has already begun.
The patient experience is critically important to the success of a medical practice. A patient assigns quality to a provider visit through their perception of how they were "taken care of," said Bird. This quality can be added to by practice participation in federal quality programs.
Most practices participate in MIPS programs. By meeting the thresholds for cost, quality, improvement activities, and promoting interoperability, practices can improve patient care and sometimes earn a bonus from the Centers for Medicare & Medicaid Services (CMS). "Participating in these efforts has shown to provide better patient care," said Bird, adding, "Efforts are paying off."
Quality measures may include, for example:
Documentation of current medications
Diabetes A1C poor control
Cancer screening
When participating in MIPS programs, make sure to develop a quality plan and always follow CMS' requirements.
Measure Your Efforts
Running a medical practice can seem like a herculean effort. With the right tools, however, you can ensure your practice not only survives but thrives. Measuring and analyzing organizational and patient metrics through benchmarking can help you understand what's working in your practice and what needs to be changed or improved upon. As Yogi Berra once said, "If you don't know where you are going, you might wind up someplace else.
Latest posts by Lee Fifield
(see all)