Tap Into the Benefits of Population Health Practices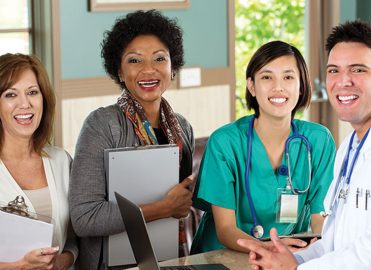 Reduce the burden on healthcare providers in your medical practice.
Population health refers to the health status and health outcomes of a population rather than a single patient. Population health revolves around four pillars:
Chronic care management
Quality and safety
Public health
Health policy
Population health aims to improve the health of the entire population, including reducing health inequities. Process improvements, education, electronic medical record (EMR) analytics, and prospective and retrospective reviews help to lay the foundation for a successful population health program. Let's consider each of these areas in turn.
Process Improvements
Every healthcare provider strives to provide excellent care to their patients. With the COVID-19 pandemic, staffing shortages, and the sheer number of patients seeking medical attention in recent years, however, providers are being pushed to their limits and feeling overwhelmed. Add in quality reporting, preventive screenings, and documentation requirements, and it's no wonder providers are struggling to keep up. Many providers feel like there are not enough hours in the day to complete all the tasks asked of them.
Providers can no longer do everything themselves. A medical office must run as a well-oiled machine, with all employees taking on responsibilities once only completed by providers and working together to provide quality patient care.
To make population health work, it's essential to make the best use of nurses' and medical assistants' licensures to reduce the burden on providers in a medical practice. There are several duties in an office that can be done by a highly trained, well-trusted teammate. Providers must be willing to allow these staff members to take on more responsibilities, such as medication updates, review of systems, and problem list cleanup, to name just a few. This team-based approach will also give staff ownership and a feeling of job satisfaction.
The questions a provider needs to ask are, "What additional duties can be taken on by ancillary staff, and how much of my burden will that eliminate?" Once these questions have been answered, new processes and procedures can be put in place to allow providers to focus more on patient care.
Most practices have started using patient portals to put some responsibility on the patient, as well. Through a portal, patients can complete questionnaires and update medications and demographic information prior to arriving at the office. This improves check-in time and frees receptionists to take on additional duties.
Education
Most providers are not coders, which makes continuing provider education an important part of a successful population health program. With yearly coding and guideline changes, it's vital to keep providers up to date on the latest additions or changes. One-on-one or practice-specific training sessions to educate providers on documentation and coding is the key to success. Education is not a one-stop shop, however; educators must address the specific needs of the individual provider or group. Tailoring information helps providers see exactly where they need to improve and how to easily make the changes needed to drive better care outcomes.
As we move from fee-for-service to population health, the burden is on primary care providers to document and code all new and existing chronic conditions at least annually to show the health status of their patients. Documentation must support all codes submitted, whether acute or chronic. Educating providers to accurately document the work they do by capturing the correct burden of illness is paramount for quality patient care and lowered costs.
EMR Analytics
Practices can promote population health by using EMR analytics to uncover high-risk codes and potential costly mistakes. Using analytics to validate and invalidate red flag codes is an effective way to do an internal audit. Whittling down high-risk codes with a validation audit will promote clarity within patient charts and allow for additions and deletions of codes.
Prospective Pre-visit Chart Reviews
A prospective pre-visit review is a deep dive into a patient's chart to look for gaps in care and potential missed opportunities prior to the patient's visit. Things to look for include:
Chronic conditions on the problem list that appear to be active but are not coded or assessed in the current year;
Medications that do not have a related condition addressed;
Information embedded in radiology reports that may have been overlooked; and
Lab data (such as A1C results for diabetes management) that have not been addressed.
When performed by clinical documentation integrity (CDI) nurses or coders with the Certified Documentation Expert Outpatient (CDEO®) certification, these reviews help providers by decreasing the pre-appointment review time and sets them up for success with better care recommendations for their patients.
Retrospective Chart Audits
Retrospective reviews are a wonderful way to review medical records for accuracy. In this type of review, auditors review the medical record notes for possible overcoded and undercoded conditions, as well as missed coding opportunities after the revenue cycle process is complete.
Essential for population health, retrospective chart audits also allow physicians, auditors, and coders to join forces to improve documentation and coding. While completing reviews, auditors can educate staff on process improvement, documentation standards, and current coding guidelines. The practice can then begin a review of problem lists to correct improper codes and resolve unnecessary additions such as acute or resolved conditions.
These reviews must have concise information that validates the education. Auditors must be able to articulate to the provider or coder where they found the information and why a change is necessary.
Put It All Together
Population health begins with making sure providers are set up for success. Provider education helps improve decision making, patient outcomes, and promotes cost savings downstream. EMR analytics, prospective reviews, and retrospective audits are all part of the process. When providers and their staff embrace the population health process, it leads to enhanced levels of high-quality, value-based patient care.
Latest posts by Jessica Diaz
(see all)