Making Care Primary: Strategic Support for Accountable Care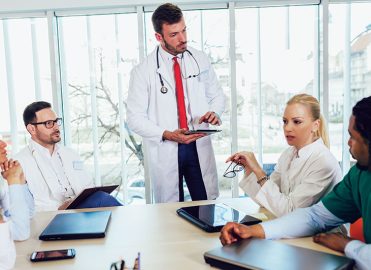 CMS' newest program aims to facilitate value-based payment participation.
The Centers for Medicare & Medicaid Services (CMS) has a new goal: Get 100 percent of traditional Medicare beneficiaries and most Medicaid beneficiaries into accountable care relationships by 2030.
Strengthening the U.S. primary care infrastructure has been an ongoing project for CMS, and they aim to continue to enhance financing, access, and ensure sustainable transformation across a range of practices. Their most recent brainchild, the Making Care Primary (MCP) model works to support this trajectory by focusing on transitioning providers to a value-based payment model.
What kinds of challenges is primary care facing?
Inadequate payments, complex care delivery, and administrative burden, which have been further exacerbated by the COVID-19 pandemic, are constant challenges for the U.S. primary care system. Despite the well-documented benefits of primary care, such as improved patient outcomes, increased equity, and lower mortality rates, spending on primary care remains low compared to total healthcare spending. Additionally, there are payment gaps between primary care and specialist care, and underserved populations often lack access to regular primary care.
What is the benefit of value-based payment model?
Value-based payments have the potential to make the health system, and primary care in particular, more resilient. Participants in CMS' recently rolled-out Comprehensive Primary Care Plus Model received population-based payments, which helped primary care practices weather financial shocks during the COVID-19 pandemic. However, a recent survey showed that less than half of primary care practices are receiving any form of value-based payment. Many primary care practices are not participating in CMS accountable care organization (ACO) initiatives or advanced primary care models. CMS has created the MCP model in an attempt to create more opportunities for primary care practices to transition to value-based payment approaches that support clinician practice, patient engagement, and whole-person care. This includes addressing health-related social needs and collaborating with specialty care.
What is the MCP model?
MCP is a primary care model that aims to transition providers from fee-for-service to prospective payments. The model operates in eight states and targets safety net providers, such as federally qualified health centers (FQHCs) and primary care providers who have not participated in previous value-based payment models. There are three progressive tracks to support primary care teams in transition to value-based payment models:
Qualifying participants receive an upfront infrastructure payment and socially risk-adjusted prospective care management activities, in addition to fee-for-service payments.
Participants have hybrid payment options with a blend of fee-for-service payment and prospective payments. They also have the opportunity to receive increased performance-based payments and a reduced care management payment. Track 2 participants can implement new e-consult codes for electronic consultations between primary and specialty care providers.
Participants receive fully prospective payments, a greater opportunity for performance-based payments, and reduced care management payments. Track 3 also involves a new ambulatory co-management approach for beneficiaries with new diagnoses or conditions that require coordination between primary care and specialty physicians.
How does CMS plan to increase FQHC participation?
Participants will receive prospective care management payments, which will be adjusted based on eligibility for the Part D Low-income Subsidy (LIS), Area Deprivation Index (ADI), and CMS hierarchical condition category (HCC) risk score. This means that FQHCs that serve a higher proportion of low-income individuals will receive higher payments.
Additionally, eligible participants in MCP will receive upfront infrastructure payments to help FQHCs invest in the resources necessary to participate in value-based payment models. FQHCs will collect self-reported demographic data from their patients to help the practices identify any disparities or needs within their communities. The practices will also be required to develop and implement health equity plans that outline strategies to address those needs, and strongly encouraged to hire staff members from those communities to help improve access to community resources.
Those interested in participating in an accountable care organization for performance year (PY) 2024 must join an ACO's participant list for PY 2024. ACOs should gather applicants' information and submit it for either the Medicare Shared Savings Program by noon on Aug. 1 or for the ACO Realizing Equity, Access, and Community Health Model (ACO REACH) by 11:59 p.m. the same day.
Check out the various ACO application types and deadlines.
---
Source:
https://www.cms.gov/outreach-and-education/outreach/ffsprovpartprog/provider-partnership-email-archive/2023-06-08-mlnc
Latest posts by Lara Kline
(see all)