Taking an AAPC Exam in 2024? A Change Is Coming.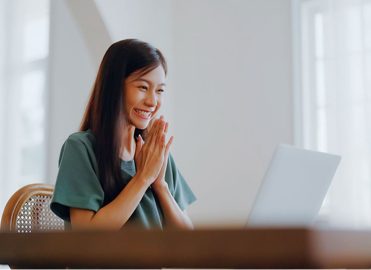 AAPC members will soon have a new way to take their credentialling exams.
AAPC Chief Product Officer Raemarie Jimenez, CPC, CDEO, CIC, CPB, CPMA, CPPM, CPC-I, CANPC, CRHC, and Jaci Kipreos, CPC, COC, CDEO, CPMA, CRC, CPC-I, CEMC, joined host Alex McKinley Aug. 23 for AAPC Social Hour live on Facebook to discuss an important change coming to AAPC exams.
Beginning in 2024, test takers will have the choice of either taking their exam at home with a live remote proctor or taking their exam in person at a Measure Learning testing center. Measure is a global company with testing locations across the world. All in-person exam opportunities will move from local chapters to Measure centers that are technologically capable of facilitating electronic exams.
Why the Change?
There are several reasons for the change. Currently, electronic exams in the U.S. are available through live remote proctoring. But AAPC realizes that not everyone wants to take their electronic exam in their home for a variety of reasons. Therefore, AAPC is committed to offering an in-person option through a testing center, in addition to live remote proctoring.
Electronic exams also allow for a wider range of testing questions. "With the implementation of electronic exams, it allows us to add other item types that you can't do on a bubble sheet, similar to what we have with the CIC® exam where coding of cases becomes available through multiple fill-in-the-blanks," said Jimenez.
Streamlining an electronic exam for all will also keep exam scoring consistent and fair across the board. "We all work hard to earn our certifications," Kipreos said, but "it's hard to capture all our age groups, all our generations, and all our thought processes [when it comes to test format]; however, the most important thing, and I know that Rae agrees, is keeping the integrity of the exam."
"We've let all licensed instructors know since the beginning of 2023 that they would not have the opportunity to proctor their own exams because of the electronic move that we're making," added Jimenez.
Exam FAQs
Below are some FAQs that were addressed during the live social hour. Official FAQs are currently being assembled and will be released prior to Jan. 1, 2024.
Q: How do I schedule an exam?
A: When an AAPC member purchases an exam, they'll be given access to the Measure website, where they can see what testing centers are available in or near their area. After reviewing the testing center locations, the member will then choose their in-person location and schedule their exam or choose live remote proctoring and schedule their exam.
Q: Will I need to bring my own camera and laptop to the testing center?
A: No. Arrive with your materials and identification. You will receive a list of things you must bring with you, but a camera and laptop are not your responsibility. The testing center is there to facilitate the exam for you.
Q: Is there any change to ADA accommodations?
A: No. It's the same process.
Q: There's a rumor that the exam will be a fill-in-the-blank exam. Are you navigating away from multiple choice?
A: In 2024, you will see the inclusion of fill-in-the-blank spaces, but it will be a hybrid with multiple choice. You will see this reflected in practice exams and study guides, as well.
Q: Please address the scratch paper issue, marking books, etc., in the new process.
A: Marking of physical books is allowed. AAPC is trying to make most of the coding materials available within the electronic format of the exam delivery. That's why the electronic notepad was added in lieu of using scratch paper. Using a scratch pad during the live remote proctored exam is not allowed because AAPC has no control over what happens to that paper once the exam is over. "Unfortunately, we have to consider exam integrity, since not everyone has the same good intentions," said Jimenez. "We have to make sure exam content is not leaving the test encounter. That's the major reason why we've included some of the audit tools, PDFs of some of the resources people need inside the electronic test platform to limit what would need to be used on the desk space." Currently, Beta testing of eBooks (electronic code books) inside of the exam is underway. Eventually, examinees will have the choice of using an eBook or a printed book. Just like with a printed book, you can add notes to eBooks, tab pages, and highlight text.
Q: How does the electronic exam prevent using Internet searches?
A: There is one screen, and the proctor can see what is on that screen. The exam is also captured through video. Suspicious strokes or attempts to access something an examinee shouldn't will result in a warning inside the exam that what the member is trying to do is not permitted. It's impossible to access other websites while in the exam. "That's why we're trying to make everything inclusive in the platform, so there would be no reason for [members] to access anything outside of the exam," said Jimenez.
Q: Will test site locations be listed on the AAPC website?
A: No. Once a member purchases an exam voucher, they will be provided with a link to the Measure website via email to register for their test. Since testing center sites will change as new test sites are added or removed, it would be impossible to keep an up-to-date list on the AAPC website.
Q: Why can't I review the testing locations before purchasing an exam voucher? People in rural areas would have to drive 4+ hours each way in some cases. The information should be available in advance.
A: Once you purchase your exam voucher and can review the testing center locations, you can then decide to take your exam live remote proctored if driving distance is an issue. Members who can't take a test if it's not within a certain driving distance and can also not take their exam online can work with customer service to solve their dilemma.
Q: If remote testing isn't an option and you can't get to the testing center location, do you get a refund since you can't check the location beforehand?
A: The official FAQs currently being created will address the best path forward for that. AAPC will always make any situation right with its members.
Q: How do we apply to be a testing center?
A: Measure has a list of requirements that need to be met if you want to become a testing facility, both logistical and technological — things like having cubicles and partitions in place and the ability to have cameras in the room to record exams. AAPC can connect interested parties with Measure to discuss the opportunity of opening up a test center. "As we move closer to that, we'll be able to provide that specific information and connect you to the right person at Measure to be considered," said Jimenez.
Q: Can local chapters use chapter funds to become a Measure testing center?
A: It's unlikely that local chapters would have the dedicated space and be able to meet the building requirements, the security requirements, and the technology requirements to become a Measure testing center. And "the cost of creating the site seems prohibitive," said Jimenez.
Remote Testing Tip
If you need to take your exam live remote proctored, but are unable to take your exam at home, consider reserving a hotel room or a free conference room at your public library, rather than taking the exam at your residence. Get creative with what's available in your area. Just remember: The room in which you sit for your exam must be a private room.
The Future of Local Chapter Funding
Several social hour attendees expressed their concern about how local chapters will be supported and funded going forward. "AAPC is very committed to local chapters," said Jimenez. "We know that that's the backbone, that's our secret sauce, that's what makes AAPC special, is the work of our local chapters, and we do not want to see that diminish." There are alternate ways AAPC can help with funding of local chapters:
Through meetings that chapters are already holding: AAPC is reviewing current reimbursement models/structures for meetings to see where funding opportunities lie.
Through offering one-day review classes for a fee: There are very few chapters currently offering review classes, so this is the biggest opportunity.
Once the chapter elections are held in the fall and there are new officers in place, said Jimenez, AAPC is going to roll out materials to local chapters that will help them teach one-day reviews for all of the core exams (not specialty credentials). Approved instructors would be qualified to teach the review classes, and AAPC will have a train-the-trainer program to qualify others who wish to teach the classes. Potential teachers must hold the credential for the review class they want to teach. "I think there's a lot of opportunities for local chapters to remain sustainable," said Jimenez.
Local Chapters Manager Marti Johnson said, "As far as supporting the chapters, we're working on the new reimbursement schedule, and we do plan to support the chapters so they are sustainable."
Officer Feedback Is Key
For those who have concerns about the new process being proposed, Jimenez encouraged local chapter officers to reach out to the AAPC Chapter Association Board of Directors (AAPCCA BOD), which is constantly doing virtual meetings to hear from chapter officers.
Take your concerns to the BOD, which will in turn take them to AAPC. "We've had to support local chapters through many changes, such as moving meetings virtually to Zoom during the shutdown," said Jimenez. "The AAPC team is dedicated to giving you the support that you need, but don't just bring the problem, bring the solution," Jimenez added. "If you have ideas ­— we have some chapters that have been very successful finding alternate ways for reimbursement to help fund the activities that they want to do in their location. It is possible for us to work through solutions on things that you might think won't work."
Understand what others are doing in your state, as well, suggested Kipreos. As a former chapter officer, Kipreos said she worked with the BOD many times when she had problems to help her find the best solution. Don't be afraid to reach out to the National Advisory Board, too, said Kipreos. They're there to hear you and bring your challenges to AAPC.
Coming soon: There will be a formal meeting to go over changes with local chapter officers.
Are You Ready?
Please make sure your member profile with AAPC is up to date before scheduling future exams. Exam information, checklists, and requirements are sent through email, so current contact information is essential for receiving important information from AAPC. Adding aapc.com to your list of recognized contacts will also ensure that no correspondence goes to your junk folder.
Please review the exam requirements you are sent carefully. Showing up to an in-person exam without the proper materials or without doing your due diligence may result in the need to reschedule your exam.
Check out the full AAPC Social Hour from Aug. 23, 2023, on Facebook. The recording is also available on YouTube and the AAPC Podcast.
Latest posts by Lee Fifield
(see all)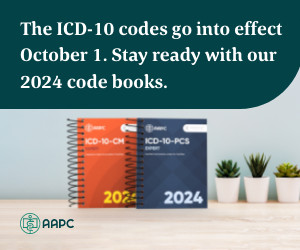 6 Responses to "Taking an AAPC Exam in 2024? A Change Is Coming."