EHR Incentive Payments Begin
Just two days after registration opened for the Medicare and Medicaid Electronic Health Record (EHR) Incentive Programs, Oklahoma and Kentucky issued incentive payments to health care providers for successfully demonstrating meaningful use of certified EHR requirements under the Medicaid EHR Incentive Program.
Two physicians, Dr. Melissa Gastorf and Dr. Jeffrey Gastorf, at the Gastorf Family Clinic of Durant, Okla. received an incentive of $21,250 each. "We are very elated to be among the first to be paid the EHR incentive," Darrel Ledbetter, CPM, practice manager for Gastorf Family Clinic told AAPC.
According to Ledbetter, the clinic worked closely with Regional Extension Center (REC) Oklahoma Foundation for Medical Quality to prepare for meaningful EHR use.
The clinic quickly realized they had their work cut out for them, so they acted immediately. "We wanted to be on the front lines of the Meaningful Use, so as soon as we found out that the new version of e-MDs Solution Series was certified, we contacted e-MDs to ask if we could be a Beta clinic for pushing out the new version," Ledbetter said.
They received the new version of e-MDs the last week of December 2010 and were able to meet meaningful use objectives by Jan. 1. The clinic submitted their EHR Incentive Program registration Jan. 3—the day it opened—and completed the registration and attestation Jan. 4. The clinic was presented with a check Jan. 5, and received payment through electronic funds transfer the following week.
Another early adopter: The University of Kentucky's teaching hospital, University of Kentucky Healthcare, received $2.86 million—an estimated one-third of what the hospital expects to collect for participation in the Medicaid EHR Incentive Program. Hospitals may participate in both Medicare and Medicaid incentive programs—unlike physicians, who must choose one over the other.
"As a flagship institution, the University of Kentucky, is committed to using advanced technology and the adoption of electronic health records to improve patient care and the universal health care system," said Dr. Carol L. Steltenkamp, Kentucky Regional Extension Center project director and UK HealthCare's chief medical information officer. "Comprehensive health information exchange such as this has the ability to ultimately revolutionize health care."
The Medicare and Medicaid EHR Incentive Programs are federally funded under Health Information Technology for Economic and Clinical Health (HITECH) Act provisions of the American Recovery and Reinvestment Act (ARRA) of 2009.
Latest posts by admin aapc
(see all)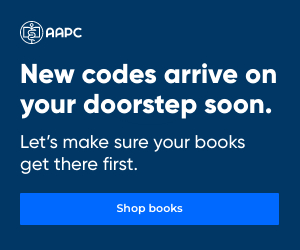 No Responses to "EHR Incentive Payments Begin"