IN THIS ISSUE
Featured Article
In the News
Coding Snapshot
ICD-10 Strategies
ICD-10 Resource
---
ICD-10 EDUCATION
Code Set Boot Camps:
Grand Rapids, MI 7/25
Salt Lake, UT 7/25
Milwaukee, WI 8/1
Portland, ME 8/1
Cincinnati, OH 8/8
Albuquerque, NM 8/15
Omaha, NE 8/15
VIEW ALL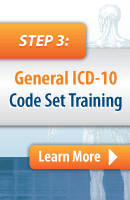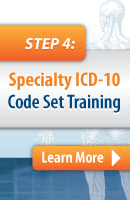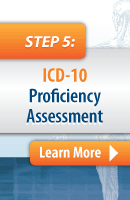 FEATURED ARTICLE
ICD-10 Implementation to Continue - CMS Part 2
By Faith C. M. McNicholas, CPC, CPCD, PCS, CDC, RHIT

Plan to Mitigate Risk for a Smooth ICD-10 Transition
For successful implementation, facilities and practices need to immediately begin reviewing resources available for a smooth transition. If your practice has not already developed a transition and implementation plan, use this six-step graph to get started.
There will be a period when your facility or practice coding system will need to access both sets of codes for up to two years as the country transitions from one code set to the other one. Bear in mind that the code selection will be date-of-service driven. For example, services provided on Sept. 30, 2014, will be reported with ICD-9-CM codes (even if the claim is submitted on Oct. 1, 2014). Services provided on Oct. 1, 2014 will be reported with ICD-10-CM codes only.
Coding professionals recommend that training should take place about six months prior to the Oct. 1, 2014, compliance date. It is recommended that you hold off on offering code set training for the new coding system because the ICD-10-CM codes are still evolving and will not be frozen/permanent until Oct. 1, 2014. Getting up to date with diagnosis and procedural codes that may change through next fall and won't take effect until fall 2014 may be confusing for staff that still have to work with ICD-9-CM.
This transition will require business and systems changes throughout the health-care industry. All providers covered by the Health Insurance Portability and Accountability Act (HIPAA) must make the transition. Planning now will help your facility/practice make the transition to ICD-10-CM smoother.
IN THE NEWS
No ICD-10 End-to-End Testing with CMS and Providers
CMS has announced that it does not plan to offer Medicare fee-for-service end-to-end testing with providers for ICD-10 at this time as it is confident that the current level of testing performed each quarter for changes is effective to ensure that claims will be processed properly. This does not mean that it is unnecessary to perform end-to-end testing for your practice. CMS has an end-to-end testing page on the CMS website to encourage covered entities to perform this vital step in the successful transition to ICD-10. In fact, CMS awarded a one-year contract to National Government Services to develop a process and methodology for end-to-end testing of the Administrative Simplification Requirements and is using ICD-10 as the test case. Please take this as a "Do as I say, not as I do" on the part of CMS in regards to end-to-end testing.
CODING SNAPSHOT
DATE OF PROCEDURE: May 13, 2013
NAME OF PROCEDURE: Esophagogastroduodenoscopy (EGD) with biopsy, PyloriTek assay and endophotography.
INDICATIONS FOR PROCEDURE: 1. Epigastric abdominal pain. 2. Abdominal tenderness.
DESCRIPTION OF PROCEDURE After informed consent was obtained, the patient was premedicated with a total of 220 mg of Propofol and 50 mg of lidocaine IV infusion throughout the procedure, administered by anesthesiology. The tip of the Olympus GIF-H180 video endoscope was inserted into the upper esophagus under visual guidance. The endoscope was advanced down the esophagus through the stomach and into the duodenum to the second portion. Careful inspection upon withdrawal revealed normal appearing mucosa in the second portion and bulb of the duodenum. The pyloric channel appeared normal. In the antrum and body of the stomach there was acute erosive gastritis present. Biopsies were obtained from the antrum of the stomach and fundus of the stomach for PyloriTek assay. Retroflexed view of the angularis, the fundus, and cardia appeared unremarkable. The endoscope was straightened and withdrawn. The EG junction was present at 40 cm. The mucosa of the EG junction and esophagus appeared normal. The patient tolerated the procedure well. The patient was transported to his room in stable condition.
IMPRESSION: Acute erosive gastritis. Biopsied for Helicobacter pylori.
ICD-10-CM Codes:
K29.00 Acute gastritis without bleeding

Rationale: The codes for gastritis in ICD-10-CM are broken down by type (alcoholic, superficial, atrophic, etc); temporal parameters (acute or chronic); and whether bleeding is present. In this case study, the patient presents for an EGD for epigastric abdominal pain and abdominal and is found to have acute erosive gastritis with no mention of bleeding. The symptoms would not be coded as a definitive diagnosis is reported at the conclusion of the procedure.
ICD-10 IMPLEMENTATION STRATEGIES
We will be sharing a number of strategies to help your practice successfully implement ICD-10-CM. Please remember to track your progress in your ICD-10 Implementation Tracker on AAPC's website.
Staff Education
In order to ensure that full staff, including clinicians, are prepared for the transition to ICD-10, everyone will need education on the new code set. Some will need just an overview and some will need full training. An assessment should be taken of all staff to identify individual training needs. This will allow for proper timing of education. The following criteria will change how and when your education should be delivered:
Size of practice
Number of different specialties
Staff disbursement by type (front desk, coders, clinicians, managers, etc.)
Coding knowledge needed
Coding knowledge at present
Delivery of education (online, live, internal, outsource)
As everyone in the practice will need some level of ICD-10-CM education, many factors need to be evaluated to offer education in the right forms at the right time. This will require resources of both time and money, so it should be delved into and planned carefully.
FEATURED RESOURCE
Fracture Classification Quick Reference Guide

A Fracture Classification Quick Reference Guide has been developed to assist with the new concepts in ICD-10-CM as it relates to the Gustilo Classification of Open Fractures. This system is broken down by severity of open fracture by grade and corresponds to the 7th character extender for some fractures in Chapter 19, Injury, Poisoning, and Certain Other Consequences of External Causes. It is a two-page pdf document that can be printed and shared with the entire office and used as a training tool with your providers.