IN THIS ISSUE
Featured Article
In the News
Coding Snapshot
ICD-10 Strategies
ICD-10 Resource
---
ICD-10 EDUCATION
Code Set Boot Camps:
Tampa Bay, FL 9/5
Indianapolis, IN 9/12
Orange, CA 9/12
East Syracuse, NY 9/19
VIEW ALL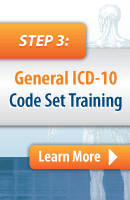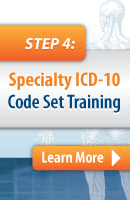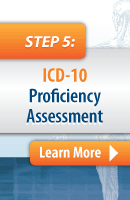 FEATURED ARTICLE
It's All in the Guidelines
By Brenda Edwards, CPC, CPMA, CPC-I, CEMC

Where is the best place to find information on how to use the ICD-10-CM codes? The answer is in the ICD-10-CM book in the Official Guidelines for Coding and Reporting. The guidelines are beneficial for both the provider and coder to ensure the most accurately described diagnosis is reported to represent the documentation of the service performed. The guidelines are used to give additional instruction when used with the conventions and instructions. Following the guidelines is required under HIPAA.
The general guidelines are provided to give overall guidance for the ICD-10-CM code book. There are some similarities between ICD-9-CM and ICD-10-CM (eg, How to Locate a Code, Level of Detail in Coding), and some different guidelines specific to ICD-10-CM (eg, Laterality, Borderline Diagnosis).
The chapter-specific coding guidelines explain nuances found with some of the more complex diagnoses. This includes Human Immunodeficiency Virus (HIV) infections, Sepsis, Anemia associated with other conditions, Diabetes, Hypertension with other diseases, Pressure Ulcers, Pregnancy, and Injuries. The guidelines will assist in sequencing rules, stages for some disease processes, and the hierarchy of certain codes. For example, anemia is sequenced as the principal diagnosis when associated with chemotherapy, immunotherapy and radiation therapy. It is sequenced as a second diagnosis when anemia is associated with a malignancy (which would be sequenced first). This is an example of where the guidelines are different in ICD-10-CM when compared to ICD-9-CM.
Coding for Diabetes can be coded to the highest level of specificity when using the guidelines. This includes the types of diabetes, use of insulin, and diabetes with other conditions. Diseases of the circulatory system can be very complex and by utilizing the guidelines, explanations are given on coding, such as hypertension with co-existing conditions. Information includes sequencing and use of additional codes when needed. There is also information and definitions to explain Acute Myocardial Infarctions (AMI). This is important since there are significant changes from ICD-9-CM to ICD-10-CM in the time frame for current and old AMI.
Injury coding will see a tremendous increase in the number of code possibilities. The additional information given in the guidelines explains the 7th character requirements for both treatment of a condition and healing status of fractures.
Whether you are just diving into ICD-10-CM or you have already have taken the plunge, you cannot become too familiar with the guidelines. Read and re-read them, and highlight those trickier areas for quick reference. The provider and coder must work together to successfully implement this expansive change. The extra knowledge you can gain from the coding guidelines will be helpful not only to you, but can be an educational tool when training others. Don't search the Internet for "how to code"; instead start in the front of your ICD-10-CM book.
In the coming issues, watch for articles that delve into the guidelines to help ensure proper code assignment in ICD-10-CM.
IN THE NEWS
CMS to Offer National Provider Call on ICD-10 Basics
CMS will hold a complimentary webinar on ICD-10-CM on August 22, 2013. The agenda includes:
Benefits of ICD-10
Similarities and differences from ICD-9
Coding ICD-10
Training needs and timelines
Resources for coding and training
National implementation issues
CMS will give an implementation update and there will be a question and answer period following the presentation. Registration is required for this event.
CODING SNAPSHOT
HISTORY OF PRESENT ILLNESS: The patient presents today for follow up, recently noted for E. coli urinary tract infection. She was treated with Macrobid for 7 days, and only took one nighttime prophylaxis. Currently, she does not have any dysuria, gross hematuria, fever, chills. Daytime frequency every two to three hours, nocturia times one, no incontinence.
Renal ultrasound, August 5, reviewed, no evidence of hydronephrosis, bladder mass or stone. Discussed.
3 previous urine cultures have shown E. coli, November 2011, May 7, 2012 and July 7, 2013. Patient has stated in the past that she has not been compliant with instructions on taking antibiotics prescribed. She stated when she felt better, she discontinued the medications without completing the full therapy. She states she has taken the full therapeutic dose this time as she does not wish to get this again.
CATHETERIZED URINE: Discussed, agreeable done using standard procedure. A total of 30 mL obtained.
IMPRESSION: Recurrent acute cystitis due to E coli. Completed the therapeutic dose.
PLAN: We will send the urine for culture and sensitivity, if no infection remains, patient will be placed on Keflex nighttime prophylaxis. If infection still present, follow up as previously scheduled for a diagnostic cystoscopy. All questions answered.
ICD-10-CM Codes:
N30.00 Acute cystitis without hematuria
B96.20 Unspecified Escherichia coli (E. coli) as the cause of diseases classified elsewhere

Rationale: At the beginning of the note, the patient is stated to have a urinary tract infection, but in the assessment, it is specified as cystitis. The more specific condition is coded. The codes for cystitis in ICD-10-CM are mainly broken down by temporal parameters (acute or chronic) and whether hematuria is present. There is an instructional note under category N30, Cystitis, which states to use an additional code to identify the infectious agent (B95-B97). In this note, the infectious agent is identified as E. coli.
ICD-10 IMPLEMENTATION STRATEGIES
We will be sharing a number of strategies to help your practice successfully implement ICD-10-CM. Please remember to track your progress in your ICD-10 Implementation Tracker on AAPC's website.
Working with Providers
To ensure that providers are vested in the transition to ICD-10, they need to be engaged. Assessment of how your providers accept change and best assimilate information can be a big help on the path of getting "buy in" to ICD-10. Consider how to deliver the information:
In group format
Individually
Broken down by specialty
Broken down by provider type
Time should be taken to evaluate the providers and note which ones make take more time for training, which providers should go first in training, etc. Do you have some potential physician champions in the group? What barriers may come up that may hinder provider acceptance? Do the providers learn better with internal personnel, or external entities? Is an online option appealing and feasible?
Providers understand they must learn the code set. It is also important that educators understand that their main focus is patient care. Managing the need for learning the coming code set with the need for providers to continue practicing medicine will take careful planning.
FEATURED RESOURCE
ICD-10 Newsletter Archives
Looking for a past article from the newsletter? Are you a new subscriber and want to see past newsletters? All of the past newsletters are archived in one place. The newsletters may be accessed all the way back to the first one published in July of 2010.