IN THIS ISSUE
Featured Article
In the News
Coding Snapshot
ICD-10 Strategies
ICD-10 Resource
---
ICD-10 EDUCATION
Code Set Boot Camps:
East Syracuse, NY 9/19
Dallas, TX 9/25
Detroit, MI 9/26
Boise, ID 10/3
OKC, OK 10/10
Columbia, SC 10/10
Jackson, MS 10/10
VIEW ALL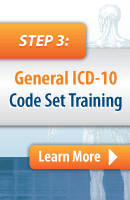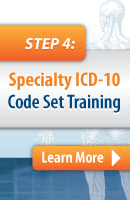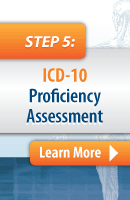 FEATURED ARTICLE
ICD-10-CM General Guidelines

In last month's article, we touched on the importance of the guidelines for proper coding, whether it is in ICD-9-CM or ICD-10-CM. This month, we will take a look at the conventions (I.A) for ICD-10-CM. The first important notation is at the start of the section. Sometimes a coder may be confused as to what to follow the guidelines at, the front of the manual state one thing, and the chapter instructions seem to state something else. At the beginning of Section 1 it states, "The conventions and instructions of the classification take precedence over guidelines." So, if the Tabular Index gives an instruction that is different than the guidelines in the front of the manual, follow the Tabular Index guidelines.
Section 1.A contains the conventions describing the general rules. Some of the highlights include: I.A.2: Characters for categories, subcategories and codes may be either a letter or a number. Categories are 3 character, but if there is no further breakdown, it may also be a code. For example, I10 Essential (primary) hypertension is a 3 character code with no further breakdown. I11 Hypertensive heart disease is a category that needs additional characters to denote a valid code (I11.0 or I11.9).
1.A.3: For reporting purposes, only codes are permissible, not categories or subcategories, and any applicable 7th character is required. In other words, you have to continue until there are no more characters in the subcategory. As in the example above, it would be invalid to just stop at I11 as there is a fourth character breakdown.
1.A.4 and 1.A.5: These guidelines refer to the 7th character extenders and placeholders. ICD-10-CM utilizes a placeholder x for future expansion, and to fill in the empty characters for codes that requires a 7th character extender that is not six characters in length. For example, S09.21- is traumatic rupture of right ear drum, but this is not a complete code as it requires a 7th character. The partial code is 5 characters in length. In order to append the 7th character in the 7th character position, a placeholder x must be used. If this was an initial encounter, the appropriate 7th character is A. The complete code is S09.21XA Traumatic rupture of right ear drum, initial encounter.
1.A.6 – 1.A.9 are familiar guidelines explaining abbreviations used in the code book (NEC, NOS, other, etc).
1.A.12.a and 1.A.12.b: These guidelines explain the new Excludes for ICD-10-CM –Excludes1 and Excludes2. Excludes1 is a true excludes and indicates that the code(s) listed under the Excludes1 should never be coded with the code above the Excludes1 note. For example, type 1 diabetes has an Excludes1 list that includes type 2 diabetes, gestational diabetes, and secondary diabetes. None of the preceding diagnoses would be reported with type 1 diabetes on the same patient encounter. Excludes2 indicates that the conditions excluded is not part of the condition listed above it. If the documentation states both conditions exist together, both should be reported. This will be seen with some acute on chronic conditions for which ICD-10-CM does not have a combination code. For example, category J01, Acute sinusitis, has an Excludes2 note for chronic sinusitis. If a patient has documented acute on chronic maxillary sinusitis, J01.00 (acute maxillary sinusitis) would be reported along with J32.0 (chronic maxillary sinusitis).
The remainder of the conventions cover sequencing of codes, other verbiage (the use of "and", "with" "see", etc), and default codes.
It is important to take the time to become familiar with the guidelines now in order to ensure proper, efficient, code assignment when we go live. In the next issue, we will cover the general coding guidelines.
IN THE NEWS
MLN Connects™ offers video on ICD-10
The CMS YouTube Channel has a new video on ICD-10 implementation for physicians, the partial code set freeze, and the MS-DRG conversion project. Pat Brooks and Dr. Daniel Duvall from the Hospital and Ambulatory Policy Group of the Center for Medicare discuss the transition to ICD-10 for medical diagnosis and inpatient procedure coding.
The video includes:
Tips for a smooth transition to ICD-10 in physician offices
ICD-10 preparation strategies
Details about the partial code freeze prior to the ICD-10 transition
Information about the Medicare Severity Diagnosis Related Grouper (MS-DRG) conversion project
CODING SNAPSHOT
CHIEF COMPLAINT: Contraceptive management.
HISTORY OF PRESENT ILLNESS: Established female patient here for Mirena contraceptive. PAST MEDICAL/SURGICAL HISTORY: Asthma-mild intermittent. ALLERGIES: Penicillins-Rash
REVIEW OF SYSTEMS: CONSTITUTIONAL: No fever, fatigue, night sweats. GENITOURINARY: No dysuria or hematuria. GYNECOLOGICAL: Age of menarche is 13 years menses are regular, flow is normal. 9 wks postpartum, breastfeeding. Oral contraceptive use. Breasts: Does not perform self-exams. No history of infertility, dyspareunia. All other systems reviewed and negative.
PHYSICAL EXAM: GENERAL/CONSTITUTIONAL: No apparent distress. Well nourished, well developed. RESPIRATORY: Normal to inspection. Lungs clear to percussion and auscultation. CARDIOVASCULAR: Regular rhythm. No murmurs, gallops or rubs. GENITOURINARY: External Gyn: Pubic hair normally distributed. Labia/clitoris unremarkable. Normal glands. Perineum unremarkable. No perianal abnormalities. Introitus normal in caliber and admits speculum without difficulty. Internal Gyn: Vaginal mucosa appears normal. Cervix is ectropion, mucous discharge. Uterus is 5 cm above pubic bone. Ovaries palpable, normal in size; no masses. Pap smear was not done. No CVA tenderness. PSYCHIATRIC: No unusual anxiety or evidence of depression. Alert and oriented x3.
ASSESSMENT/PLAN: Prescription and initial insertion of IUD. Urine pregnancy: negative. Protocol followed, counseling Mirena # XXXXXX Removal 2-9-15 RTC 6 wks String 4 cm.
ICD-10-CM Codes:
Z30.430 Encounter for insertion of intrauterine contraceptive device

Rationale: In this case, the patient is presenting for contraceptive management, and an intrauterine device (IUD) is prescribed and inserted. In ICD-10-CM, category Z30 contains the codes for encounters for contraceptive management. Although the note states that the IUD was prescribed and inserted, Code Z30.014 Encounter for initial prescription of intrauterine contraceptive device would not also be reported as it is an Excludes1 to Z30.430. The fact that the device was inserted indicates it was prescribed.
ICD-10 IMPLEMENTATION STRATEGIES
We will be sharing a number of strategies to help your practice successfully implement ICD-10-CM. Please remember to track your progress in your ICD-10 Implementation Tracker on AAPC's website.
Assessing and Updating Internal Policies
Internal policies including the use of ABNs, referrals, pharmacy, and lab orders need to be assessed to ascertain if any changes need to be made to meet the specificity of ICD-10-CM. LCDs, NCDs, and commercial insurance coverage determinations need to be reviewed. Some payers have begun to list the covered ICD-10-CM codes under the covered ICD-9-CM codes to indicate what will meet medical necessity for that particular policy under ICD-10. Someone in the office or practice must be assigned the task of reviewing these as they are updated. This will allow time for the payer to be contacted with any questions or concerns, or to make any necessary changes in the office or practice. Larger practices should perform this task on a continuous basis to ensure that as we get closer to the ICD-10 live date that the task does not become insurmountable.
FEATURED RESOURCE
ICD-10 White Paper – The History, the Impact, and the Keys to Success

AAPC has produced this white paper with the intent to educate readers on the history of ICD-10, the benefits it will provide, the projected impact it will have on our health system, and suggestions on how to have a successful ICD-10 implementation. Our medical coding experts continue to make every effort to keep at the forefront of ICD-10 so that we can help medical professionals around the country be prepared to successfully navigate the impending coding transformation.