IN THIS ISSUE
Featured Article
In the News
Coding Snapshot
I-10 Tips
ICD-10 Resource
Upcoming Events
---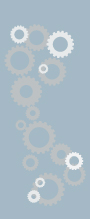 AAPC and Ingenix have partnered to bring you the most up-to-date and essential news and information about the transition to ICD-10. If you would prefer not to receive these monthly updates, you can change your email preferences in your account.
FEATURED ARTICLE
Preparing for ICD-10 includes more than just codes!
With ICD-10, coders may need to probe deeper into the patient's medical record and/or query the physician more often to obtain the level of specificity required by the ICD-10-CM codes. As a result, coders will need to fully understand anatomy and physiology (not only the structure and location of organs and body parts, but also how they function), medical terminology, disease process, surgical procedures, and drugs and pharmaceuticals.
ICD-10-CM includes many combination codes that require the underlying condition, as well as one or more manifestations, complications, or associated conditions. Often one will need to first identify the diseases and disorders in the medical record documentation, and then find the ICD-10-CM code that best represents the patient's documented condition.
For example, ICD-10-CM defines a 'minor contusion of the kidney' (S37.01-) as being less than 2 centimeters. A different category will be used if the contusion is more than 2 centimeters and therefore considered a 'major contusion of the kidney' (S37.02-). Physician documentation must include this information, and the coder should be able to differentiate between the clinical conditions to assign the proper code.
IN THE NEWS
CMS Announces Code Freeze
The ICD-9-CM Coordination and Maintenance Committee will implement a partial freeze of the ICD-9-CM and ICD-10 (ICD-10-CM and ICD-10-PCS) codes prior to the implementation of ICD-10 on October 1, 2013. There was considerable support for this partial freeze. The partial freeze will be implemented as follows:
The last regular, annual updates to both ICD-9-CM and ICD-10 code sets will be made on October 1, 2011.
On October 1, 2012, there will be only limited code updates to both the ICD-9-CM and ICD-10 code sets to capture new technologies and diseases as required by section 503(a) of Pub. L. 108-173.
On October 1, 2013, there will be only limited code updates to ICD-10 code sets to capture new technologies and diagnoses as required by section 503(a) of Pub. L. 108-173. There will be no updates to ICD-9-CM, as it will no longer be used for reporting.
On October 1, 2014, regular updates to ICD-10 will begin.
CODING SNAPSHOT
| | |
| --- | --- |
| NAME: SHORE,MARLENE | DATE: 7/15/09 |
S: She re-presents today after having a cabinet fall on her last week, suffering a concussion, as well as some cervicalgia. She states that the people that put in the cabinet missed the stud by about two inches. The patient continues to have cephalgias, primarily occipital, extending up into the bilateral occipital and parietal regions. The patient denies any vision changes, any taste changes, any smell changes. The patient has marked amount of tenderness across the superior trapezius.
O: Her weight is 188 which is up 5 pounds from last time, blood pressure 144/82, pulse rate 70, respirations are 18. She has full strength in her upper extremities. DTRs in the biceps and triceps are adequate. Grip strength is adequate. Heart is a regular rate. Lungs are clear.
A: 1. Status post concussion with persistent headache
2. Cervicalgia
3. Dorsal somatic dysfunction
P: The plan at this time is to send her for physical therapy, three times a week times four weeks for cervical soft tissue muscle massage, as well as upper dorsal. We'll recheck her in one month.
ICD-9-CM Codes: 850.9 ; 723.1; 739.2;
ICD-10-CM Answers: S06.0x0A; M54.2; M99.01

Rationale: S06.0x0A; concussion without loss of consciousness initial encounter;, other, initial encounter; M54.2 cervicalgia; M99.01; dysfunction; somatic; cervical region. If this was the first incident we would also have to code for the falling cabinet by using W20.8xA.

Documentation issues—encounter requires coding for stage of healing; concussion—was there loss of consciousness or not and if so how long? Where was patient when accident happened, we need to know this as well. ICD-10-CM includes use of a "dummy" placeholder as designated by the x in the above scenarios. This is a new coding concept for us in ICD-10-CM.
ICD-10 TIPS
We will be sharing a number of steps to help any practice successfully implement ICD-10-CM. They are also found in your ICD-10 Benchmark Tracker on AAPC's website.
Step #4: Organize Cross Functional Efforts
Medium to large practices and facilities will need to organize and coordinate cross-functional efforts. Identify staff to represent cross-functional areas and establish lines of communication. Establish meeting schedules and reports, including frequency of briefing senior management of progress or problems. Be clear on who has decision-making authority within the teams to avoid friction. A gap analysis will help determine where the teams need to work to close gaps in the business process.
FEATURED RESOURCE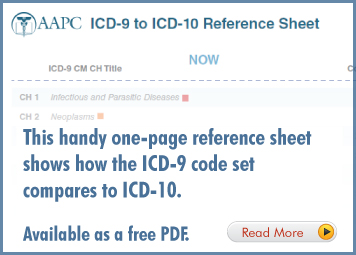 Upcoming Events
Upcoming ICD-10 Boot Camps
| | | |
| --- | --- | --- |
| | Date | Location |
| Details | 10/21/2010 | Sacramento, CA |
| Details | 10/21/2010 | Austin, TX |
| Details | 10/21/2010 | Tallahassee, FL |
| Details | 10/28/2010 | Kansas City, MO |
| Details | 10/28/2010 | Memphis, TN |
| Details | 10/28/2010 | Philadelphia, PA |
| Details | 10/28/2010 | Nashville, TN |
| Details | 11/4/2010 | New York, NY |
| Details | 11/4/2010 | Oakland, CA |
| Details | 11/4/2010 | Burlington, VT |
| Details | 11/4/2010 | Houston, TX |
| Details | 11/8/2010 | Chicago, IL |

2011 ICD-10 Boot Camp Schedule Now Available


The schedule for the 2011 ICD-10 implementation training boot camps has been announced: See the full list.