AAPC and Ingenix have partnered to bring you the most up-to-date and essential news and information about the transition to ICD-10. If you would prefer not to receive these monthly updates, you can change your email preferences in your account.
FEATURED ARTICLE
5010: The Logical Transition for ICD-10
Although 5010 gets much less notoriety than ICD-10 it is just as important and practices should already be working with vendors on the transition to 5010. Here are some important dates to be aware of:
January 1, 2011 Level I compliance—ability to process 5010 transactions for testing and transition with able trading partners
January 1, 2012 Level II compliance—all covered entities must begin using 5010 transactions
Simply put, transactions are electronics exchanges involving the transfer of health care information between two parties for specific purposes, such as a health care provider submitting medical claims to a health plan for payment. The Health Insurance Portability & Accountability Act of 1996 (HIPAA) named certain types of organizations as covered entities, including health plans, health care clearinghouses and certain health care providers. HIPAA also adopted certain standard transactions for Electronic Data Interchange (EDI) for the transmission of health care data. These transactions include:
claims and encounter information
payment and remittance advice
claims status
eligibility
enrollment and disenrollment
referrals and authorizations
Unlike the current 4010 transaction set, 5010 is much more specific in the type of data it collects and transmits over the course of a transaction. 5010 also has clear situational rules built in which will help enhance the understanding of claim corrections, reversals, recoupment of payments and the processing of refunds.
For example, 5010 will increase the diagnostic field size to accommodate the increased size of ICD-10 codes. Some other changes include:
a version indicator that distinguishes between ICD-9 and ICD-10 codes

format changes that will increase the number of diagnosis codes allowed on a claim
Interestingly, the 5010 format does not require the use of ICD-10 codes. However, it will be able to recognize and distinguish between the ICD-9 and ICD-10 code sets, which may help with dilemmas of billing utilizing the dual code sets.
It's important that you begin to prepare early for the transition by working with your vendors. There are many changes in store and strategic preparation is necessary. Ask your vendors what they are doing to migrate to 5010 and also what plans they have in place for testing. If your vendor is unable to offer you solutions at this time you should begin looking for a new vendor.
IN THE NEWS
CMS will host its thirteenth national education call regarding Medicare fee-for-services (FFS) implementation of HIPAA Version 5010 and D.0 transaction standards on Wednesday, December 8th. This session will focus on provider outreach and education activities and transition-specific testing protocols. Experts will review Medicare FFS communications, outreach and education strategy, as well as provide information to help the audience through the transition to implementation.
The presentation will be followed by a Q&A session. To register for the presentation go to the CMS website: http://www.cms.gov/Versions5010andD0/V50/list.asp.
CODING SNAPSHOT
Chief Complaint: Patient presents for a scheduled school age well child visit. The patient is an 11-year-old male. Patient is accompanied by father. Parents have no specific concerns.
HPI: Presents for physical exam. Patient feeling well. Immunizations will have to wait until shot records comes in.
ROS: The patient denies constitutional symptoms, respiratory symptoms, gastrointestinal symptoms, male genital problems, and skin, hair and nail symptoms.
Current Meds: None
Allergies: NKDA
Past Medical History: Physical and dental exam in 2008. Eye exam in 2007.
Family History: Unremarkable
Social History: The home is smoke free. There is no history of abuse.
Objective: BP: 98/78, Pulse: 72, Temp: 97.8, Ht: 59",
Wt: 117 lbs, BMI: 23.6.
Exam: Const: Healthy appearing child, well nourished and alert. Weight within the normal range for stated age. Communicates normally. Eyes: 20/20 in both eyes without correction. No discharge from the eyes. PERRL. Normal eye movement. ENMT: Auditory canals are patent. Tympanic membranes normal landmarks, no fluid or erythema bilaterally. Nasal mucosa shows moistness and normal color, but no discharge. Oral mucosa: pink, smooth and moist. Neck: supple, with no adenopathy. Resp: Respiration rate is normal. Lungs are clear bilaterally. CV: Rate is regular. Rhythm is regular. Pedal pulses: 2+ and equal bilaterally. GI: Abdomen is nondistended, nontender and soft. Bowel sounds normoactive. No palpable hepatosplenomegaly. GU: Normal genitalia. No hernias. Musculo: Spine: No scoliosis. Upper extremities: Strength: Normal and symmetric. ROM is physiologic. Lower extremities: normal and symmetric. ROM is physiologic. Skin: No rash or lesions. Neuro: Mood is normal. Affect is normal.
Assessment and Plan: Normal physical exam. Follow up prn.
ICD-9-CM Diagnosis:
V20.2 Routine Infant or Child Health Check
ICD-10-CM Diagnosis:
Z00.129 Encounter for routine child health examination without abnormal findings
Note: In ICD-10-CM when reporting routine health examinations you need to report if abnormal findings were noted or not during the encounter. If abnormal findings were found to be present you would report those with any additional codes as needed.
ICD-10 TIPS
We will be sharing a number of steps to help your practice successfully implement ICD-10-CM. They are also found in your ICD-10 Benchmark Tracker on AAPC's website.
Step #6: Internal system design and development
If your practice uses proprietary systems, prepare for the design, programming and testing of the internal systems. The IT staff will need to map the ICD-9-CM codes to ICD-10-CM codes, both forward and backward. Prior to ICD-10 implementation, the new 5010 version of transaction standard x12 is mandated by January 1, 2012 for most health entities (or by January 1, 2013 for small health plans). Make sure your IT department is aware of the 5010 version requirements.
FEATURED RESOURCE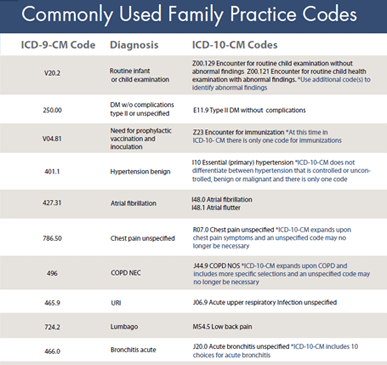 Upcoming Events
Upcoming ICD-10 Boot Camps
The schedule for the 2011 ICD-10 implementation training boot camps are available: See the full list.